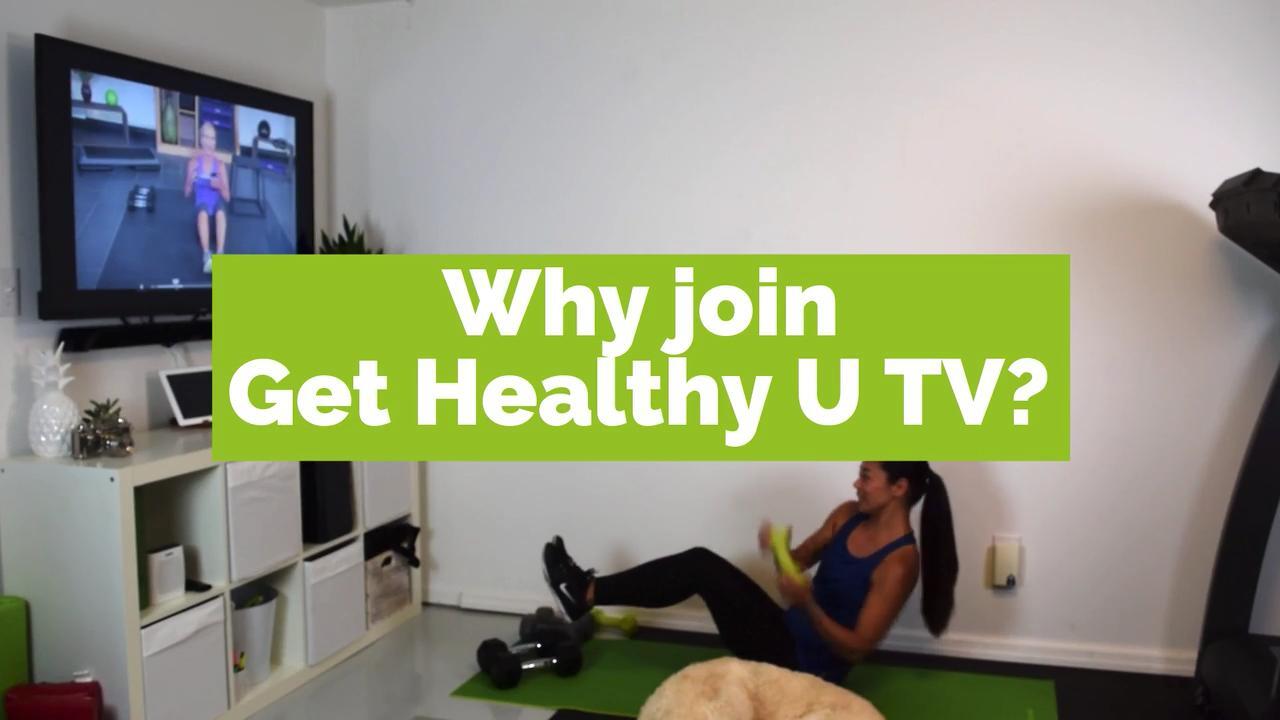 One of the things that we've learned in the last couple of years is that many of the things we need to do can be done from the comfort and safety of our own homes. And you can definitely add exercise to that list!
There are a lot of exercise videos already out there, but it can be tricky to navigate YouTube and know that the videos you're finding are safe and appropriate.
Get Healthy U TV
offers access to hundreds of streaming workout videos, calendars, and healthy recipes,
plus
24/7 access to fitness experts!
What is Get Healthy U?
Get Healthy U
is an online resource started by Chris Freytag, a certified personal trainer, group fitness instructor, and health coach. She founded Get Healthy U and Get Healthy U TV to make fitness accessible and affordable for everyone and to help people take charge of their health.
The video catalog includes full-length workouts you can stream to your device, with a wide variety of programs including kickboxing, dance, strength training, yoga, and more! But it's not just about the fitness videos – Get Healthy U TV offers 28-day workout calendars you can download to give you a plan of action, no matter your goal.
There's also a private Facebook group for members that offers daily conversations and monthly challenges. Members keep each other accountable and offer motivation and support.
How much is Get Healthy U TV?
Get Healthy U TV has some free videos, and the newsletter is free, but if you want access to the full library of videos, you'll need to pay for a membership. There are currently two membership levels:
Premium
and
Gold
. Right now you can
get a 1-year premium membership for just $1.99
! That's a
97% discount
!
A
Premium Membership
is normally $6.95/month, or you can pay full the whole year for $69. This membership includes:
Workout Tips
Library of over 500 workouts (new programs added regularly)
Monthly Workout Calendars
Official Private Facebook Group Access
Weekly Newsletter
Ask the Expert Program
A Gold Membership is $159/year and includes all of the Premium Membership benefits, plus:
Partner Discounts
Live Weekly Workouts
Exclusive GOLD Workout Calendars
Is there an app for Get Healthy U TV?
Get Healthy U TV
is available to stream on your laptop, tablet, or mobile device by accessing the website on your browser. There is not a specific app to use. But if you can, you'll want to stream it to your big screen! You can access Get Healthy U TV through the appropriate channel through Amazon Fire TV, Apple TV, Google Chromecast, Roku, or by hooking up an HDMI cable from your device to your television.
BONUS:
Check out these
just pay shipping offers
currently available while you are here and save some money!
► Looking for more Subscription boxes and monthly clubs? Look HERE!
Did you find this post helpful? If so, it would be great if you could show some support by following

Closet of Free Samples on TikTok

(as well as my other social media accounts @closetsamples) and by checking out

my Etsy shop

! As a small creator, all your support makes a difference! Even a simple share of this post to your friends helps! Thanks so much!