Are you looking for some fun subscription box gift ideas? Check these out!
Gifts for New Moms That She'll Actually Use
For new moms in postpartum, or even experienced moms, sometimes a little pick me up is in order. And this is what the Cater to Mom monthly subscription box is about. The new mom in your life will love receiving carefully curated organic and vegan gifts including beauty, bath, and self-care items. Every mom deserves some time to herself, especially new moms and this is the gift that will help her enjoy it!
If you're looking for the "mother" of all gifts for a new mom, then Mother Snacker is the right choice! You can purchase a monthly delivery or a one time gift. She'll enjoy a selection of 5 to 7 products including an artisan treat and products that encourage and inspire her. Mother Snacker is the ultimate gift for new moms any time of the year!
Voted a top twenty box by the experts at Cratejoy, Birth With a Voice also known as "The New Mommy Box" is a monthly delivery that new moms will love. You can order for a one time gift or surprise her monthly and the ordering process is easy. Start by purchasing the box on Cratejoy and let them know how old the baby is. Then the magic begins! The lucky new mom in your life will begin getting a "bundle of joy" delivered monthly that is filled with everything from snacks to breastfeeding products and important essentials every new mom needs.
Gifts for Women That Deserve "Me Time"
Self-care is something we all need, but we don't always take the time to do.
Therbox - $30.99/month
With more than 1,800 positive reviews on Cratejoy, Therabox is the ultimate in helping people learn how important self-care really is. If you need a self-care gift and want it to keep giving, buy a 3, 6 or 12-month subscription. If you just want someone to take a single break, you can purchase a box as a one time gift, so don't let the word subscription scare you. Each box contains up to 8 items from aromatherapy to skincare and other lifestyle goodies. If you are shopping for someone and need the perfect self-care gift, Therabox is always the right choice!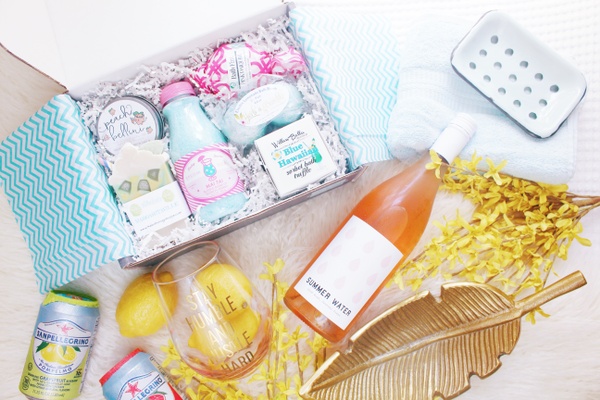 Does the person you're shopping for have an amazing bathroom with a gorgeous and relaxing tub, and they never use it? It's time to motivate them to "take the plunge" by purchasing a single month or a regular subscription to Bath Bevy. This lucky person will get a box filled with bath and body items made from indie brands. It's unique, all about self-care, and is a perfect way to help the lucky recipient finally relax.
With candles, bath bombs, and melts, not to mention a ton of other fun surprises, Fire, and Nice is the perfect self-care gift for that special someone who needs to learn to relax. You can purchase this as a one time gift, or get a discount by pre-ordering monthly deliveries for the next 3 months to a year. That lucky someone in your life will finally be ready to pick up the phone and thank you for helping them learn the importance of taking care of themselves.
Christmas Gifts for Wife
Good gifts can focus on being unique, items she's been asking about or hinting towards, something that she'll be able to use or enjoy regularly, but isn't as emotion-based as it is something good and helpful.
Does your sweetie have a sweet tooth? Then Phivi is the perfect gift! Surprise her with a one time gift or recurring monthly delivery featuring 8 hand-baked artisanal desserts. Each month the theme of the desserts changes to match seasonal flavors, holiday classics, or monthly tastes. If you want a unique gift that also satisfies her sweet tooth, Phivi is the ultimate Christmas gift for your wife.
If you're ready to spice things up and turn "Mrs. Clause" into "Mrs. Claws" then this is the gift to give! You can purchase a single delivery or keep things hot to Valentine's by pre-ordering three months of decadent deliveries. You may even get a discount by subscribing to 3 months or more. Seductive Pleasure featured on Cratejoy is the gift that keeps your bedroom active, libido lively, and the romance running in your marriage.
Is your marriage like a fairy tale and every day has a happy ending? Then keep the magic going from Christmas to Christmas with this fantastic fantasy gift for your wife. Each month she'll get a new book to read and five wrapped gifts. Each gift comes labeled with a number that matches a page in her book. As she reaches this page, she'll open the gift and enjoy as the story comes to life. If you want a magical Christmas gift for your wife, give her the gift of a fairy tale come true with a subscription to Once Upon a Book Club available on Cratejoy for Christmas this year.
► Looking for more Subscription boxes and monthly clubs? Look HERE!