It`s been a little over 2 years today since giving birth to my 2nd child and honestly it`s time to make healthier decisions and get back in shape. I keep saying it, but now it`s time to put forth more effort. In fact, since my last Fit Snack box I have been giving it a real push of an effort. Not being hugely successful, but small steps at a time. I eat all kind of real JUNK food that I`m sure it doesn`t help much at all. Just cutting that out would be awesome. Well, when I learned about
Fit Snack
, I wanted to learn what they were about. Besides offering healthy (and delicious might I add) snacks, it`s also a subscription box. I LOVE subscription boxes because they offer new products I would have never touched on my own. Of course, finding new things to fall in love with could be bad too if you`re on a budget, especially since I tend to find way too many most of the time! Enough about how awesome subscription boxes are, let`s get on with this Fit Snack box. So what exactly is in the Fit Snack Box? Each Fit Snack box is packed with the most delicious and healthiest products on the market. They strive to include a diverse experience of full and sample size items that are as good as they are good for you. Every box is different - half the fun is getting the mystery box of goodies delivered to your door each month! Each product always containing two or more of the following: GMO Free, High in protein, low in sugar, gluten free, organic, raw, vegan and all natural. Plus, they add in bonus items such as energy boosters, nutritional supplements, or refreshing beverages. Also, they include a note card that includes information about the items in your box as well as exclusive workouts, workout gear or other active lifestyle inspiration. Each monthly Fit Snack box contains 7 – 10 carefully curated items, generally valued at over $30.
There are additional benefits to being a Fit Snack member!
Fit Quarterly - our workout, recipe and inspirational publication.
Fit Music - complimentary workout music mix from one of Hollywood's hottest DJs, Jonny Fontana.
Fit Community - a supportive and active community of members that share tips, ideas, and motivation.
Fit Philanthropy - for each box we ship, we donate one meal through Feeding America.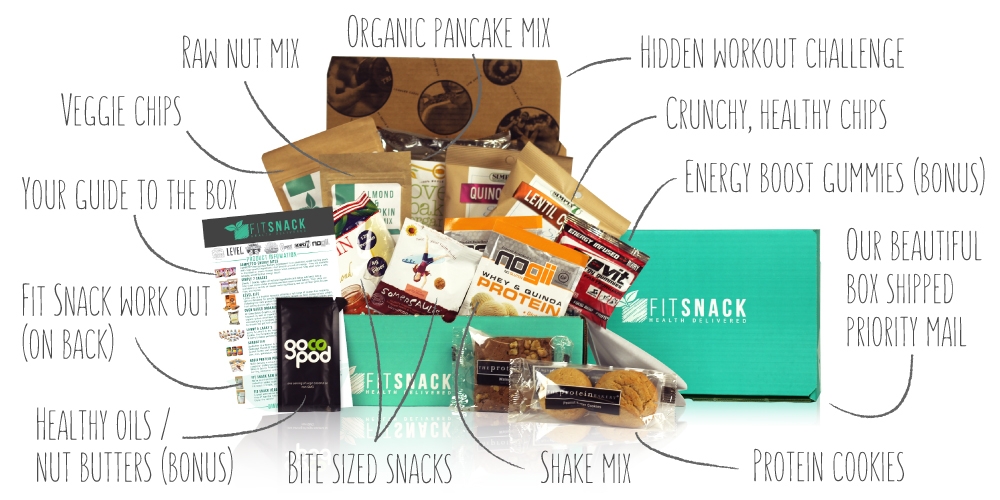 My Rating:

★★★★★
So let`s get down to the specifics of what I got in my particular box. I received 8 full sized products and 1 sample sized product. Here`s the breakdown of everything that was included:
GOOD DAY CHOCOLATES ENERGY
We make `chocolate with benefits`. Get your dose of Energy, Sleep, or Calming nutrients in delicious candy coated chocolate treats.
FRUIT BLISS APRICOT MINIS
Deliciously juicy, whole organic fruit, sun-sweetened and infused with water. Dried fruit reinvented! NonGMO, Gluten-Free, Kosher, Organic, and Vegan.
CLIF BAR HOT CHOCOLATE
Wholesome, organic ingredients. Performance nutrition and great taste. Whether you`re on a 150-mile bike ride or exploring a new trail, this energy bar is built to sustain your adventure.
NUTRIBLADE BEVERAGE
NutriBlade is a Superfood superstar! They`ve cracked the code by making Wheatgrass taste great! Organic, Non-GMO, and Gluten-Free.
MORNING SUNSHINE COOKIE
Looking for a cookie you can eat guilt free? Morning Sunshine breakfast cookie is a high protein, high fiber way to get your cookie fix without the empty calories. Clean ingredients, nutritionally superior and fully functional cookies let you say "yes" to cookies anytime!
MIRACLE TREE TEA
Miracle Tree is an award-winning superfood brand which focuses on sourcing quality herbal teas with a focus on nutritional ingredients.
VEGGIE GO`S
Veggie Go`s are the easiest way to love your veggies on the go!
GENISIS TODAY DRINK MIX
Genesis Today Garcinia Cambogia Drink Mixes featuring 1,000mg of Garcia Cambogia with 60% (HCA) for weight management support. A blend of 75 superfoods plus probiotics and enzymes to support healthy digestion and daily nutrition.
GREEN GURU ENERGIZER
The best 100% natural #vegan #energy supplement to take before a #workout and on foff when you need that extra boost without the jitters.
Exercise Challenge: Full Body Beast Mode (On the insert card as my suggested workout)
"For Summer legs in winter"
Warm Up: 6 minutes
Jog in Place
Butt Kicks
Walking Lunges
Exercise: 3x 8-10 Reps on Each Side
Single Leg Lunges with Reach
Side Plank Hip Dip
Forward Revers Jump Squat Burpee
*Repeat all stair exercises 3 x and do a light jog home to cool off. More details of each work out is written on the card so you know how to do them.
Let me say, the box was, yet again, AMAZING! Most of the time, at least the stuff I have tried, I found the "health" products taste horrible. Since health products are generally pretty expensive, I don`t try them often or a lot. This box introduced me to a lot of new items I would not have even considered before. Sure, there were a few items I didn`t particularly care for, that`s to be expected for anyone depending on your taste. For me, the Apricot Minis and the Morning Sunshine Cookie were my favorites of this box, but I also found the NutriBlade Beverage to be an interesting product as well. Not sure if I liked it or just found it more interesting, either way, it peaked my interest. My least favorite of this box has to be the Good Day Calming Chocolates. I generally love chocolate, but I`m not a fan of dark chocolate and these had a dark chocolate flavor to them. Of course there was one surprising item in this box that I really love that isn`t a snack. It`s the Green Guru Energizer Pills. Now these are some huge "horse pills" as I like to call them that require you to take 1 pill for every 50 pounds you are in body weight, exceeding no more than 6 pills per day. Normally I
hate
taking pills and supplements, but I was desperate for energy and gave them a try. Because they actually worked, I`ve been using them as needed ever since. Sure, they`re big, but they work by making me feel like I have a natural energy and have no crash. Unlike energy drinks, my heart is not pounding and I`m not bouncing off the walls before dropping to the ground like a fly. I`m
very
impressed by these and for me to say that and actually use them, says a lot. Obviously I am absolutely in LOVE with my box. It`s fun and healthy. I love getting something different for a suggested exercise than sit-ups and jumping jacks. If I could make a suggestion to improve the program, it would be to provide maybe some more information about the products on the information card. For example, maybe recommended uses and pairings for them. If it`s a product that can be mixed into other food, put that suggestion on the card. Also, as a subscription box fan, I love seeing how much each item is valued at. Why? Because I like seeing I`m getting my money`s worth out of the box. Yes, you get at least $30 worth of products, but it`s just that gratification of "wow, this is worth X amount of dollars and I only paid X price for the box!" - It just gives you that good feeling of value for the box. Of course, these are just little minor things that I think would make a difference to the subscriber and make it that much nicer. Nonetheless, I think FitSnack is an amazing subscription box company and one I would definitely recommend to the "health guru" or someone who simply wants to try new products. Now what are you waiting for?! Go enter the giveaway for your chance to win a box of your own!