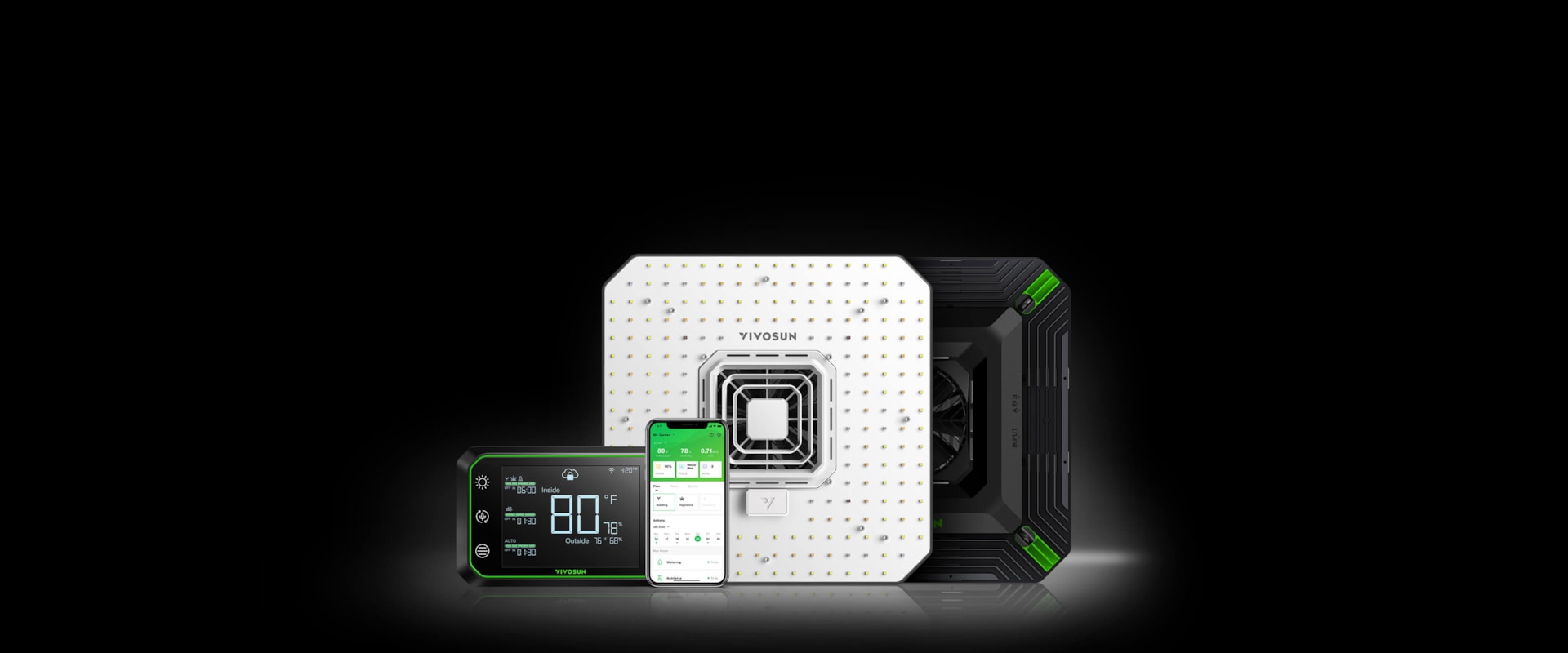 By, Felix Johansen
Having houseplants has been normal since humans started living indoors but it hasn't been until recently that we've been able to see such enormous changes in providing plants with actual indoor environments that are more conducive to growing than plants would have outdoors. How is that possible?
Simple: growers need to control the same environmental factors that plants deal with outdoors. This includes temperature, humidity, light, water, nutrients, and airflow. The reality of controlling these factors is both simple and complex: easy to break down but difficult to manage. Yet, over the past several decades, manufacturers have developed a series of products that allow for better and better control over indoor spaces. And with the advent of the internet and improved computer chips, these same products—including fans, ventilation equipment, lighting, and watering—have been connected to the internet, allowing users to control them with apps on their phone. While this may not seem like a big change since almost everything in the modern day has some connectivity with an app, it really signifies an entirely new kind of product, one that can be controlled from anywhere, can be adjusted in whatever way you want, and one that provides better coverage or operation in a way that can be programmed. Let's look at a few examples of this revolutionary technology from VIVOSUN, a horticultural company based out of Los Angeles, CA, that has been innovating in the industry for over a decade.
Probably the most impressive contribution to indoor growing is the
VIVOSUN GrowHub Controller
, which provides a platform for your equipment to communicate. These controllers are relatively simple devices: they have a number of ports on the bottom that connect to fans, lights, circulation fans, and humidity and temperature sensors. While the wiring can be extensive when a lot of equipment is connected, the result is a streamlined operational platform. What sets the VIVOSUN GrowHub Controller apart from many other controllers in the industry is that it connects to Wi-Fi and to the VIVOSUN App so all controls can be taken on the go.
The second impressive smart system on the market are apps that allow growers to take control over their equipment. Like the VIVOSUN app, these apps do some things that stand out in the industry. They create programmable controls that include adjusting photoperiods, intensity, light spectrum, fan speed & air volume, on and off timing, circulation rates, and even a way to program equipment to match the stages of growth a plant is going through. They also allow growers to record changes in their tent and make plans with digital calendars and alerts.
But what is so exciting about these apps is that they include a way for growers to automatically grow a plant from its earliest stages until it's ready for harvest. VIVOSUN says this feature became possible through hours of researching and developing the perfect spectrum fit for each stage of growth along with calculated photoperiods. An exciting feature for beginner growers, automatic growth provides a way to "set it and forget it." These apps also alert users to when they need to check on their tent by sending alerts to their phone if there are major changes that go outside the parameters of the tent.
Another impressive addition to the indoor growing industry is the development of the VIVOSUN AeroLight. It's a full-spectrum, fully programmable LED grow light that uses the newest Samsung 301B diodes that emphasize blue, red, UV, and far-red spectrum for efficient plant and flower growth. What sets the AeroLight apart is a built-in circulation fan that is placed in the center of the system. This position is the best place for a fan since it's both close to the plant and directly above the canopy, meaning airflow to the canopy is not hindered by distance or angle. This LED system is also fully adjustable through programming, this includes light intensity, program photoperiods, and even mimic natural wind and sunrises and sunsets.
Finally,
VIVOSUN
released the AeroZesh, a PWM-controlled EC fan that utilizes a mixed flow design to create high static pressure, so air volume increases while noise is reduced thanks to a dual ball bearing design. The design brings VIVOSUN's ventilation to a new level, one that allows growers to control the minutiae of airflow, which in turn helps them control temperature and humidity.
Overall, this new system of smart products is set to change the industry by introducing a series of powerful, controllable equipment that give more usability to growers. This means growers have better control, more information, and can make better decisions about how they cultivate their indoor garden.