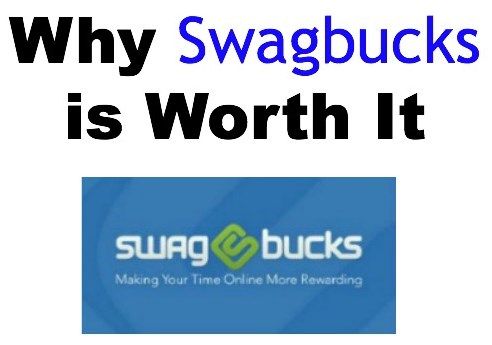 I think Swagbucks totally is worth it. Swagbucks has paid for many little splurges in our families life and I spend very little extra time on the program. Recently I received a comment from a reader that was very dissatisfied with her personal Swagbucks Experience. She called Swagbucks a gimmick, and stated that the program was a string of long surveys with little payout. I do agree that the surveys are very time consuming, which is why I personally do not do them, nor do I include them in any of my Swagbucks earning plans.
Swagbucks is not a gimmick, it does provide a simple small source of monthly income for very little effort. Most earning opportunities are not time consuming, in fact most of the earning opportunities are things I would normally do every day for instance
1. I use Swagbucks toolbar for all my daily searches, instead of another search engines so that I can earn points randomly through out the day. Daily this costs me zero extra time.
2. When I shop online I make sure to enter my store of choice into the toolbar so that I can then click on the box that will track my spending and give me points for my earnings. Daily this costs me zero extra time.
3. I do by my daily deals through Swagbucks. This requires just one extra step that takes me under 30 seconds.
4. I do print coupons off the Swagbucks website. I don't do this often but if I wasn't printing them off Swagbucks I would be printing them else where so this requires zero extra time.
There are a few extra things I do to boost my earnings that take very little time
5. I do share what I earn from time to time with my Facebook friends (both now and before I had a blog). This takes under 30 seconds to click the button right the post and press send.
6. I do perform both the daily poll and the NOSO every day. This takes me just under or over a minute each day.
7. I do use the Swagbucks App. This takes me less than a minute to set up and then I glance at it from time to time to make sure it is still going.
8. I do takes less than 2 minutes a day to earn my daily Bing credits which I convert to Swagbucks.
The extra steps I take to earn Swagbucks on a regular basis add up to less than 5 minutes a day. Are my earnings worth 5 minutes a day, yes. We are a single income family on a tight budget, the amount I earn on Swagbucks increases our wiggle room. So yes readers, Swagbucks is worth it, and no readers Swagbucks is not a gimmick, it is a point program that pays you to do things you normally do every day, as well as offer you options to spend more time on if you so desire.