Halloween is just around the corner and in my family, we love Halloween! The only thing I personally do not enjoy, is the haunted houses. I will not go to one. If you tell me it's just haunted my ghost, no problem. But if you are referring to a haunted house where people jump out and scare you... no way!! With that being said, here are some fun Halloween Finds that I think you will enjoy without breaking the bank!
Too late –zombies have already arrived! They've taken over an entire room, so put up the warning signs! Scare up fun at Halloween, zombie show viewings and college.
Set a Halloween mood at home, school, or in a haunted house dining room. Both kids and adults love the Top Hat Terror paper plates and napkins by Party Creations.
Stick wrap over the figure and wrap a mummy! Kids get wrapped up in these sticker sets, spookifying notebooks, party arts and crafts, and Halloween decorations.
Celebra Día de los Muertos and celebrate Halloween too with Plates and Napkins by Party Creations. Traditional sugar skulls along with cobwebs add festive décor.
Step up your decor this Halloween with this fun, reusable pennant banner. It hangs from a black satin ribbon, made of fabric, and has glittery white letters.
Dancing Musical Witch Hat - Spooky Fun Halloween Party Décor - $14 (reg $35)
You'll be a hit at the next Halloween party with this singing and dancing witch's hat. Delight the kids as it plays the Munster's theme accompanied by creepy laughs.
This monster has candy corn colors and soft fur, and could be a girl or boy. It is often seen playing games, and looking for candy at Halloween.
Invite trick-or-treaters, horror fans and friends to bloody good decor! These stickers adhere easily to glass, mirrors and some walls for a murderous room makeover.
Kids love playing LEGOs - now they can become LEGOs! Everything is awesome about these full costumes, fun for trick-or-treat, parties, and dress-up adventures.
Decorative spiders made of jingling, craft bell bodies, and posable, spring covered, beaded legs. Dangle from doorways or pose on the mantle for Halloween fun.
Light up parties and illuminate safety with 100 Assorted Color Glow Sticks. Bright vibrant colors that last up to 48 hours, easy to use and no batteries necessary.
Soap Soundz dispenses hand soap and holiday sounds with a press of the pump, giving guests a fun surprise, while kids want to wash their hands more than ever.
Pearl Bath Bombs brings a refreshing spa experience, with handmade bombs of all natural, locally sourced ingredients, and inside each one is a special prize ring!
Solid swords composed of durable, flexible, dense foam with no sharp ends. With colorful printed features, it's easy to immerse yourself in imaginative play.
Comfortable around town or deep in the woods, this hat protects against the elements. Ear flaps can be worn up or down, with removable mask for extra warmth.
This fall scent is fresh cider, spiced with cinnamon , nutmeg and clove.
Our standard blends and flavored coffee are trade secrets, but we can say that our Coffee Beans are 100% Arabica Beans and they are a blend of Central American Coffee Beans.
With special pumpkin and ghost graphic to add extra festival vibe, this charming piece is a great option for you to fashion your costume up! The midi dress is a flirty cami style finished with alluring crisscross design at bodice. Just keep the focus on this piece with simple heels or sandals.
Carve out some fun with these carvable foam pumpkins! Let your imagination go wild... these pumpkins can be carved just like the real thing but without the carving mess! Plus, you can use them year after year. Also great for floral arrangements — just carve a hole in the top, add your flowers, and arrange.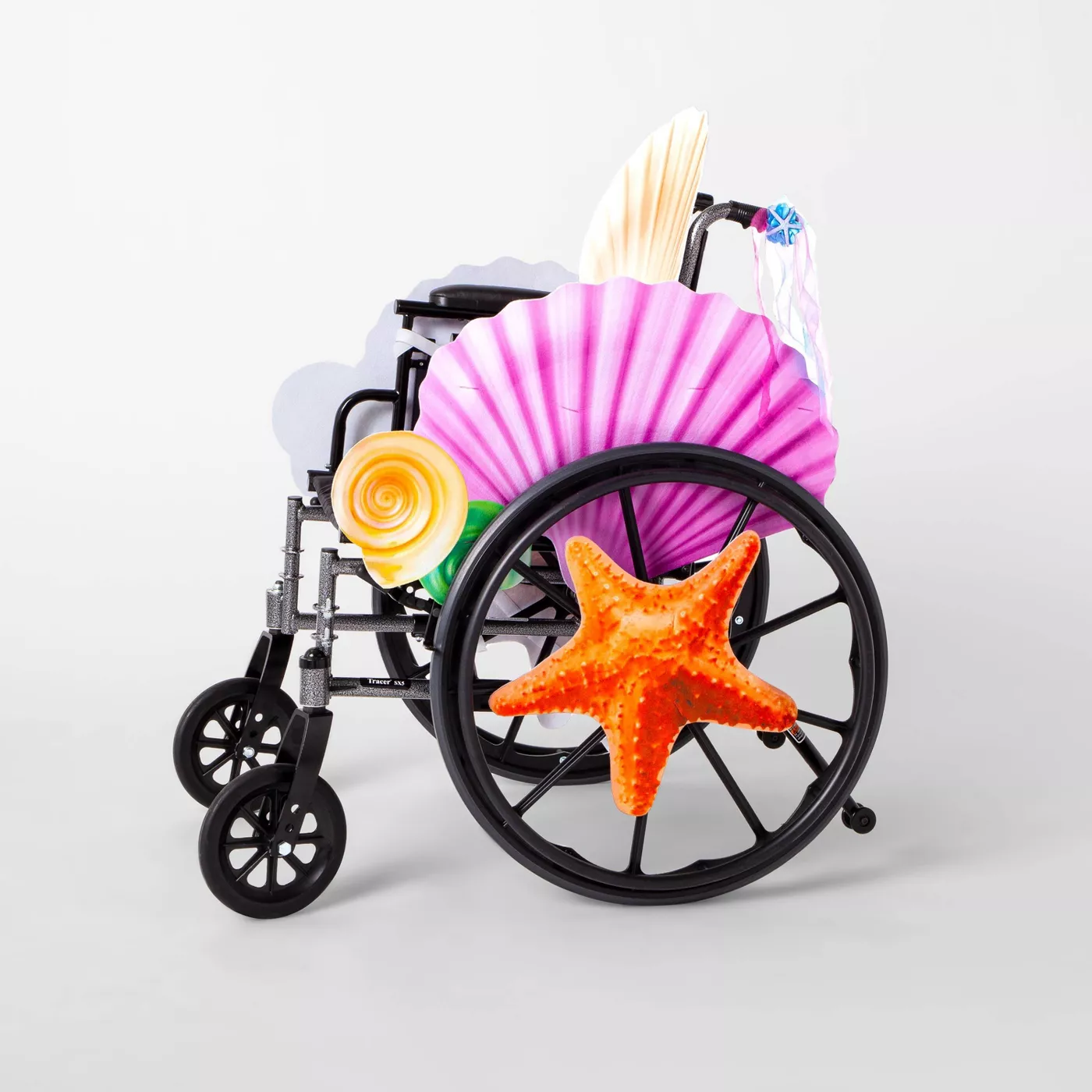 Your kiddo can enjoy dressing up their wheelchair with the Adaptive Mermaid Halloween Costume Wheelchair Cover with Hairpiece from Hyde & EEK! Boutique™. This wheelchair Halloween costume is especially designed to jazz up wheelchairs and is also a comfy option for those with sensory needs. It includes wheelchair wheel covers and side covers with hook-and-loop fasteners, and they're made to look like shells for a merm-tastic look! The side pieces can be raised up for enhanced comfort and ease of access to the wheelchair, and an included headpiece will put the finishing touch on their under-the-sea costume, whether they pick out an outfit of their own or opt for the coordinating Adaptive Mermaid Halloween Costume from the Hyde & EEK! Boutique line.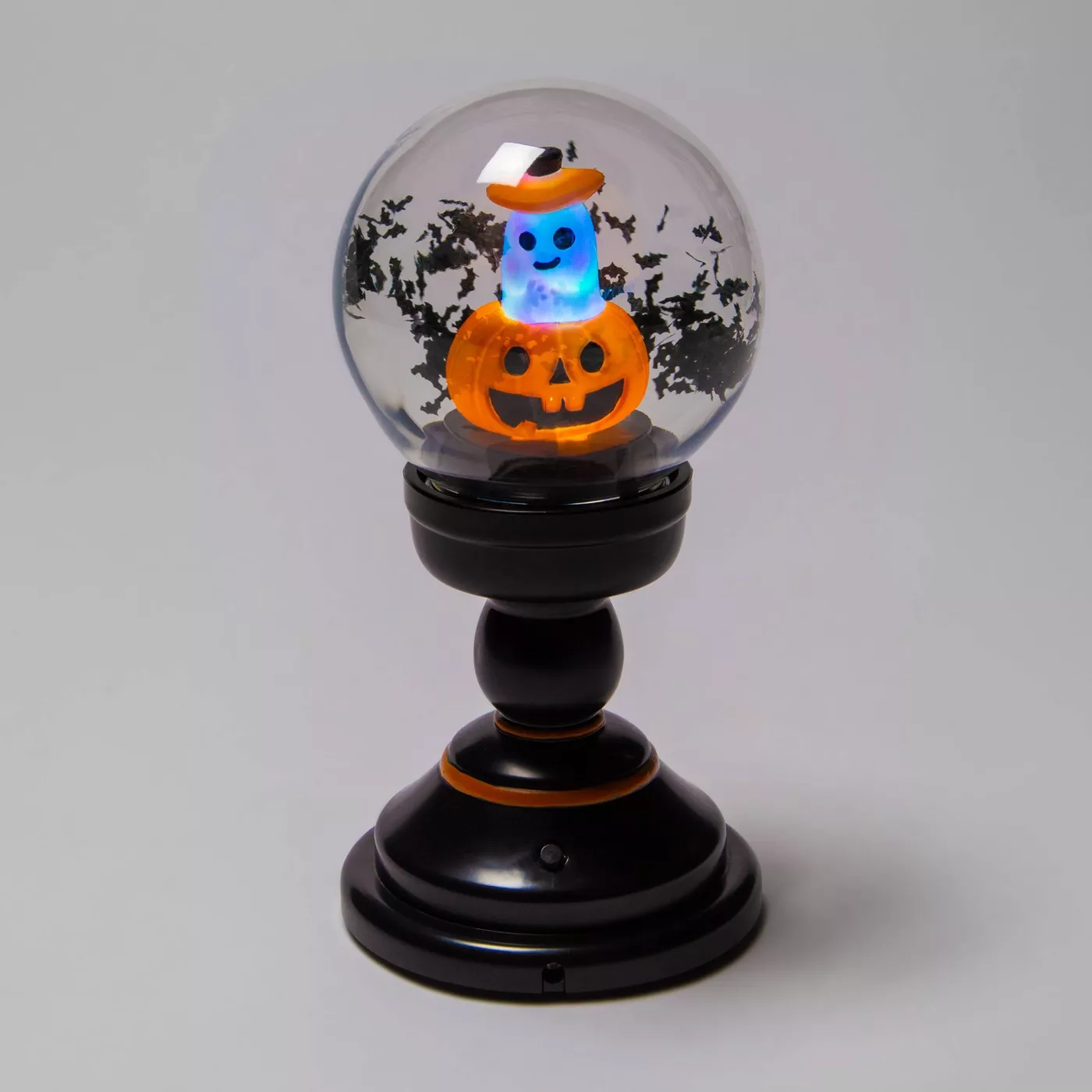 Keep your Halloween decor spooky and glowing with the Animated Small Snowglobe from Hyde & EEK! Boutique™. This battery-powered snowglobe features a festive figure of a ghost stacked on a jack-o'-lantern that lights up and changes colors, while the background comes alive with eerie and ghoulish silhouettes. Standing on a dark turned pedestal base, this small Halloween snowglobe is easy to place anywhere around your home without the need for an outlet. Set it on your Halloween table spread or light up a dark corner with its soft glow.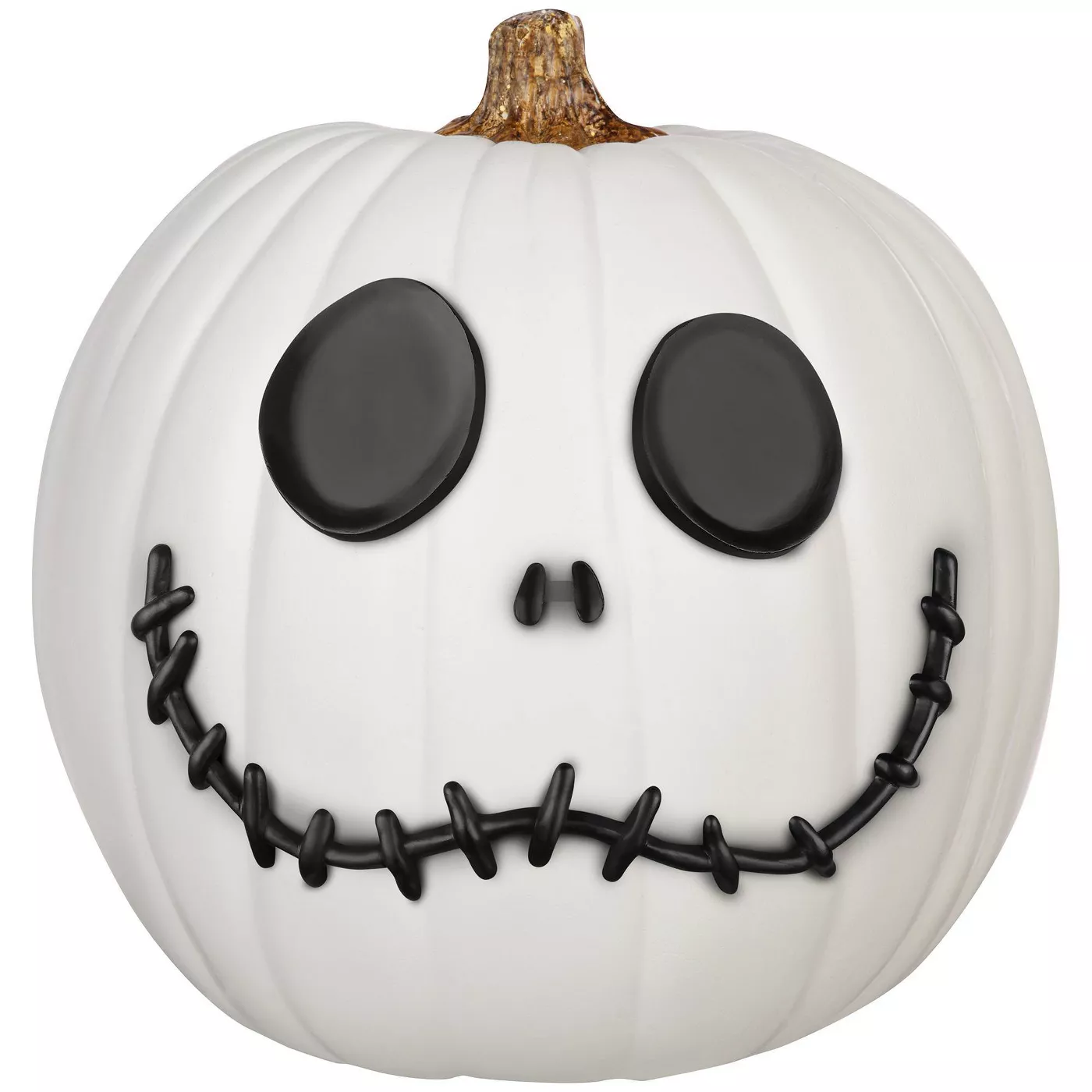 Paint and decorate your pumpkin to look like Jack Skellington!
CONTENTS: 1 sponge brush, 40 ml paint-white, 2 eyes, 1 nose piece, 1 mouth.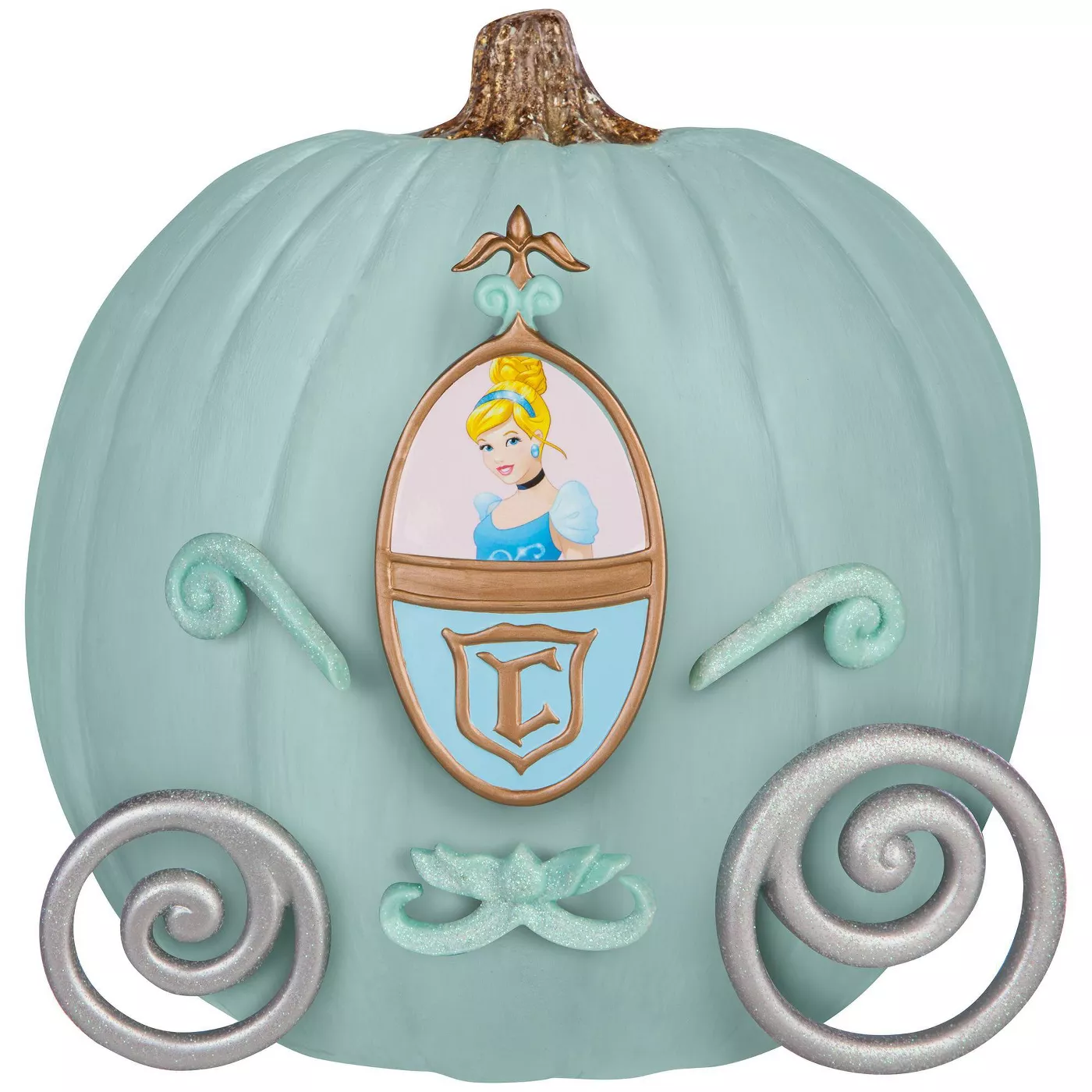 Paint and decorate your pumpkin to look like Cinderella
CONTENTS: 1 sponge brush, 40 ml paint-blue, 2 wheels, 2 door sashes, 1 character/door, 1 base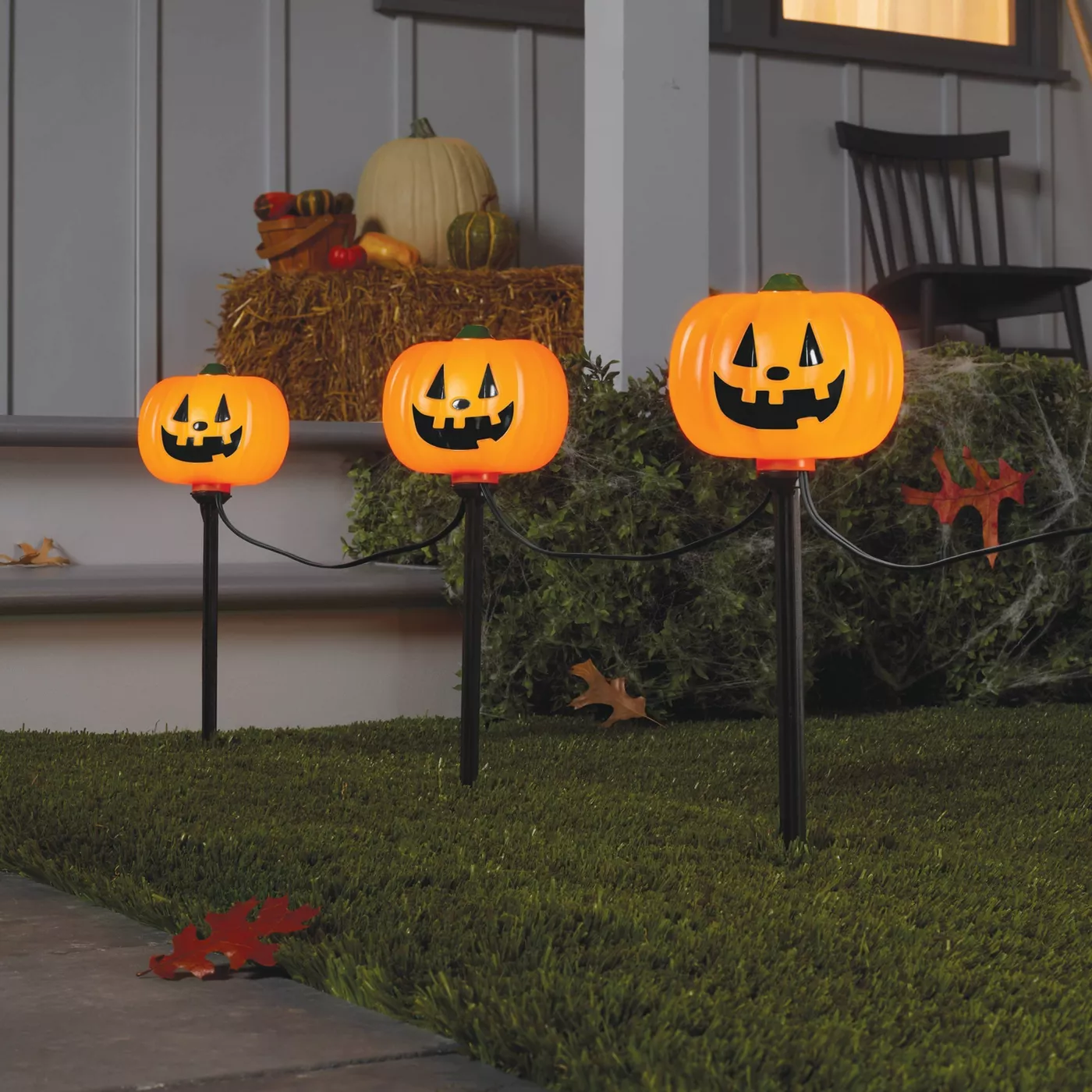 5ct Incandescent Clear Pumpkin Pathway Halloween Light Up Lawn Stakes - Hyde & EEK! Boutique - $15.00
Lend the perfect spooky and spectacular vibe to your lawn with the 5-Count Incandescent Clear Pumpkin Pathway Halloween Light-Up Lawn Stakes from Hyde & EEK! Boutique™. This pumpkin lawn stake light set features five decorative lawn stakes, each topped with a jack-o'-lantern with lights inside for a fun glow. The stakes are easy to install in any soft ground, and the light-up design is perfect for instilling a sense of Halloween atmosphere anywhere in your yard, while also lighting the way for trick-or-treaters.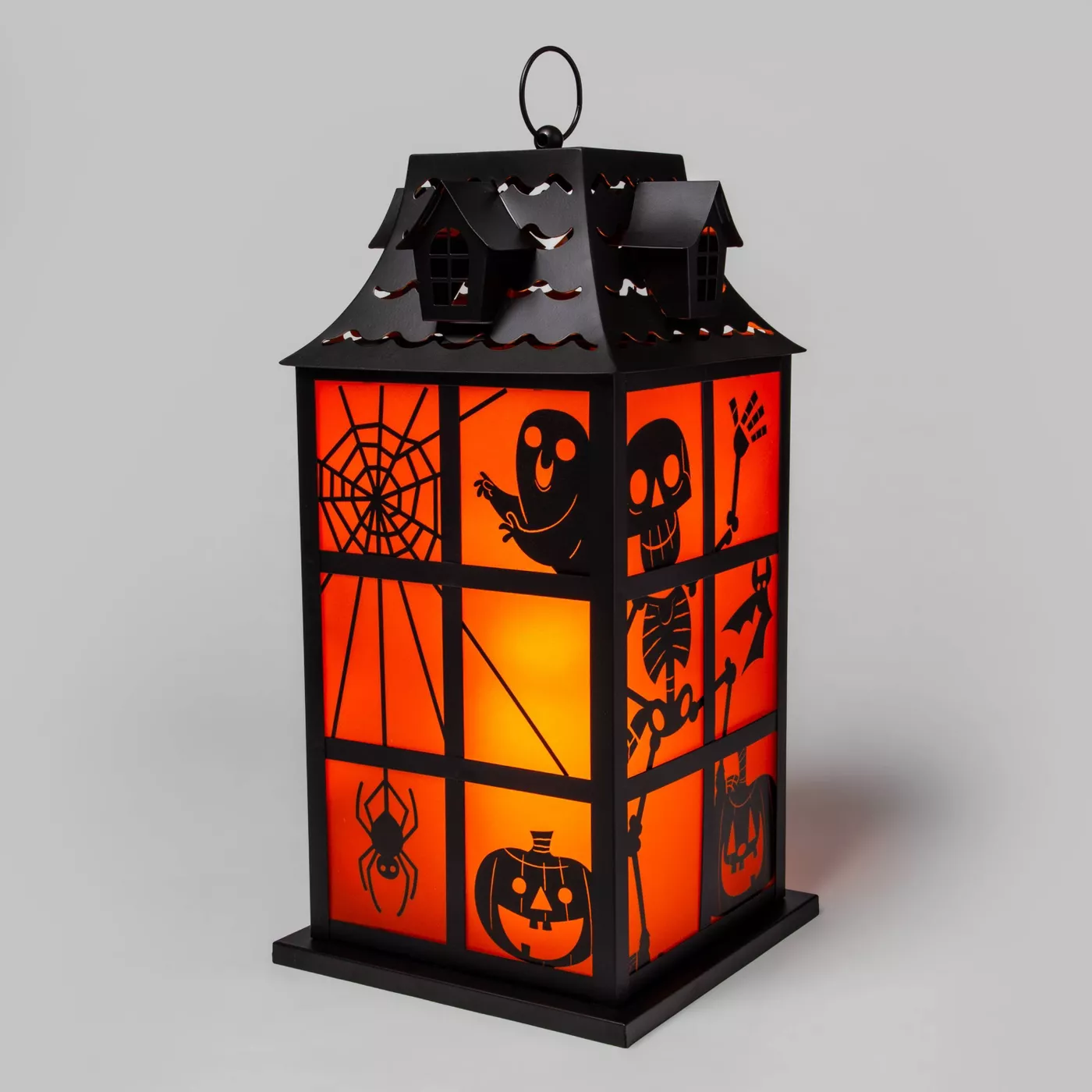 Large Light Up Halloween Lantern - Hyde & EEK! Boutique - $25.00
Add some glow to your decor with this Large Light-Up Halloween Lantern from Hyde & EEK! Boutique™. This light-up lantern makes a great addition to your table decor. It features a spooky scene on the side panels and glows for a cool Halloween effect. The durable metal accent is suitable for table display, and it comes with a top loop for easy hanging. Place it on your side table, entryway console or hang from a tree to bring create an exciting haunted attraction.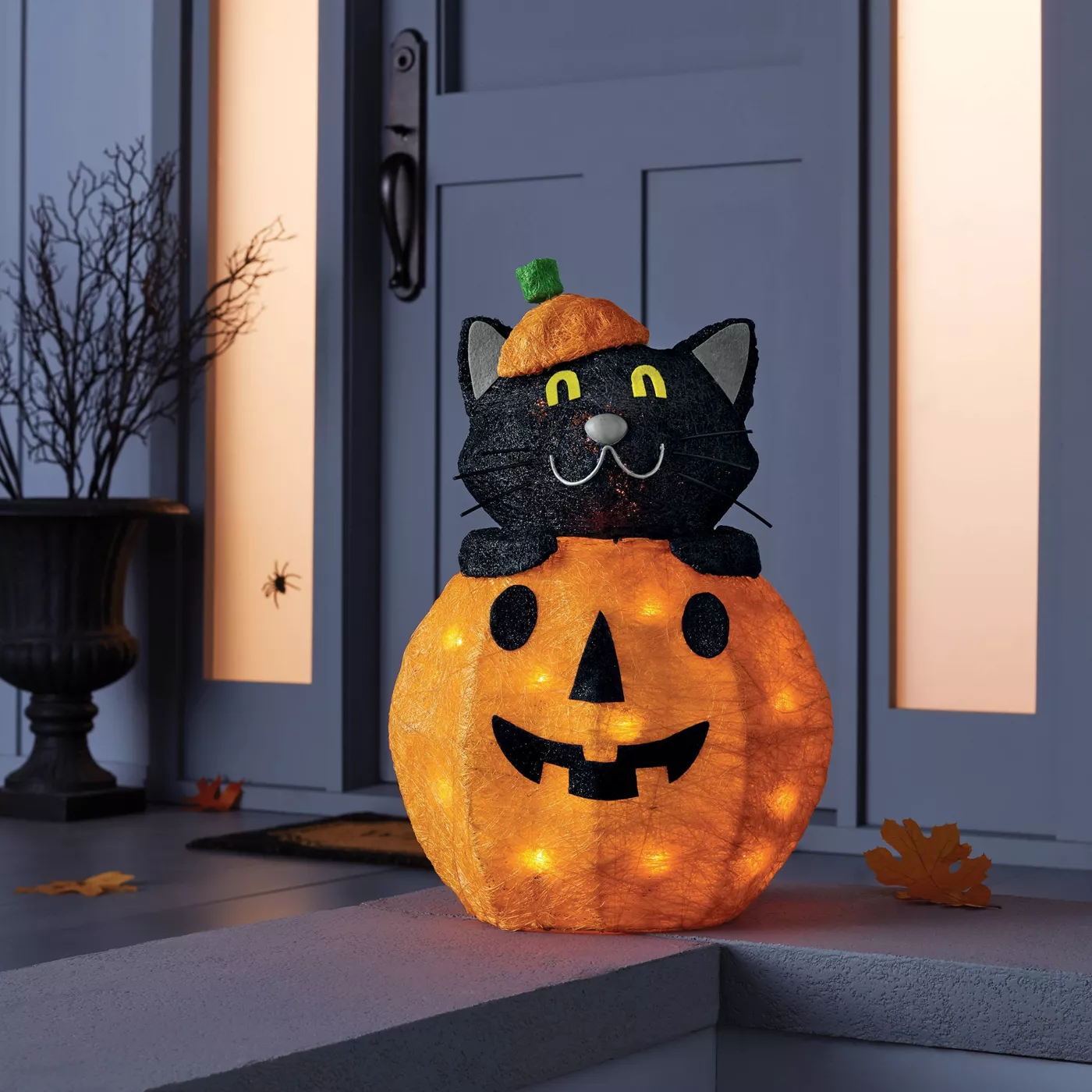 Cat in Pumpkin Incandescent Sisal Light Up Halloween Decor - Hyde & EEK! Boutique - $35.00
No creepiness and all cuteness, the Incandescent Sisal Cat in Pumpkin Halloween Light from Hyde & EEK! Boutique™ adds sweet charm to your Halloween display. This indoor/outdoor Halloween decoration features an orange jack-o'-lantern with a cute black kitten poking its head out of the top. Place on your doorstep as a friendly welcome to trick-or-treaters, or place inside to complete your Halloween party display.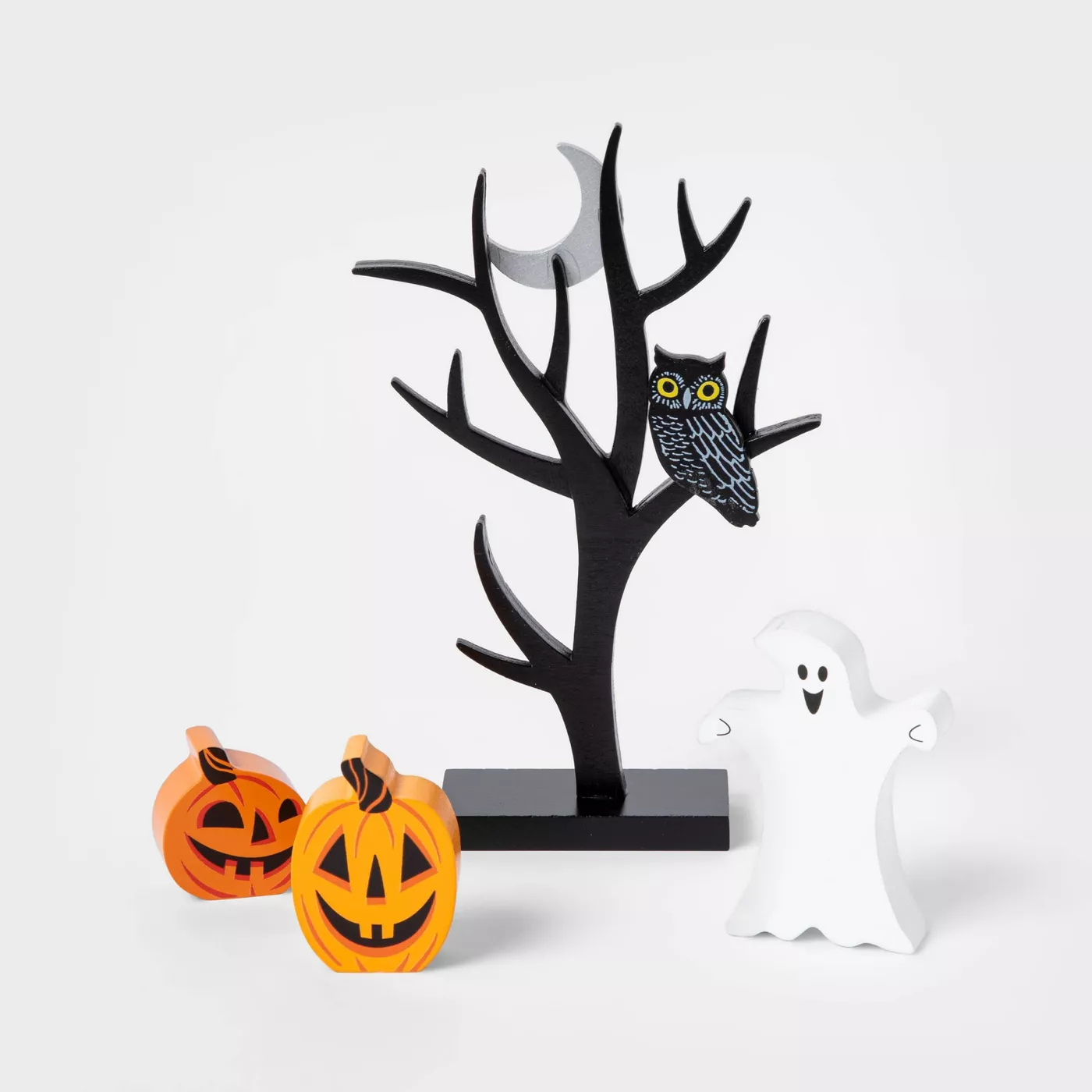 4pk Tree/Ghost/Pumpkins Mini Mantel Halloween Decor Set - Hyde & EEK! Boutique - $8.00
Transform your fireplace mantel, coffee table or other home surface into a cute custom arrangement of Halloween decor with this 4-Piece Tree/Ghost/Pumpkins Mini Mantel Halloween Decor Set from Hyde & EEK! Boutique™. Crafted from sturdy wood for lasting use and finished in cute colorful detail, this set of mini Halloween decor figurines includes a smiling white ghost, two orange jack-o'-lanterns, and a twiggy tree complete with moon and owl in the branches. Add some life to your holiday decor with this adorable set of mini figurines, whether you display them alone on an end table or combine with other decor to create a custom table centerpiece.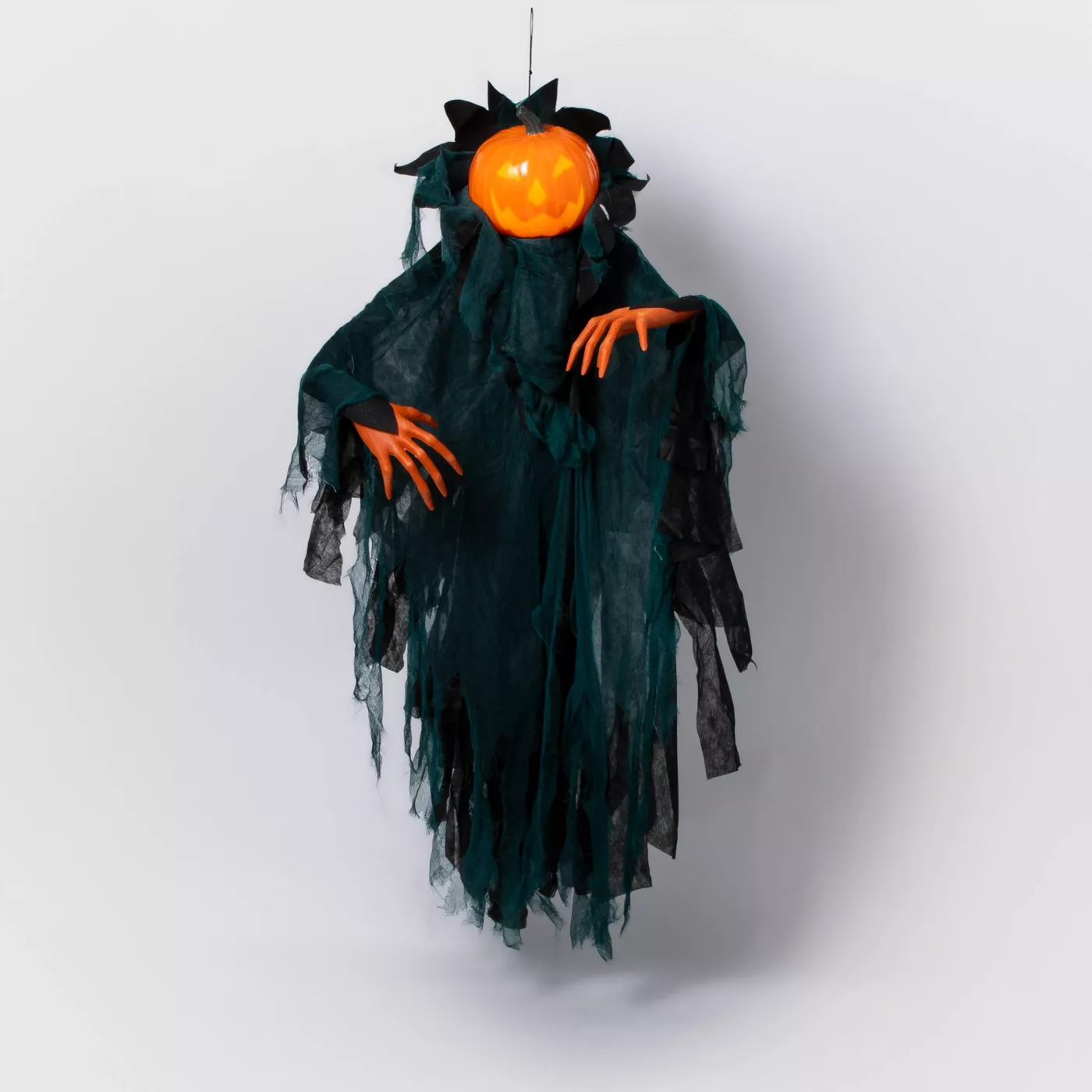 Animated (Lights & Sounds) Decorative Halloween Pumpkin Ghoul - Hyde & EEK! Boutique - $25.00
Spookify your decor for the Halloween season with the Animated Decorative Halloween Pumpkin Ghoul from Hyde & EEK! Boutique™. This decorative Halloween ghoul has a cute-meets-haunting look, with a pumpkin face enveloped in a gauzy, tattered robe. With the press of a button, the ghouls lights up and makes noise for a decoration that's sure to delight. Best of all, the ghouls runs on battery power so it can be placed anywhere in your home without the fuss of cords.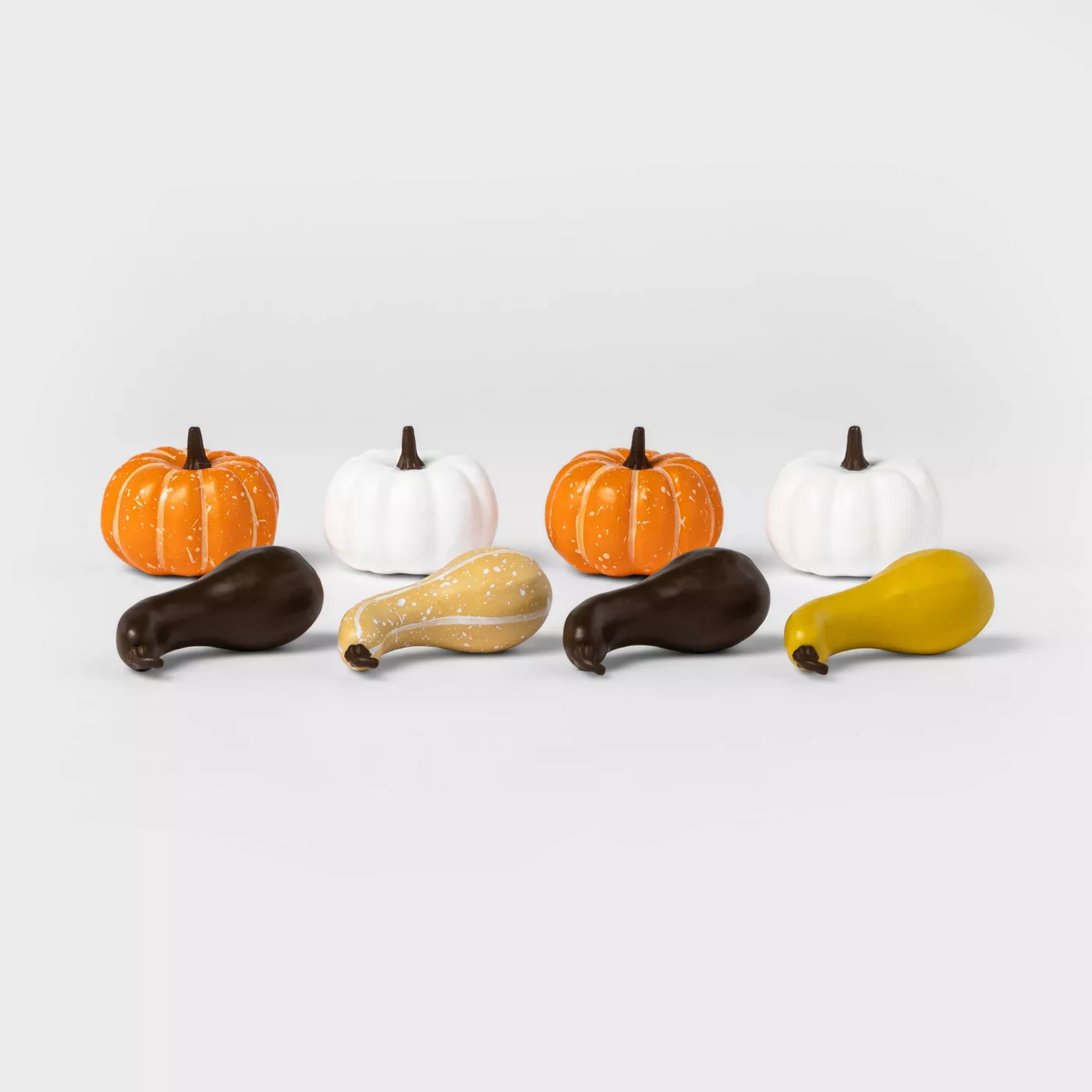 Harvest Pumpkin Acorn & Gourd Decorative Filler - Spritz - $5.00
Bring in the spirit of the harvest season and Halloween with the Harvest Pumpkin Acorn & Gourd Decorative Filler from Spritz. This set of 8 decorative accent pieces, 4 pumpkins and 4 gourds, is made of foam and comes in different colors to liven up your decor. You can place them around your house or decorate a Halloween installation to add to the spirit of the season.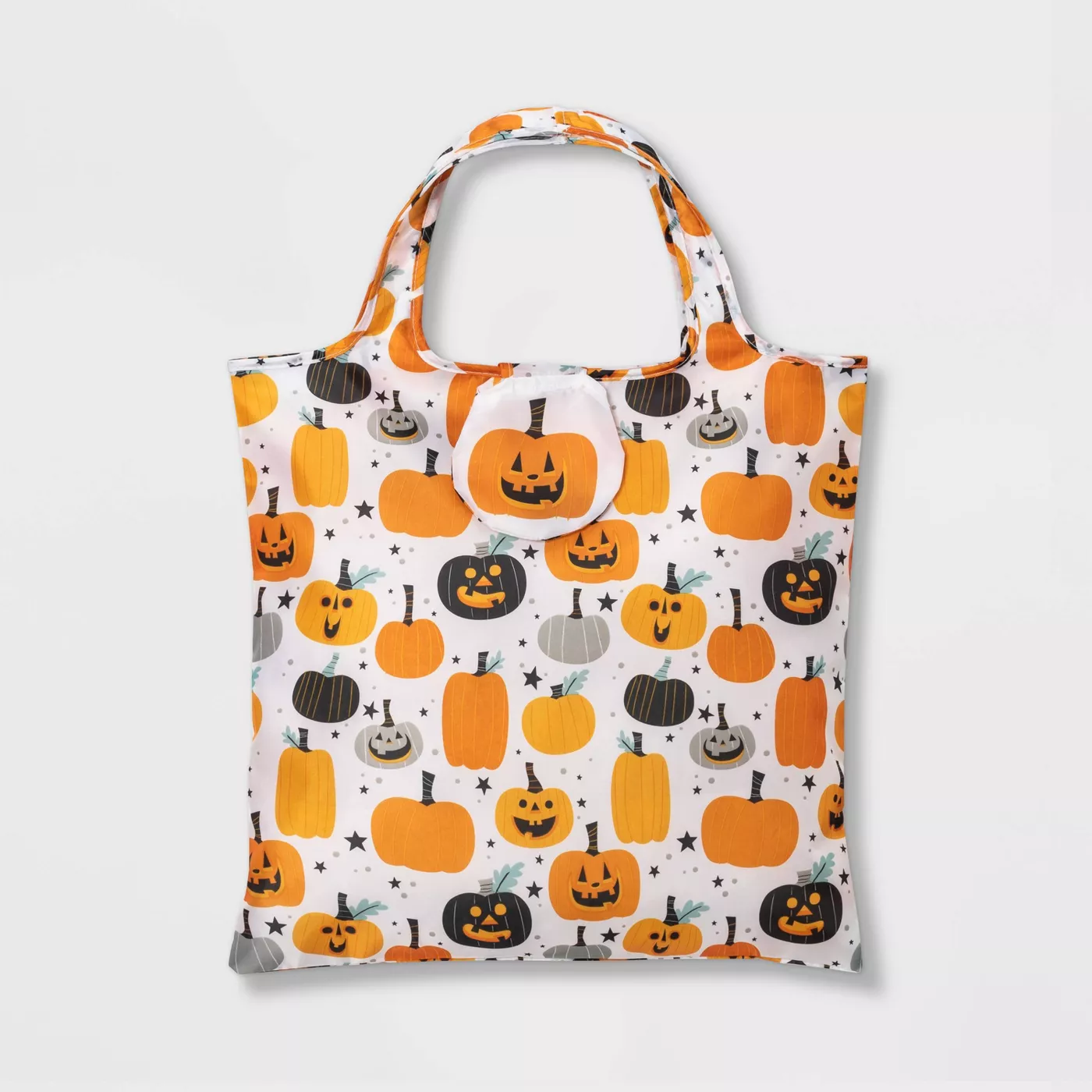 Reusable Halloween Treat Bag with Pouch - Hyde & EEK! Boutique - $3.00
They can carry their Halloween candy haul in adorable and convenient style with the Reusable Halloween Treat Bag with Pouch from Hyde & EEK! Boutique™. This cloth tote bag is perfect for stashing and toting Halloween candy and other goodies, and it easily folds up to a small size that fits in the included pouch when not in use. This fabric treat bag is easy to stash in your purse, car or backpack for when you need it, and can be carried when trick-or-treating or running errands year after year.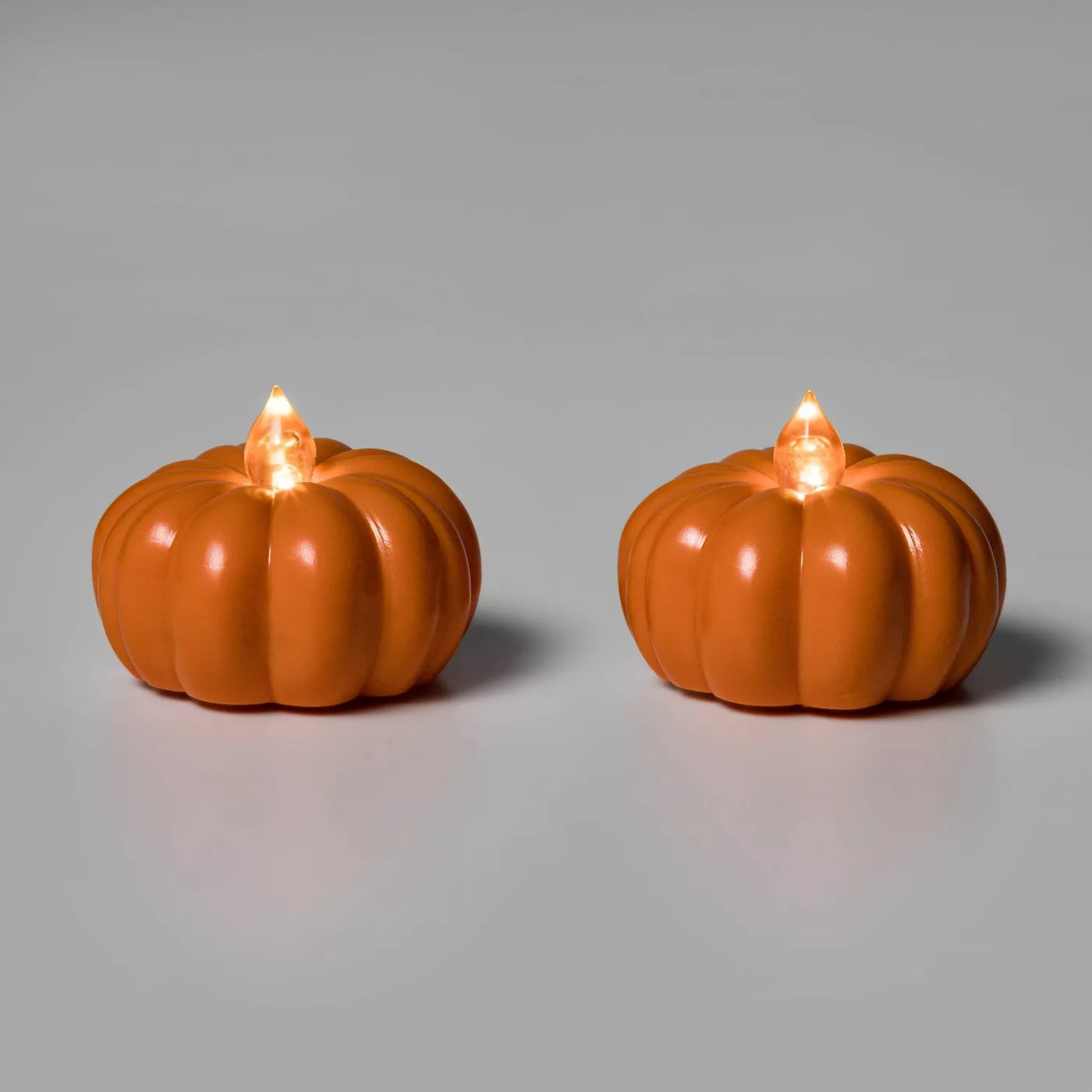 2pk Halloween Pumpkin Tea Lights - Hyde & EEK! Boutique - $4.00
Give a glow to your Halloween decorations with the 2-Pack Halloween Pumpkin Tea Lights from Hyde & EEK! Boutique™. This tea light pack comes with two lights shaped like pumpkins for perfectly seasonal flair. Each pumpkin has a small size — 2.12 inches tall and 2 inches wide — that's easy to place anywhere in your home. Set them on an end table or shelf for a subtle seasonal accent, or place on the mantel to bookend a display of ghostly figures for a more intricate display.
Everybody scream! Send these creepy-cute blooms to that one friend who wishes every day was Halloween. Give your other half this Seriously Spooky Bouquet as a gesture of your undying love. Any diehard fans of The Nightmare Before Christmas will adore this scary sentiment.
Gather 'round Sisters… we've brewed up something special just for you! Anyone who lives for all things Halloween will adore this spooky sweet design. Send your best friend a loving reminder that sistaaas stick together. Send your Massachusetts relatives a reminder to keep Salem witchy.
Jar Size: 12 oz
RINGREVEAL™ $10, $100, $1000, $5000
Made with Natural Soy Wax
Paraben & Phthalate Free
Hand-poured in the USA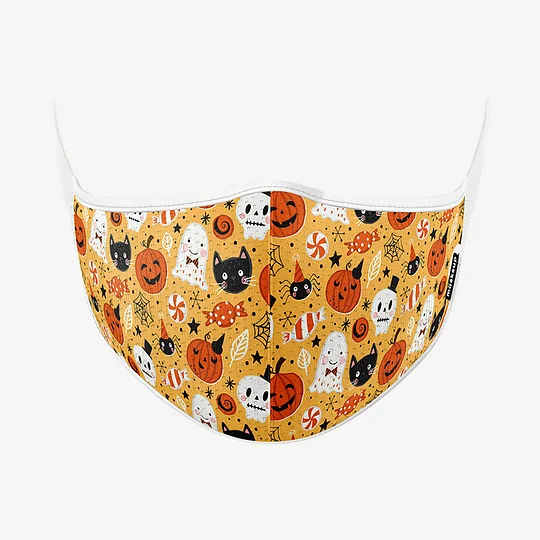 Meet Masksup - the perfect stylish alternative to the standard preventative mask. Our Mask is perfect for Summer with the ultra lightweight breathable microfiber outer layer. Functions: Specially crafted to filter out PM 2.5 particles, our masks prevent the wearer from dust, pollen, shavings, mold, biologics & other microscopic airborne contaminants found in poor air quality. Masksup is tested and certified as FFP2, with minimum of 99% prevention against particles down to the size of 0.1µm.
Every quarter a different theme, all with a spooky twist! Includes a selection of homewares, stationery, decorations, novelties and bath and body products. We feature unique art & craft items from our favorite Australian small businesses, some exclusive to All Hallows Club. Join our club and enjoy the thrill of Halloween all year round.
USA based monthly box of Gothic, Occult, and Wiccan products. Subscribers will receive a collection of home goods, decor, jewelry, stationary, cosmetics, and candles focused on a specific monthly theme. If you love Halloween, have a taste for darkness, or enjoy the supernatural, then this is the box for you!
We have 2 subscription types to choose from! Spooky is Halloween themed/autumn scented bath and body products, and more! Whimsical is a colorful and quirky bath and body products, and more! Each version of the box will also have other surprises that may include candles, jewelry, prints, and home décor!
This Limited Halloween Edition comes in an 8oz Jar. This CSC Scent is an alluring smell filled with the following notes: Bergamot, Calla lily, Carnation, Exotic Florals, Honey, Hydrangea, Lemon, Oak Moss, Orange, Orchids, Raspberry, Tonka Bean, Tuberose, Vanilla
This Limited Halloween Edition comes in an 8oz Jar. Spooky Brew is a spicy blend for the season with the following notes: Apple, Cinnamon, Clove, Cranberry, Orange Peel, Sugar, and Wood
Shop more Halloween deals at:
*Prices are subject to change. Pricing is valid at the time of the original posting of when the product was added.
Would you like to add your product to our Halloween Finds Gift Guide? Send us a message to discuss how!