Happy Pride Month!
As a proud parent of someone who is open about her sexuality and someone who has close friends in the LGBTQ+ community, I felt the need to share this post. Especially since June is Pride Month!
For those who do not know, gay pride or LGBT pride is the promotion of the self-affirmation, dignity, equality, and increased visibility of lesbian, gay, bisexual, and transgender people as a social group. Pride, as opposed to shame and social stigma, is the predominant outlook that bolsters most LGBT rights movements.
The rainbow flag is a symbol of lesbian, gay, bisexual, transgender (LGBT) and queer pride, and LGBT social movements. Also known as the gay pride flag or LGBT pride flag, the colors reflect the diversity of the LGBT community and the spectrum of human sexuality and gender.
LGBT Pride Month occurs in the United States to commemorate the Stonewall riots, which occurred at the end of June 1969. As a result, many pride events are held during this month to recognize the impact LGBT people have had in the world. Pride month is not recognized internationally as pride celebrations take place in many other places at different times, including in the months of February,
August,
and September.Increasingly, June is being recognized as Pride Month outside the United States.
I found some really fun finds to show your support for the LGBTQ+ community! Take a look at what I found:
Please keep in mind that price and availability are subject to change. The prices listed were accurate at the time of posting and everything listed was available at the time of posting.
Transgender Pride Ring with Trans Pride Flag Color Striped Design.
Material: Stainless steel with enamel flag colors
This 21 Sticker Set / Gay Pride Decals Package includes:
2-Moms
2-Dads
2-Girls
2-Boys
2-Babies
2-Cats
2-Dogs
2-Rainbow Ribbons
2-Rainbow Hearts
1-Rainbow Flag
1-Venus Symbol
1-Mars Symbol
Bisexual Pride Flag Pewter Pendant. It is made of an enamel inlay in a solid pewter frame. The Pendant is 1 1/8 inches long by 1/2 inch wide. It is on an adjustable cotton waxed cord that extends from 16 to 34 inches. It is nickel free.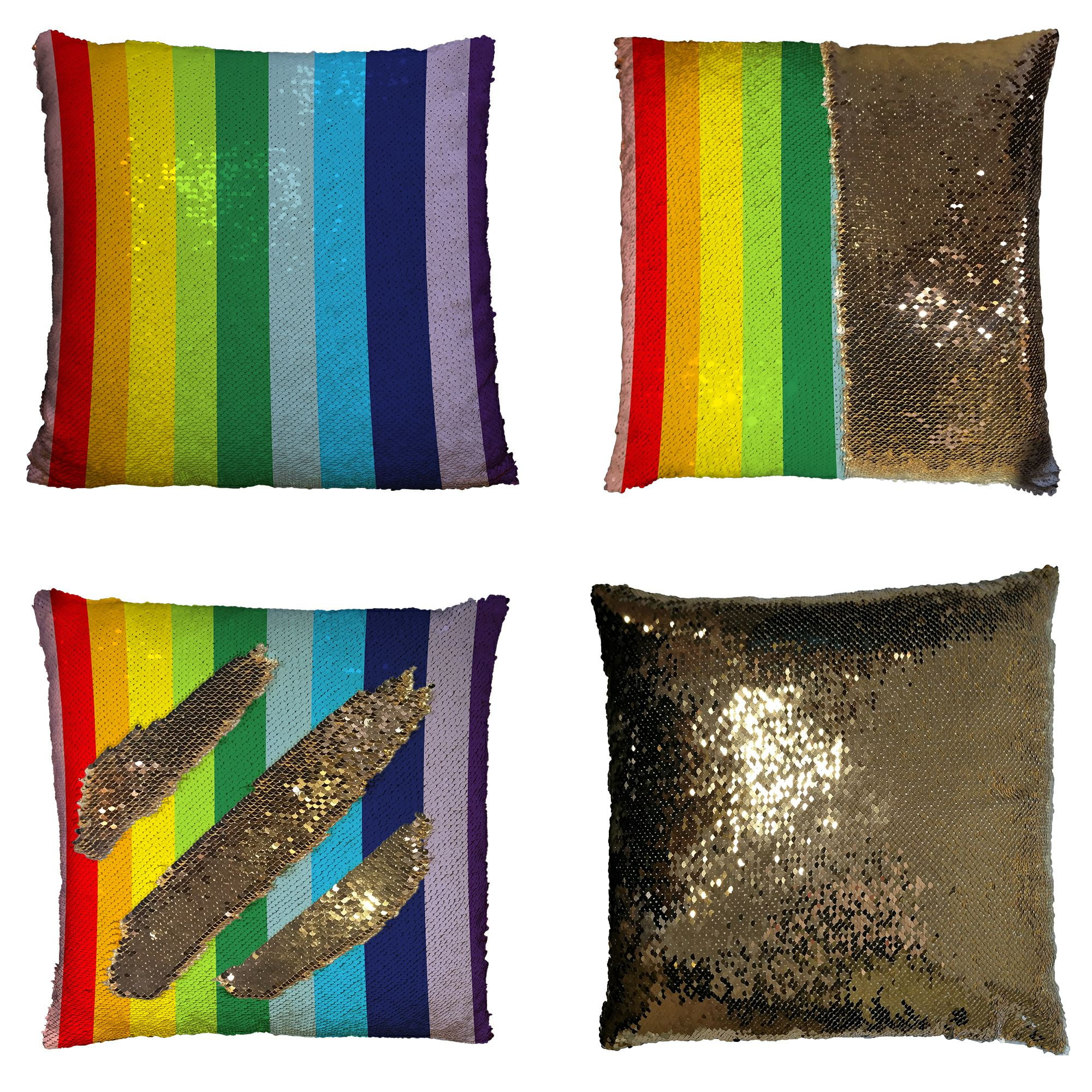 Size: 16x16 inch,18x18 inch,20x20 inch. Material: reversible sequins (front) and soft suede fabric (back).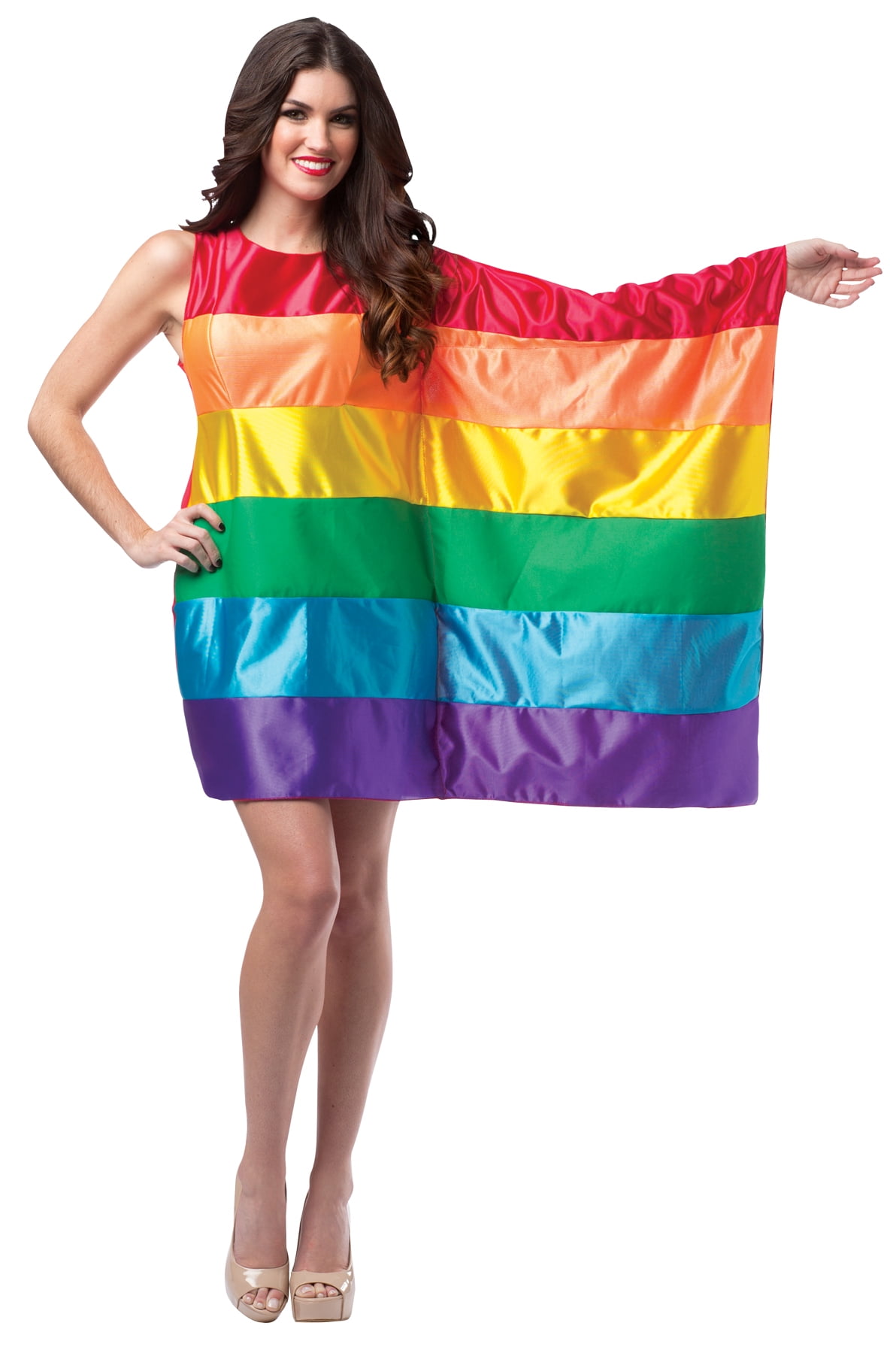 Perfect for spring or for festive parties or gatherings! The dress with rainbow stripes is sleeveless on the right side but long-sleeved on the left. Just hold out your arm and you get a full-sized flag effect. Mini-dress length may require you to add your own boy shorts for modesty. Runs small.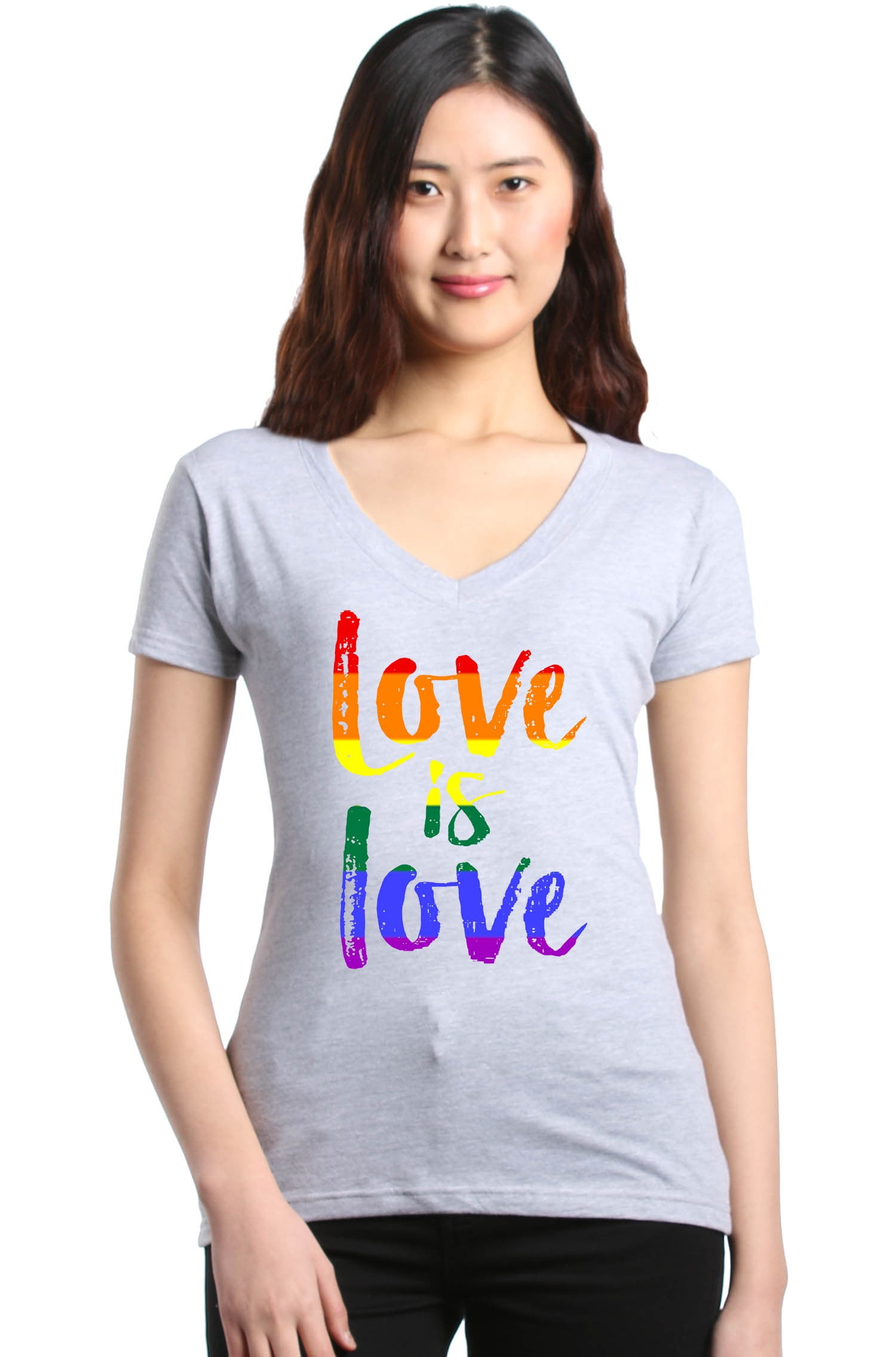 Exclusive Shop4Ever brand novelty shirts designed and printed in the United States. Made of a cotton blend material with a comfortable, slim fit. Design may appear smaller on larger sizes. Recommend to wash inside out with cold water. Wide variety of colors and styles available.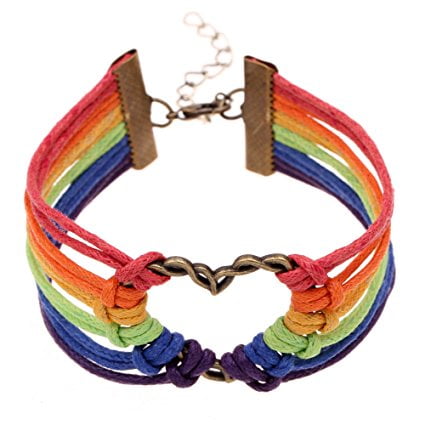 This gorgeous rainbow pride bracelet is the perfect gift for you or for her. Wife, Girlfriend, or Friend will love this bracelet and the meaning behind it.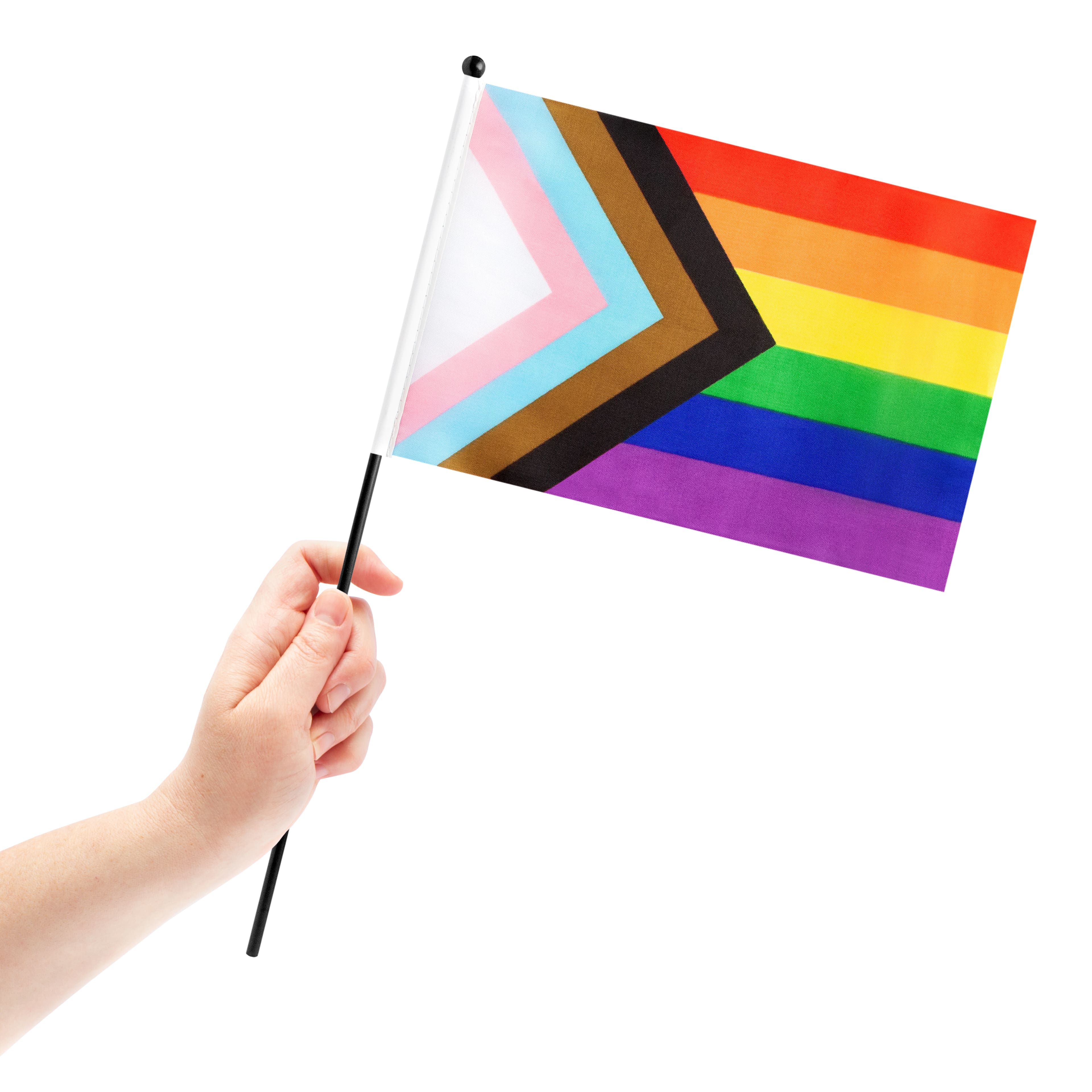 This mini Pride Progress flag is perfect for adding to your Pride-themed décor. Team it with other accents to complete the look.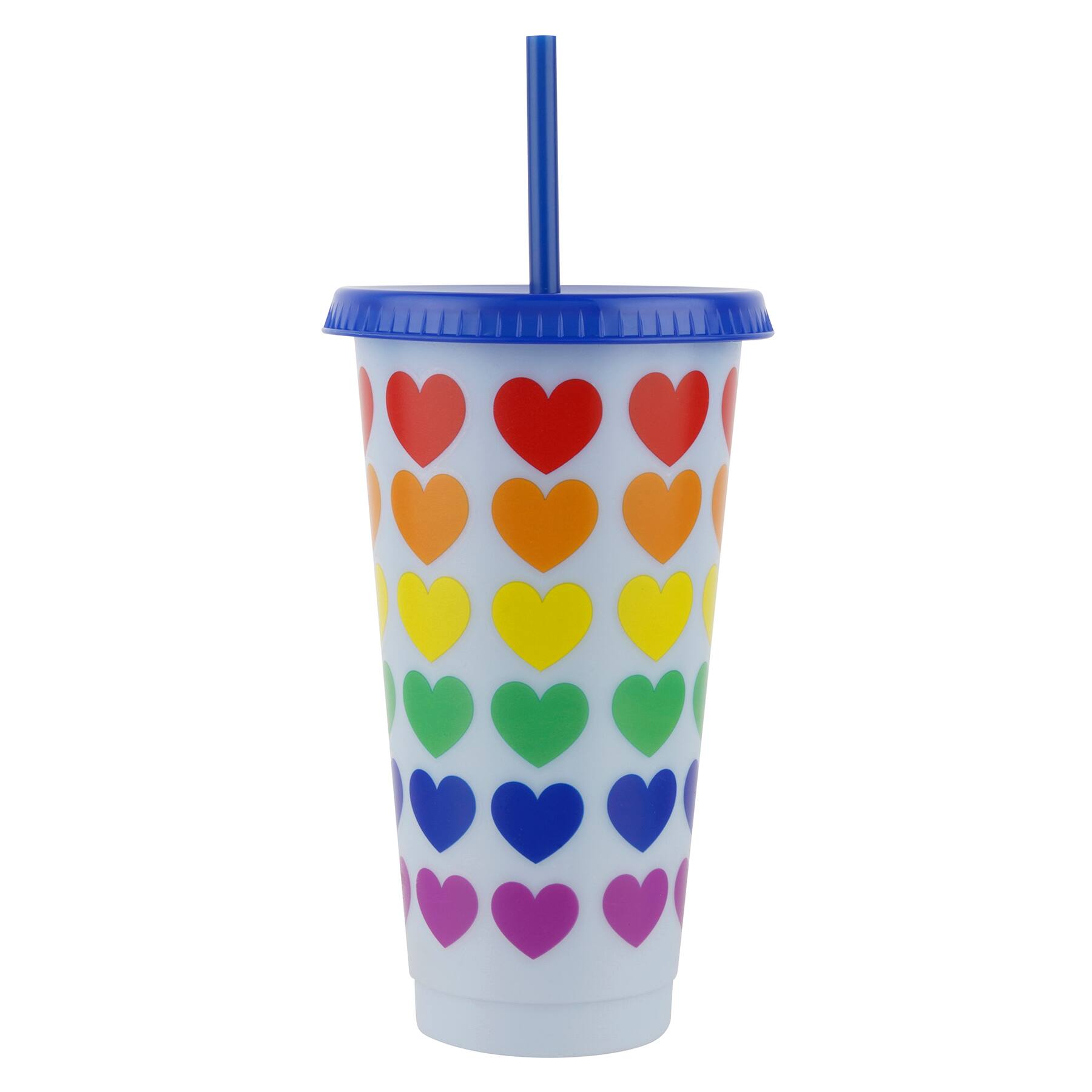 This hearts tumbler is perfect for holding your refreshments. Show it off at the Pride festivities filled with your favorite drink.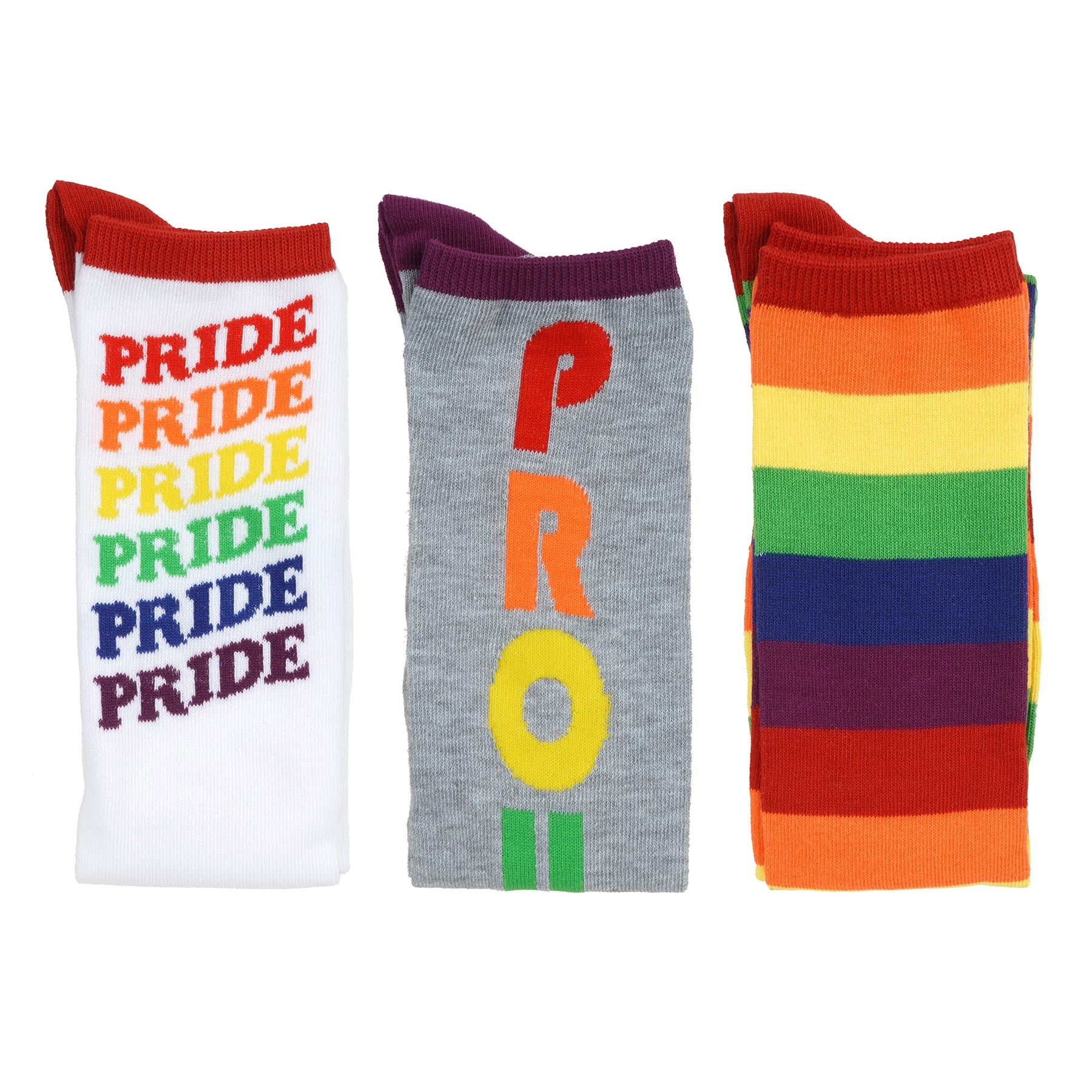 Wear this pair of fun knee high socks by Celebrate It for pride month. Pair them with a matching t-shirt and colorful accessories to complete your outfit.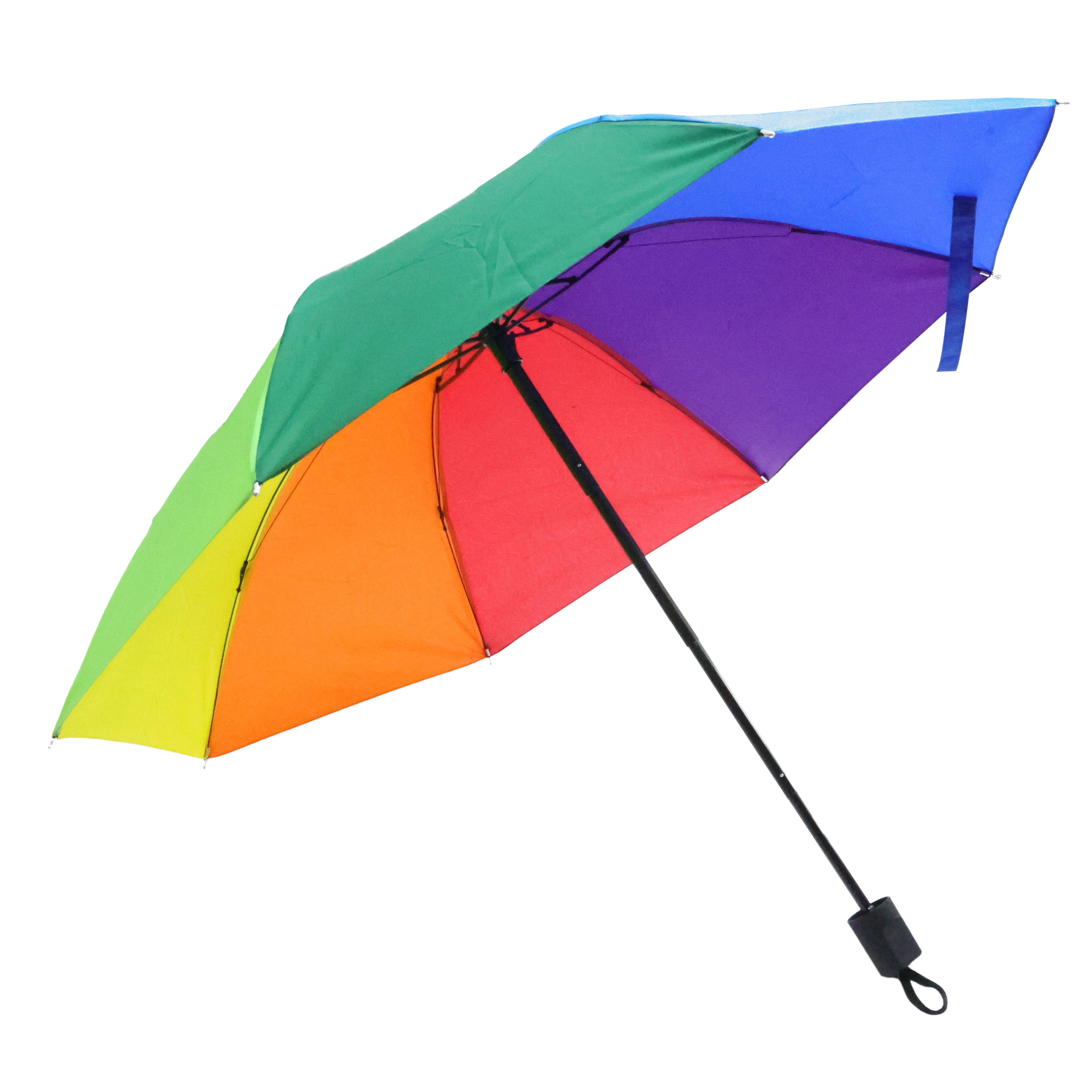 Use this rainbow umbrella by Celebrate It for pride month and every other month of the year. It is the perfect size to put in your bag or car so you are ready for rainy weather.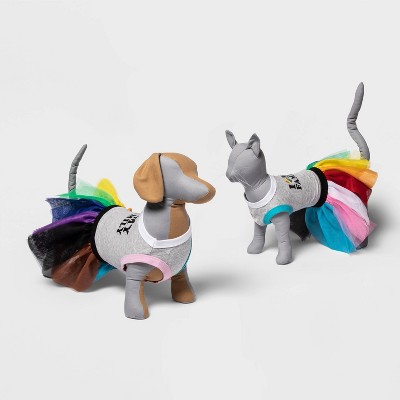 Dress your furry friends in cute, pride-inspired attire with the Rainbow Pride Pet T-Shirt & Tutu Skirt. Perfect for felines and canines alike, this pet costume features a rainbow tutu with a T-shirt portion on the top that says "I Love My Family" with the "Love" represented as a rainbow heart for a cute, cuddly look. It's made from cotton and spandex for lightweight wear and extra stretch your furry friends will love. Whether you're celebrating pride with the family or just want to give them a cute outfit to wear, this T-shirt and tutu set will have them looking cuter than ever.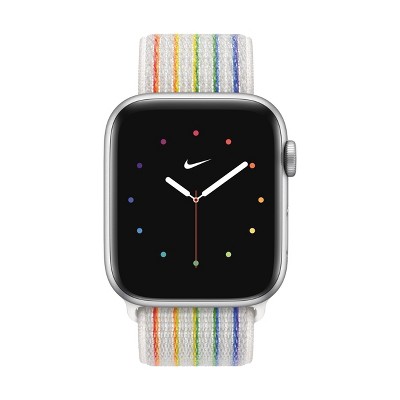 Soft, breathable, and lightweight, the Pride Edition Nike Sport Loop features a nylon weave with reflective rainbow yarn inspired by the Pride flag and designed to shimmer when light strikes it. A hook-and-loop fastener makes for quick and easy adjustment, and dense loops on the skin side provide soft cushioning while allowing moisture to escape. On the reverse side, the attachment loops are securely anchored for superior durability. Apple is proud to support LGBTQ advocacy organizations working to bring about positive change, including Encircle, Equality North Carolina, Gender Spectrum, GLSEN, the Human Rights Campaign, PFLAG, the National Center for Transgender Equality, SMYAL, and The Trevor Project in the U.S. and ILGA World internationally.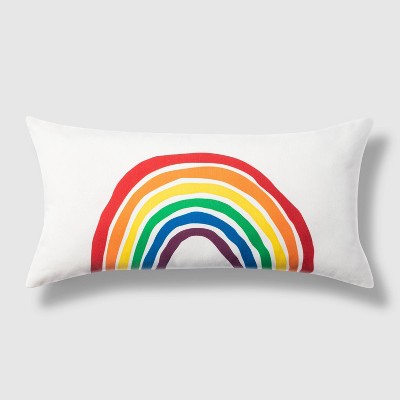 Decorate for a pride weekend gathering or celebrate throughout warm weather seasons with this Pride Outdoor Lumbar Rainbow Sketch Throw Pillow. Designed with a cute and colorful rainbow line drawing on a simple white fabric, this indoor/outdoor lumbar pillow is a perfect pick to decorate for your outdoor pride celebrations or to toss on your couch to celebrate the LGBTQIA+ community while bringing a fun accent to your home decor. The soft fabric cover and fluffy fill offer some added cushion to a patio chair, and sewn seam edges give this rainbow decorative pillow a crisp, clean look that complements a variety of furniture.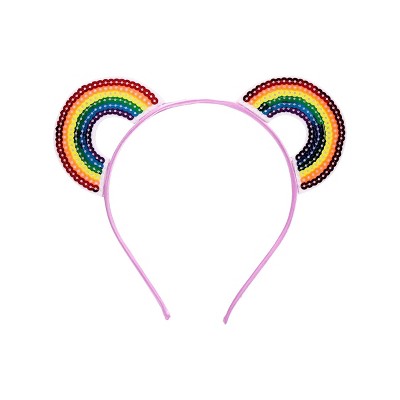 Show your love and support for all with the Pride Double Rainbow Headband. This headband features a pink hue with two rainbows on top for shiny, pride-inspired detail you'll love. It rests comfortably atop the head, making it perfect for your local pride parade or a celebration at home with family and friends.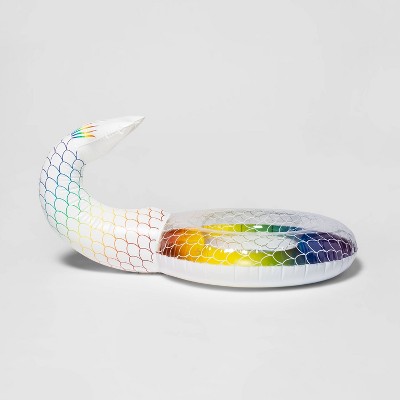 Celebrate all summer long with this Pride Inflatable Pool Float. This pool float features a pride-inspired design that is perfect for relaxing in the pool or on the waves, and it's made from material that easily inflates. Simply inflate and head out to the beach or pool for warm sunny days on the water.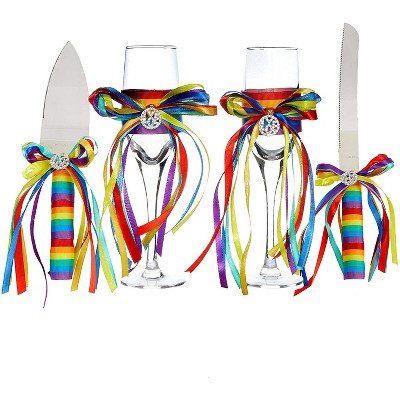 What better to remember your wedding day than with these beautiful, rainbow champagne flute glasses and cake cutters set that will be cherished for years to come! These flute glasses are the perfect way to toast to a new chapter with champagne, wine, or apple cider. The best part about these glasses and cake cutters is that they are reusable for other special occasions, such as your wedding anniversary. Product names are trademark of listed manufacturer or other owners, and are not trademarks of eForCity Corp. The manufacturer does not necessarily endorse use of these products.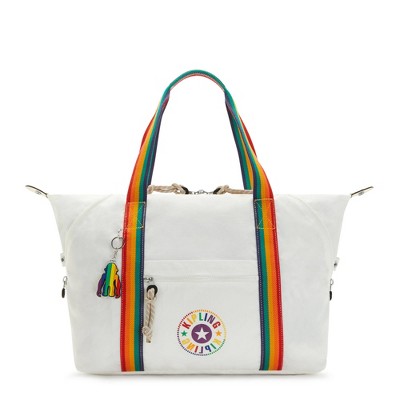 We live for getaways because Art makes it possible. Pack-up a couple of outfits, a pair of sneakers, and your toiletry pouch and zip-it on up. Use it as your carry-on, slip it onto your suitcase handle using the trolley sleeve or pack it in your suitcase to use on vacay. Rock the rainbow straps and logo everywhere you go and celebrate Pride!
Your go-to drawstring back that's light on your shoulders! Celebrate Pride and rock the rainbow colors and fill it with all the essentials.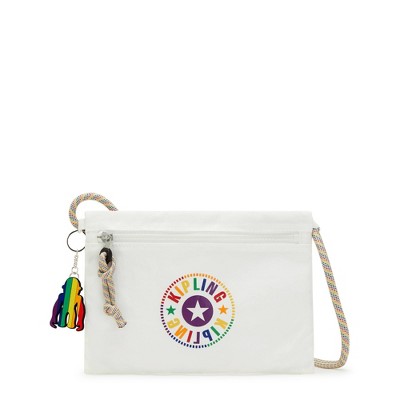 Celebrate Pride! So colorful and so practical! Fit your phone, keys, and a few cards inside and head to a festival, parade, and more. Ragu is super lightweight, you'll barely know its there!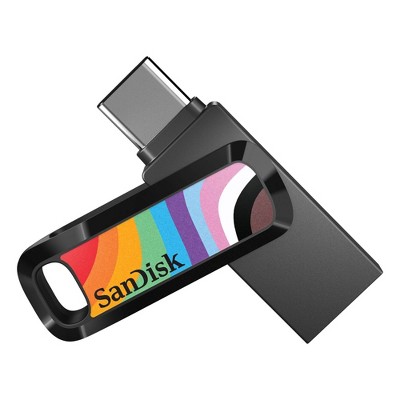 Brought to life by employees from Western Digital's We Equal network, we hope this colorful drive allows users to #ShareYourPride year-round by saving and sharing equally vibrant, authentic and proud moments in life. Whether you're taking amazing photos of your latest adventure or creating content in the office, the SanDisk flash drive that lets you easily store photos to automatically back up your photos, videos, music, documents and contacts. Also features a keyring hole to take your drive on the go.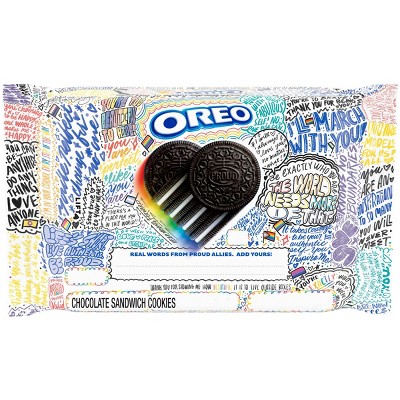 OREO is committed to fostering inclusivity and championing the idea that, collectively, we can help make the world more accepting, affirming, and compassionate place. OREO is proud to continue its long-standing commitment to the LGBTQ+ community through our partnership with PFLAG NATIONAL with the limited edition OREO Pride Chocolate Sandwich Cookies. For this year's Pride month, we're introducing a limited edition OREO Pride pack which acts as a canvas for allies to share their words of pride. This OREO cookie pack features chocolate wafer cookies with original creme that have been embossed with "PROUD" on one side. This pack of Kosher chocolate sandwich cookies has been designed to share loving words of support sourced from real allies with a writable space that gives the opportunity for everyone to add their own words of allyship. We invite everyone to show their support by taking the time to write their words of support and gifting it to their LGBTQ+ loved ones. These sweet treats are the classic OREO chocolate wafer cookies with the original creme filling you know and love. OREO cookies come in a resealable pack with an easy-pull tab to keep chocolate sandwich cookies fresh until you're ready to enjoy.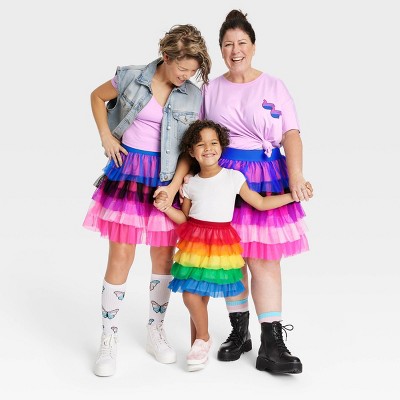 Kids and adults alike can add a fun, festive finishing touch to their Pride ensemble with options from the Pride Rainbow Skirt Collection. Featuring flouncy, tutu-style designs in toddler, kid and grown-up sizes, these fun tulle skirts offer a twirl-worthy finish for pairing with tees, tanks and more. Full waistband elastic makes for easy on and off as well as a comfy stay-put fit. Perfect for Pride parades and celebrations, these tutu skirts can also be worn year-round to show your support for the LGBTQIA+ community and make any outfit instantly more fabulous and fun.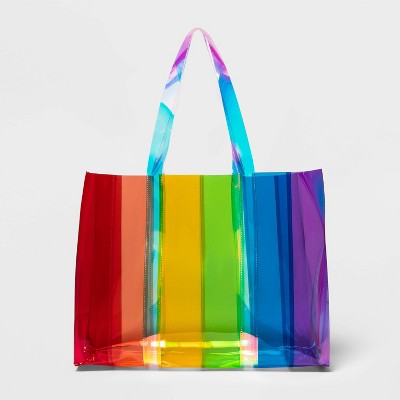 Tote your gear to a picnic or your local Pride parade with the bold style of the Pride Rainbow Panel Tote Handbag. This Pride-inspired tote bag pops with colorful panels in each of the colors of the rainbow, making it a great accessory to give a nod to your solidarity with the LGBTQIA+ community. The bag has a thermoplastic construction with a slightly iridescent finish for a standout accessory no matter where you take it, and the tote handles are long enough to go over the shoulder so you have options for comfortable carrying.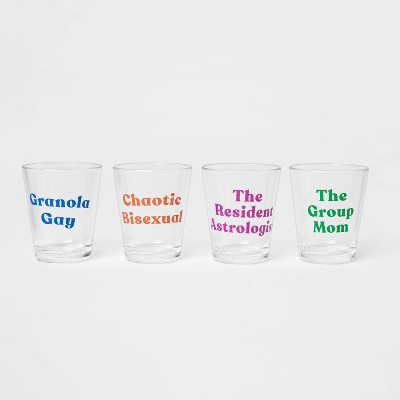 This 4-Pack of Pride Shot Glasses is a great bar accessory to show your support for and pride in the LGBTQIA+ community during Pride festivities or any time. Four conical-shaped glasses featuring wide tops and tapered bases are included in the set. Use them for serving a round of shots, measuring ingredients for mixed drinks, adding espresso to your favorite coffee concoctions, or even serving small desserts. Each shot glass is made of BPA-free plastic with a clear glass-like appearance, and is adorned with Pride messages in rainbow hues — blue "Granola Gay" on the first, orange "Chaotic Bisexual" on the second, purple "The resident astrologist" on the third, and "The group mom" spelled in green on the fourth. They're sure to stand out and make it easy to tell your drinks apart during any celebrations.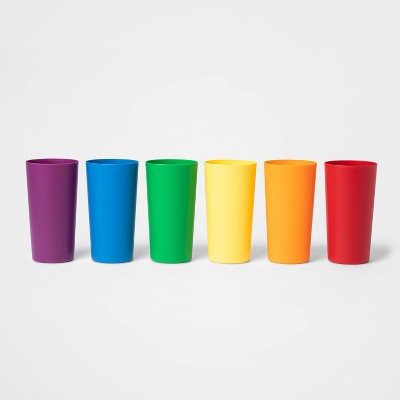 Whether you pull them out for everyday use, picnics or fun get-togethers, display your Pride by serving drinks in style in this 6-Piece Rainbow Cup Set. This Pride-inspired set includes six 26-ounce tall tumblers, each in a different solid hue of the rainbow as a colorful reminder of LGBTQIA+ pride and solidarity. Made from BPA-free plastic, these tumblers are suitable for serving both hot or cold beverages, while the microwave-safe construction makes them easy and safe to reheat your drinks. Best of all, simply toss them in the dishwasher for easy cleanup.
reate a fun tablescape while displaying your Pride with this 6-Piece Rainbow Dining Plate Set. This Pride-inspired dinner plate set includes six round plates, each in a different solid hue of the rainbow as a colorful reminder of LGBTQIA+ pride and solidarity. Made from BPA-free plastic, these dinner plates are great for serving a variety of main dishes, appetizers and sides. Designed with slightly raised edges to prevent food from slipping off and creating a mess on your floor, clothes or table, their microwave-safe construction makes them easy and safe to reheat food. Best of all, you can simply toss them in the dishwasher for easy cleanup.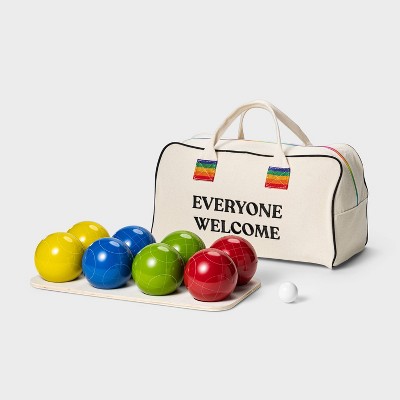 The Pride Bocce Ball Set makes a great pick for outdoor games and showing your support for the LGBTQIA+ community. This classic lawn game set has everything you need to start playing immediately and is super easy to learn. Four pairs of bocce balls in red, yellow, blue and light green colors are included in this bocce ball game set, which allows you to play with up to four people or teams. It comes with a small white pallino ball that acts as your target for the game. The yard game set also includes a carrying case with top handles so you can play in your own yard, or take it to the beach or a neighborhood barbecue to bond with family and friends while enjoying the outdoors. This carrying bag reads "Everyone Welcome" in black lettering against a white background, along with Pride flag-inspired accents on the straps and a matching zipper closure for a fun, colorful display of your Pride.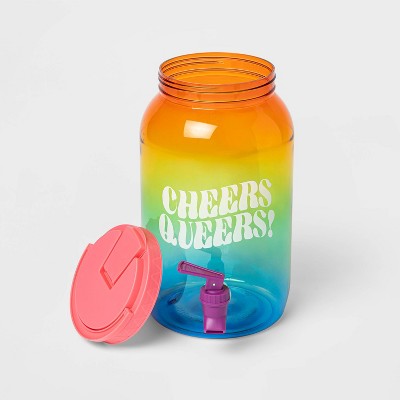 Set up the party table for your Pride celebrations in colorful style with the Beverage Dispenser. Made with plastic, this rainbow-colored beverage dispenser features the phrase, "Cheers Queers!" as well as a pink lid, along with a purple dispensing tap, all combining to create an amazing look and celebratory vibe. The handle on the lid makes it convenient to move anywhere around your home. Suitable for cold beverages, this plastic beverage dispenser will make your celebrations a hit.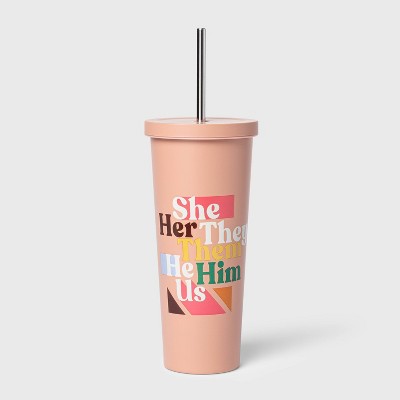 Take your fave drink on the go in the Pride Pronouns Tumbler with Straw whether you're heading out for a Pride parade or party, or commuting to work. Pretty in a peach color, this 24-ounce tumbler is adorned with the pronouns "She, Her, They, Them, He, Him, Us" in a Pride-inspired color palette with geometrical motifs, helping to celebrate the LGBTQIA+ community and the value of each individual. It's made from stainless steel and has a fitted lid to help prevent spilling, as well as an included straw so you can sip your beverage with ease.
Spruce up the look of your decor by adding Pride-inspired flair with this "Sounds Gay I'm In" Indoor/Outdoor Throw Pillow. This lumbar throw pillow is crafted from lightweight material with a generously filled interior to offer cushioned comfort as you curl up to enjoy a good book or show, while the phrase ''Sounds Gay I'm In'' by LGBTQIA+ artist partner Olly Gibbs lends Pride-themed flair to your decor. Use this lumbar throw pillow anywhere from your living room sofa to a bench in your entryway, and mix and match it with other solid or printed pillows to create a cozy and delightful place to relax.
The Pride Felt Coaster Set features a colorful, informative design that will stand out in any setting. Eight felt coasters in different colors with a four-inch square silhouette and rounded corners are included in this pack. For convenient storage and gifting, the vibrant typographic coasters are held together in a compact set by a brown faux-leather strap with the phrase "Spectrum of Pride." Each coaster is labeled either "Queer," "Bisexual," "Non-binary," "Asexual," "Transgender," "Gay," "Lesbian" or "Pansexual," along with its corresponding phonetic spelling on one side. The term is classified as an adjective or noun, with its associated definition on the opposite side. These Pride-inspired coasters will help protect your tabletops from stains and condensation rings while showing your support for the LGBTQIA+ community in fun style.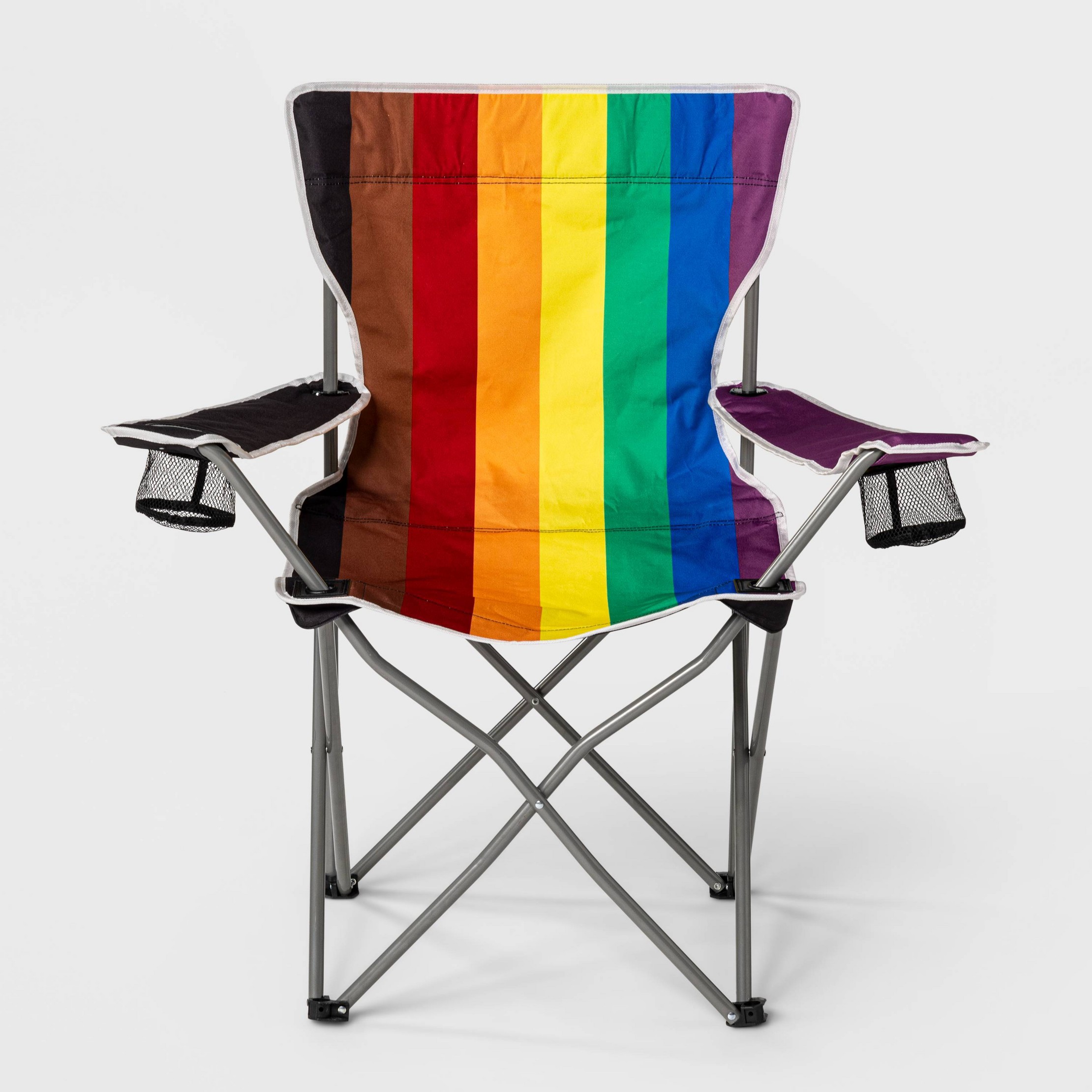 Create a relaxing oasis anywhere around your home while flaunting your Pride-inspired style with the Rainbow Portable Chair. Standing on a sleek metal frame, this chair with arms features rainbow color upholstery to add a colorful look to your space. The water-resistant design makes it great to enjoy the rainy days outdoors. Best of all, the portable chair offers convenient carrying to the beach, poolside, or anywhere else.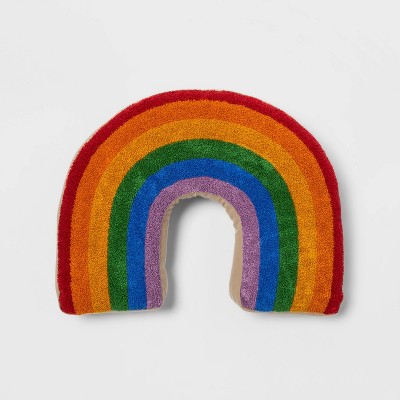 Spruce up the look of your living space while displaying your love and support for the LGBTQIA+ community with this Rainbow Figural Throw Pillow. This figural throw pillow features a soft exterior and a generously filled interior that provides plenty of comfort while you sit, relax, or lounge. Plus, the figural decorative pillow is shaped like a rainbow and has multicolored stripes to add Pride-themed flair to your indoor space. Mix and match with pillows of different shapes and patterns for a cozy vibe.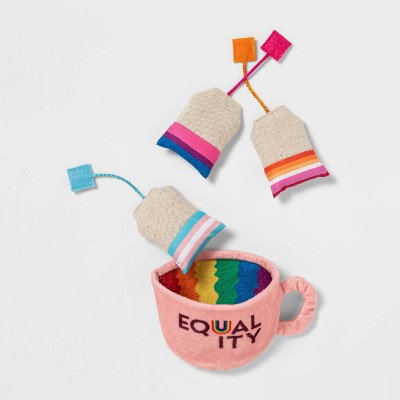 Warm your kitty's heart by giving them the Tea Cup Burrow Cat Toy Set. This fun toy pack features three plush tea bags made out of a linen material and each printed in the color of the Lesbian, Bisexual and Transgender flags. With this burrow toy comes a pink plush tea cup with the word "EQUALITY' printed on the front and a rainbow-colored inside. For a fun game with your kitty, place the tea bags in to the cup for your pet to remove, kick and swat. The perfect game of hide and seek. This burrow toy provides a fun way to interact, play and bond with your cat.
GLSEN leads the movement in creating affirming, accessible and anti-racist spaces for LGBTQIA+ students. We are proud of 10+ years of collaboration with GLSEN and continue to support their mission.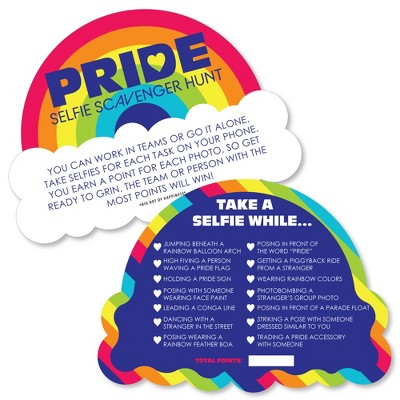 Love is Love - LGBTQIA+ Pride Selfie Scavenger Hunt game will be enjoyed by all your party guests of all ages. Each game card measures 7" wide x 5" tall. This game is perfect for playing with friends and family and is the ideal icebreaker at your Rainbow Pride Party or Pride Parade.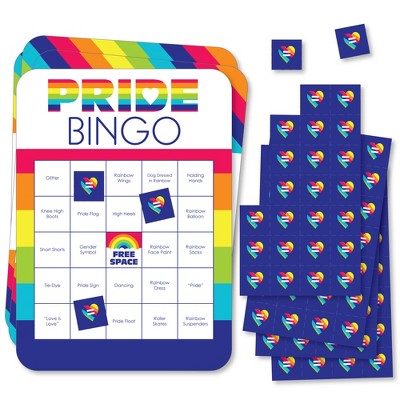 Bingo is an easy and classic Love is Love - LGBTQIA+ Pride game that everyone will have fun playing. LGBTQIA+ Rainbow Pride Party or Pride Parade Bingo Cards and Markers give this classic game a fresh look with Love is Love - LGBTQIA+ Pride playing cards with Pride-related words instead of numbers.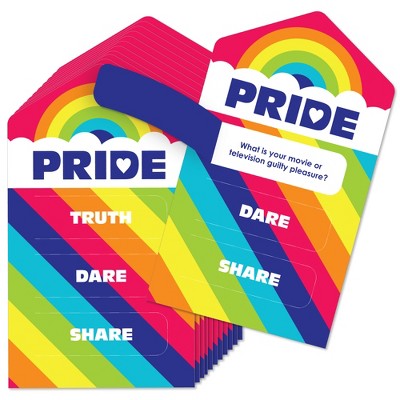 Entertaining for all! The LGBTQIA+ Rainbow Truth, Dare, or Share pickle cards are excellent to ease the mood and use as an icebreaker. Trade cards with others and open a new tab for more entertainment!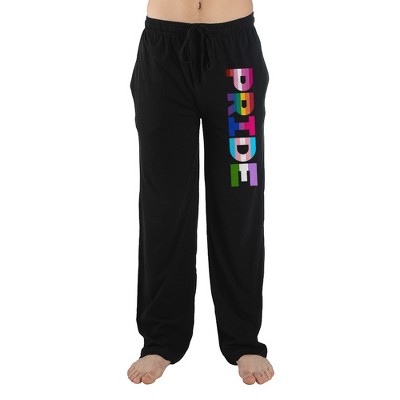 Show off your Gender Inclusive LGBTQIA+ Pride with these super comfy sleep pants. These sleep pants feature a full-color graphic print inspired by the rainbow color scheme. The elastic waistband comfortably conforms to the waistline. Use the adjustable drawstring to keep these sleep pants in place. The poly-cotton fabric makes these Sleep Pants perfect for sleeping or lounging on the couch. Your sleepwear collection isn't complete until it has these Sleep Pants.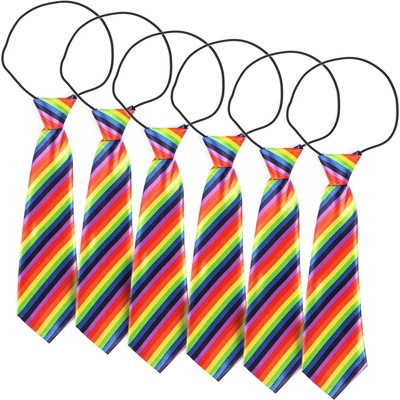 Show off your LGBTQIA+ pride with these fun and festive rainbow neckties. They are perfect to deck out your costume or outfit while making a statement to the world. Wear these accessories at dances, LGBTQIA+ pride parades, costumes parties, and festivals. Product names are trademark of listed manufacturer or other owners, and are not trademarks of eForCity Corp. The manufacturer does not necessarily endorse use of these products.
Welcome your guests to your home while displaying your Pride with this "I'm Coming Out" Coir Doormat. Made from all-natural coir fibers, this rectangular medium-pile doormat helps keep your space clean by scraping away dirt and mud right at your doorstep, while the backing keeps it from slipping and sliding. Designed for everyday use, this outdoor doormat features the text "I'm Coming Out" in black hue against a tan background with rainbow flag to shout out your love and support for the LGBTQIA+ community.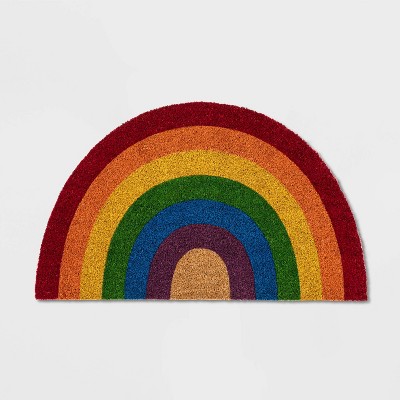 Celebrate Pride and give your visitors a warm welcome with this Multicolor Rainbow Doormat. Made from all-natural coir fibers, this medium-pile doormat helps keep your space clean by scraping away dirt and mud right at your doorstep, while the backing keeps it from slipping and sliding. Designed for everyday use, this half-circle doormat features an allover multicolor rainbow pattern to shout out your love and support for the LGBTQIA+ community.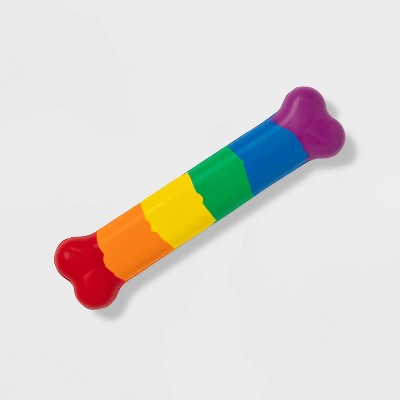 The Pride Rubber Bone Dog Toy from Boots & Barkley™ is a colorful reminder of LGBTQIA+ pride and solidarity. This rainbow-striped bone-look dog toy features the colors of the Pride flag for a cool, supportive look that will be an inspirational addition to your pet's toy collection. Constructed of rubber for lasting use, this dog toy is the right size for a variety of dog breeds and sizes.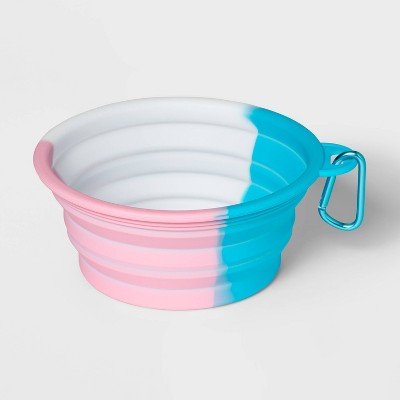 Display your LGBTQIA+ pride no matter where you and your pup go with the Transgender Flag Color Silicone Dog Bowl from Boots & Barkley™. This brightly colored silicone dog bowl features the colors of the transgender flag for a supportive, Pride-inspired look that's perfect for Pride parades as well as everyday use. Plus, it holds three cups of food or water to keep any size pet satisfied. Attach the lightweight bowl to your backpack or bag with the included carabiner clip when you're out and about, or simply use it at home with pride.
After unpacking, put it in warm water and let it dissolve. After about 20-30 minutes, wash the body with water.
Everyone loved Mad Libs when they were kids, right? Play as an adult with the Gay Mad Libs. I really wish these are the ones I would have been playing when I was twelve ... I have a feeling I would have been giggling even more!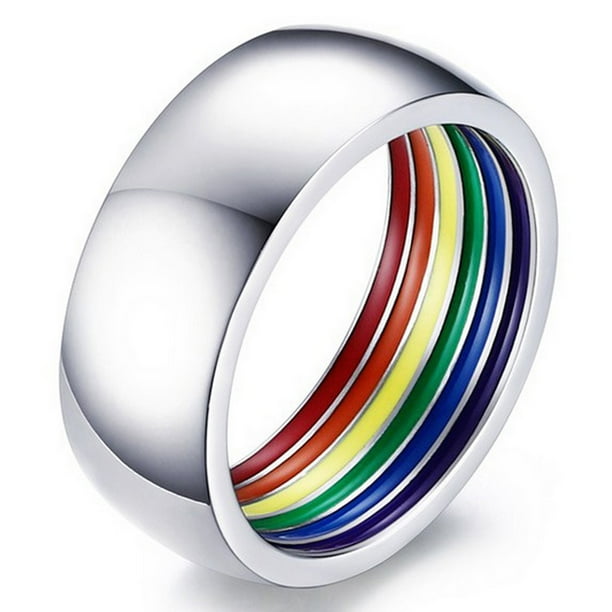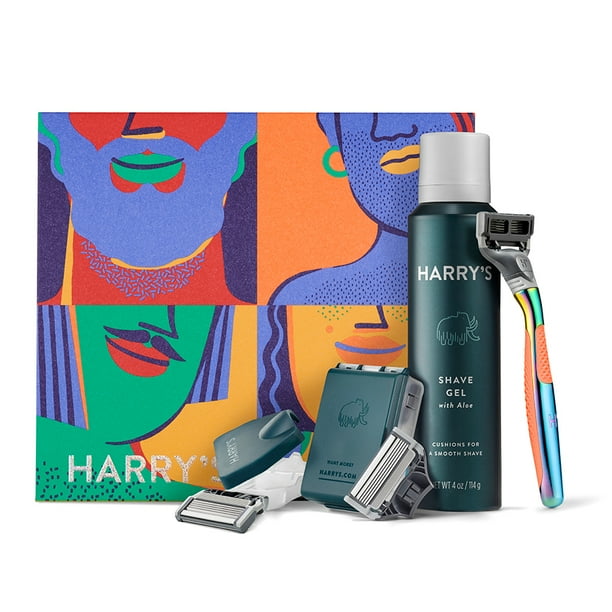 The Limited-Edition Shave with Pride Set from Harry's includes everything you need for a close, comfortable shave razor, Shave Gel and additional blade refills in a bold, graphic box designed by Spanish artist José Antonio Roda. It's a great gift that dads everywhere will enjoy. This razor and blade set was created to celebrate Pride and Harry's is donating their profits made from the sale of the set to The Trevor Project, the world's largest suicide prevention and crisis intervention organization for LGBTQ youth. The one-of-a-kind handle included in the set features an iridescent coating that shimmers and changes depending on your perspective, as well as a bright orange rubberized grip. If you're looking for a terrific gift, men's razor sets are an ideal choice.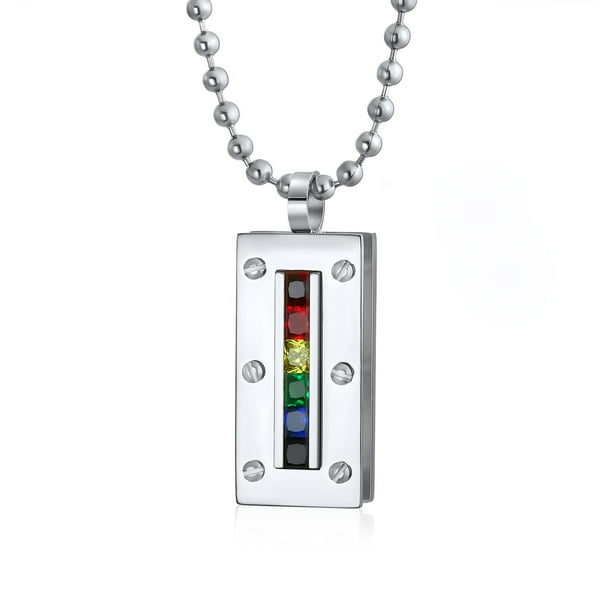 Let your colors show with one of our Rainbow gay pride LGBT dog tags from our Dog Tag Jewelry collection. This rainbow gay pride dog tag is skillfully constructed from Stainless Steel and Cubic Zirconia. This Stainless Steel LGBT dog tag measures 1.25in x 0.5in. The dominant feature on this gay pride rainbow dog tag pendant is the centered strip of multicolored Cubic Zirconia. These will shine in any light. The six screw detail on this gay pride LGBT rainbow jewelry gives the piece a strong look. Get your gay pride jewelry today. A 2in Stainless Steel bead chain is included.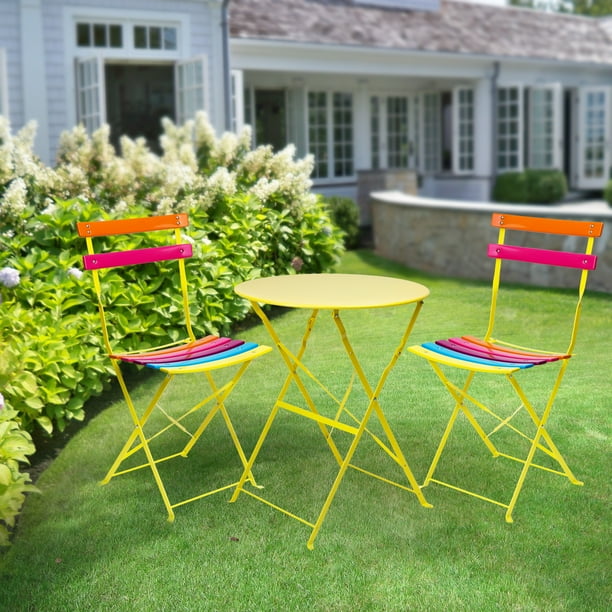 Perfect your garden, patio, or deck for entertaining and gatherings with Alpine's bistro sets. This beautifully crafted 3-piece bistro set will help you create a pleasing and comfortable environment in your backyard or front yard. Made of metal with rusty and artistic features, it will be sure to become the center of your everyday relaxation. Take a load off and have a lunch in the open air, an afternoon tea, or enjoy a wonderful family time at a leisure weekend. Alpine's bistro sets add a perfect accent to any outdoor area while leaving a long-lasting impression.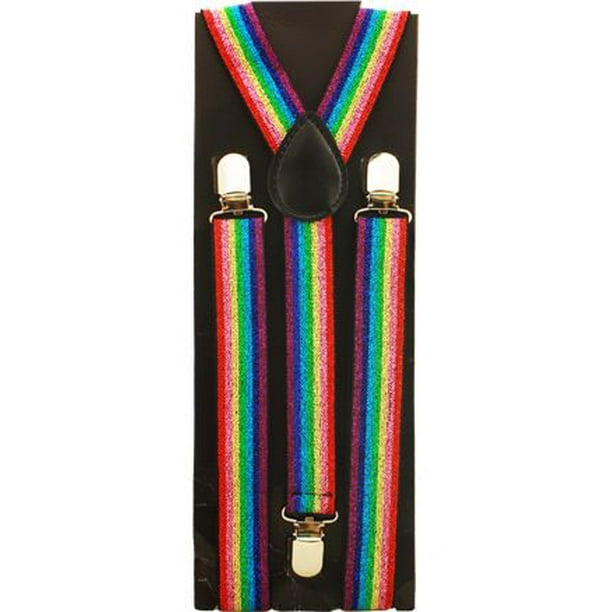 One size fits most.Normal length is from 26 to 42 inches.Width is 1 inchElastic Length can be up to 90 inches stretched.Package Dimensions: 13.5 x 4.5 Inches
BONUS:
While you are here, check out these other
Pride deals
and save some money while celebrating Pride Month!
Do you have any items that should be added to this list? Feel free to contact me to see how you can get your products included!
Liked this post? Pin it!