Looking for a romantic Valentine's Day gift for your boyfriend or girlfriend? We've put together the ultimate gift guide filled with unique Valentine's Day ideas to show your partner you love them. Whether your partner loves sweet treats or something sexier, our gift suggestions will put a smile on their face. Plus, share the love with your extended family.
We've found cute gifts for your kids, parents and even your pets. Scroll down to shop the best Valentine's Day gifts for everyone in your life.
Keep your eye out as we will update our guide until Valentine's Day!
GIFTS FOR HER
Iconic Avon Heart Brooch - $9.99 (reg $14.99)
Not your mother's brooch. The Iconic Avon Collection goes vintage with a twist for the modern boss who has a soft spot for the classics.
Show off your charm with our studded heart that easily hooks onto our Paper Clip-Style Bracelet and Necklace.
Crystal Accented Link Watch - $32.99 (reg $39.99)
Our silvertone link watch displays clear sparkling accents both around the rim and down the links for a polished, stunning style.
Get a 20oz candle in the fragrance of your choice with some jewelry on the inside!
One dozen beautiful wooden roses hand-dipped in a delightfully scented soy wax (Note: Since these are hand-dipped you may have some sign of wax drips). Available in all scents with a drop-down option- these are made to order so it will be a 2-3 business days added shipping time for these candles.
14 oz csc logo mug filled with your favorite csc scented soy wax. These are made to order please allow 3 additional business days for production time. Available in red or white trim.
Just for you, a romantic bubble bath bouquet! Enjoy the relaxing embrace of frothy bubbles delicately scented by soft pink flowers, rose, lilac, lavender and jasmine, plus a kiss of warm vanilla. The feminine fragrance of Avon Senses Soft Pink Bubble Bath is a classic favorite for every season. 24 fl. oz.
GIFTS FOR MEN
Mesmerize Sports Car Decanter Cologne - $8.99 (reg $20)
The Mesmerize Collection: captivate with a single glance. Mesmerize Cologne hits the fast lane in a thrilling limited-edition collectible decanter. Reveal your mysterious side with this hypnotic blend of warm and intoxicating notes. 5 fl. oz.
Apply after shaving. Glides on smooth and absorbs quickly into your skin.
Beard Oil is an easy to use moisturizer and leave in conditioner. Our Beard Oil will moisturize the skin underneath your beard, soften your facial hair, reduce itching, and create the conditions for healthy beard growth. Recommended use - Use daily to condition and soften your skin. Apply 3-6 drops depending on beard length. This Barbershop Scent will make you think you just walked out of the Barber Shop! Our Beard Oil will Condition, soften, tame, and smoothes. For more healthy hair.
GIFTS FOR KIDS
Just place your aroma bead sachet in velcro pouch in my back. And set me around your home or office and enjoy the fragrance in the air as you walk by!
Just place your aroma bead sachet in velcro pouch in my back. And set me around your home or office and enjoy the fragrance in the air as you walk by!
Magical Unicorn Dust Will take you back to your child hood days swinging at the park and enjoying your favorite sweet fruity lollipop. Whipped Soap is not at all like the cleanser you're presumably used to, whipped soap is more similar to a frothing body spread than a genuine cleanser. Also, it can be utilized as a shaving cream or even as a profound conditioner for your hair.
This Kids Soap is a mixture of lemon, coconut, beach rose, sea salt air, and seagrass. After they finish the soap they will get a free random duck toy. This is a limited edition item. Once they are sold there will not be a re-stock on them. Once these sell we will make them without the soap shavings.
GIFTS FOR ANYONE

CanvasChamp helps you turn your photos into beautiful art on canvas! To decorate your home or office walls, their photo canvas prints are one of the best options to have a personal gallery of your own at your personal space. Or even when you want to give a unique gift to someone, you can make the giftees relive treasured moments in the form of archival-quality images on canvas. They have some unique viewpoints of their arts:
1. Skilled artisans handcraft wooden frame/stretcher bars from sustainable pine forests.
2. Their Canvas prints provide the highest durability and best color-vibrancy due to a unique coat of poly-cotton on their canvases.
3. Authentic and classical-grade canvas
4. Their canvas prints are ready-to-hang right out-of-the-box. The canvas has hanging hardware pre-installed.
CanvasChamp is one of the leading online canvas printing company producing top-notch canvas prints for any of your memorable photos (digital or printed photos) and artwork.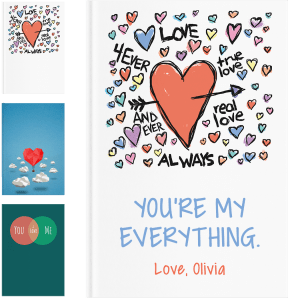 LoveBooks Starting at just $39!
LoveBookOnline is a unique gift idea that unlike anything else. A LoveBook is a hard or soft cover book that lists all the reasons why you love someone.
The LoveBook is created by using our web application at LoveBookOnline.com Each book is custom made in hard cover or soft cover (Prices starting at $39 up to $59.95). The user can customize each page with their own personal reason accompanied by a little stick figure illustration. The LoveBookOnline.com web app provide hundreds of user-generated "LoveReasons" to help fill your book. We also host thousands of different stamp images to help illustrate each page.
Ditch the disposable cup(c). Kafe in the box is a stylish and Light double walled reusable coffee/ tea travel cup, without the heaviness of stainless or ceramic cups, much lighter in your bag! Show your edges, fits car cup holders, has sculpted spout which "hugs" Your lip as you drink. Light, beautiful and different! Drink outside the box!
I have this cup and it's perfect for on the go! It's lightweight and easy to carry. It fits in my cup holder without any issue. I love the style and design of the cup. However, one flaw to note is that if it is knocked over, it will leak. The liquid can leak through the lip as well as through the air hole at the top. While not the end of the world, this is something to keep in mind as it wouldn't be a great cup to toss in your bag while on the run. More of an 'at the desk' type cup, which is what I use it for. So it suits my needs just fine.
ADULT THEMED GIFT IDEAS

Looking for something a little bit more adult? Then you may appreciate my Sexy Valentine with Lovehoney Review with a couple of nice options to consider as well!
Not sure what to give? Give a wine lover the gift of wine! Various sets and prices to choose from to fit any taste and budget!
Whether you are a wine enthusiast or want to explore one wine bottle at a time, have a soft spot for Chapagen, Sweet Wines, or Big California Cabernets. Cellars has it all!
*Prices are subject to change. Pricing is valid at the time of the original posting of when the product was added.
Would you like to add your product to our Valentine's Gift Guide? Send us a message to discuss how!