This school year may be unpredictable, but regardless if you are going to school physically or virtually, one this is for sure. You will need school supplies! Check out some fun and useful school supply must-have items we found for the 2020 school year!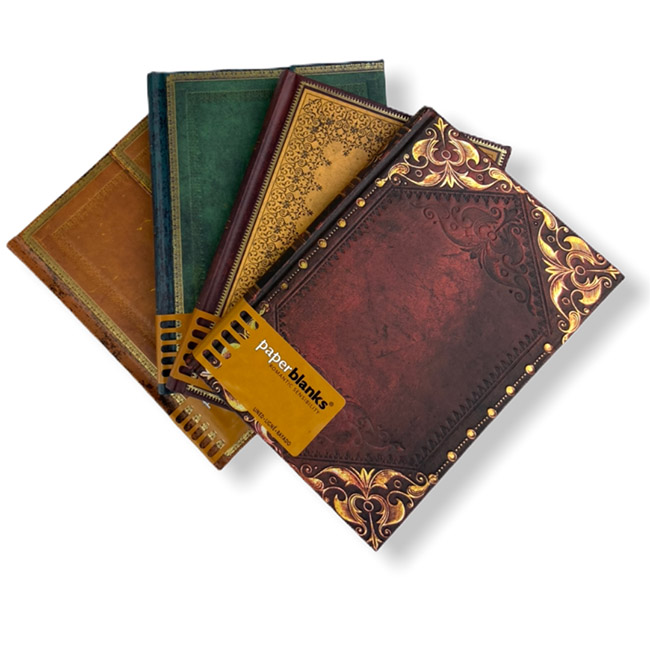 As any traveler will tell you, when you're on the move, it's best to travel light. This is just the journal to travel with, be it around the world, or around the block. It gives you the choice of subtlety or drama. There's a memento accordion pouch in back to keep all of those loose bits and pieces in one easy-to-access place. Lined pages make it easy to write wherever you are. Round corners mean they slip easily into pocket or purse. The size is made to fit into shirt pockets, small purses, and back pockets. Journal styles are assorted and will be chosen at random. If you order more than one, we will try our best to give you different styles.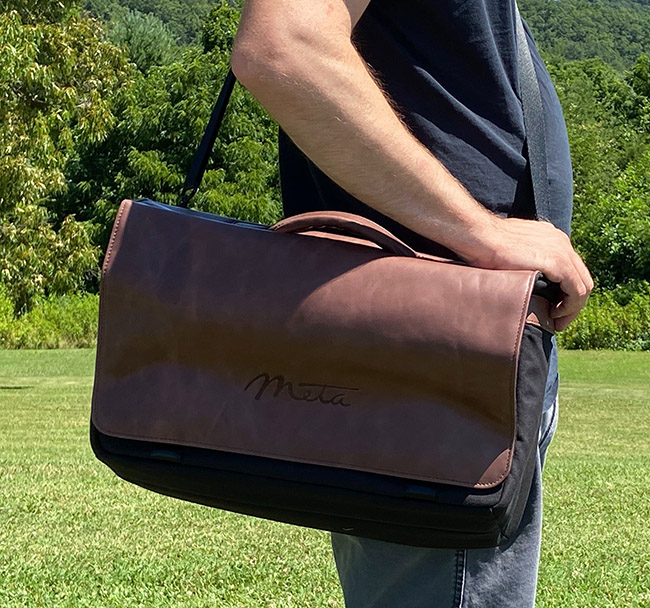 Meta Laptop and Tech Gear Messenger Bag. This incredibly high-quality tech bag will hold up to a 15" laptop as well as your other tech and supplies. Featuring padded compartments for your tech, shoulder strap, unique magnetic claps, pass though rolling bag strap.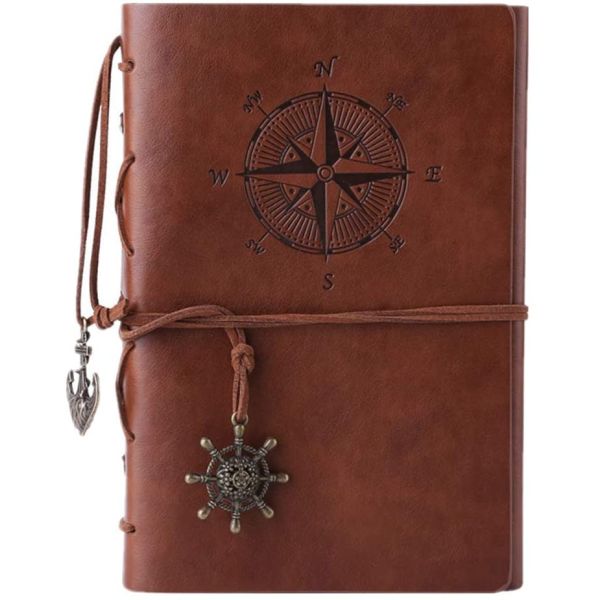 High-quality classic style Maleden notebook with rechargeable sheets, embossed synthetic leather, travel diary with blank pages and old-style pendant, Brown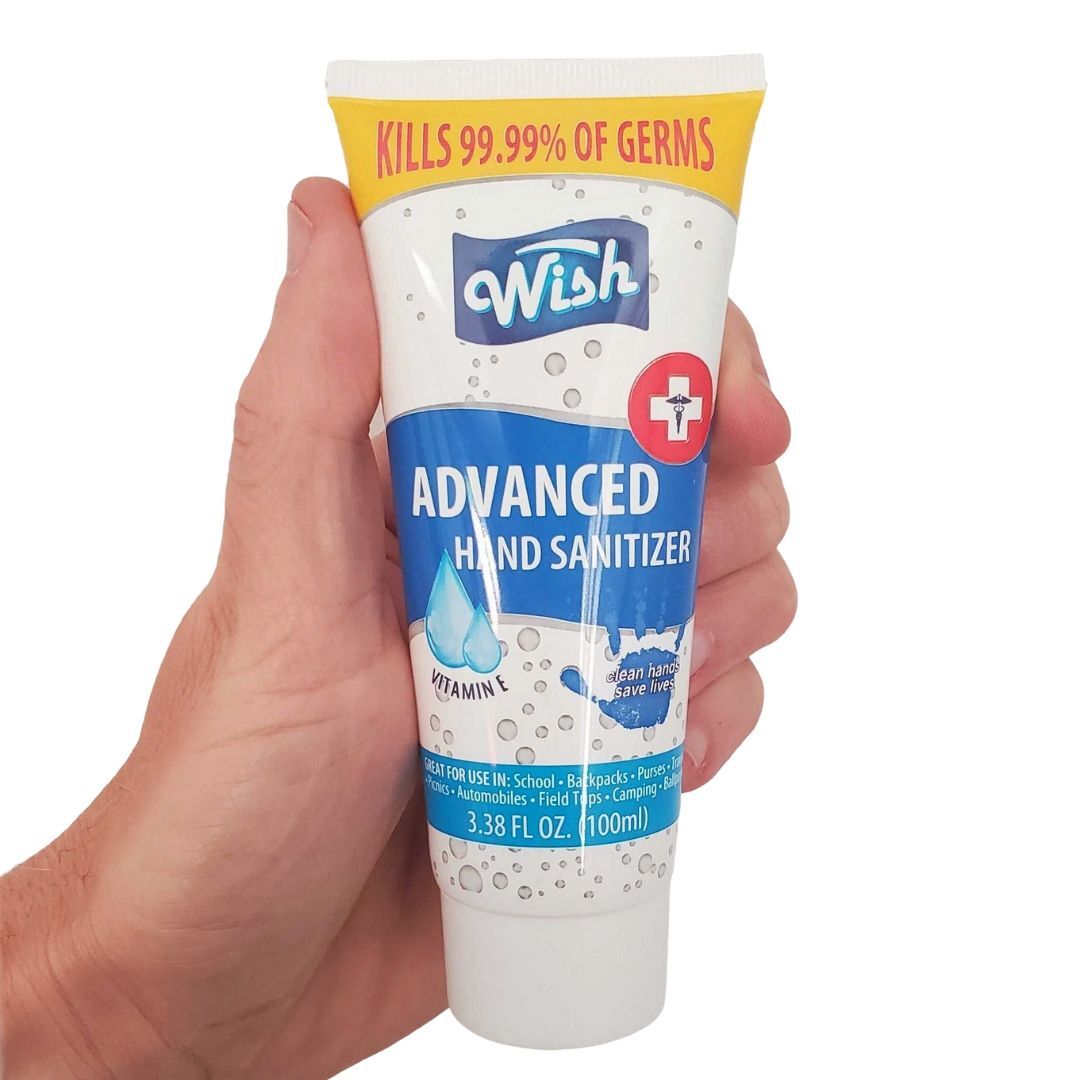 Wish hand sanitizers are alcohol-based with 70% by volume. Kills up to 99.99% of most germs without the use of water. Our Wish hand sanitizers also comes with Vitamin E and extra moisturizers to keep your hands soft.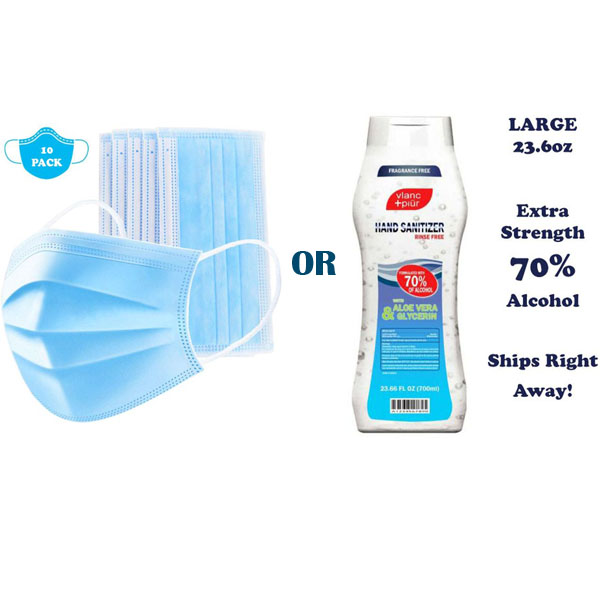 10 Pack of 3-Ply Disposable Face Masks
These are not as good as the KN95, but they are better than a cloth and certainly better than nothing. Also, these will ship much faster than the KN95, so they are good to have while you are waiting on the KN95.
LARGE 23.6 Ounce Extra Strength 70% Alcohol Hand Sanitizer with Aloe Vera
Great to fill smaller bottles too - Order 6 or more and shipping is free - Limit 16 bottles per customer - This is about equivalent to 12 2-oz bottles, which are about $5 each right now if you can find them - Availability on hand sanitizer continues to get worse, so if you think you may need this for a few months, we highly suggest stocking up at this price.
My purpose is to help every child learn at their own pace and focus on their individual interests, abilities, and strengths. I come with over 500 lessons, 70 categories, 70,000 vocabularies, and growing. Recommended age: 3-7
Care for your little one with gentle and safe baby wipes free of alcohol, perfume, and parabens. Made of 98% pure water, these delicate wipes are pH-balanced to match your baby's skin for clean comfort.
Add a smooth, faux leather writing surface to any desktop or table. Instantly stylish for home or office, it also organizes with easy covered top storage sections.
These are classic Sharpies in a brilliant range of essential colors. Water-resistant, fast-drying ink easily makes writing stand out, and artwork look vibrant.
The fun, bright colors of classic Crayola crayons are even neater when they're washable! If kids mark up the house or clothes, it's easy to clean off with water.
Mark passages in books, lines that need signatures, and anything important. Neon colors make them stand out, and sticky backs are easy for school, office, and work.
These oils have been selected to encourage awareness and focus, as they stimulate and promote clarity. Use as individual oils or blend together for a variety of benefits. Set includes Lemongrass Essential Oil, Rosemary Essential Oil, and Wintergreen Essential Oil in a gift box.
Pay attention! This blend is green and bright. Diffuse it to encourage your little genius to focus and concentrate. A blend of: cedarwood, chamomile, lavender, marjoram, orange, vetiver, ylang ylang
These really click with kids, by clicking together for drawing multiple lines at once. For colorful, creative connections, they're easily storable and washable.
Get your child ahead of their class with ABCmouse.com! Right now you can score a FREE 30 Day Trial, perfect timing for keeping your little one learning while everyone is stuck at home. ABCmouse.com is a fun interactive online learning academy that rewards kids with games and virtual tickets after each lesson that they can use to buy furniture, toys, clothes and more for their virtual world (Kids LOVE this). There are lessons for ages 2 to 8 years old.
This is the natural way to a better ergonomic view of any screen. Organizers for office supplies, keyboard storage, and phone stand keep the workspace neat anywhere.
Be prepared before it runs dry–this highlighter makes it clear. Vivid, liquid ink marks office, schoolwork, and art in eye-catching tones, with a smooth chisel tip.
These are classic Sharpies in colors that really pop! Water-resistant, fast-drying ink makes writing stand out, and art look brilliant, even glowing in black light.
A comfortable nonslip grip keeps writing precise, and smooth, quick-drying ink makes it neat. For office or school, these are now at a price everyone can click with.
For office notetaking, schoolwork, or flights of fictional fancy, the writing take off with Write Bros. Ballpoint Pens By Paper Mate.
Stay organized and up to date while on the go! These sticky tabs and mini notes are in small, discreet, dispensers that clip to a bag, purse, notebook, or car keys.
With high quality at a low price, these cards are stacked in everyone's favor. For notes and more, they're essential office supplies for work, school, and home.
Great for journaling, taking notes AND making faces at friends! These cute, realistic animal print novelty notebooks are fun for kids and adults of all ages.
These binder clips are sturdy and big enough to clasp a one inch stack of papers. They're essential office supplies for organizing school research to work reports.
Jot it down or pin it in place. This erasable, postable message center keeps notes neat, schedules visible, while home, school, and office tasks stay more organized.
The Polaroid Journal can be personalized in a flash. Take a favorite pic and stick it right on the cover. A favorite portrait or scene will inspire writing anywhere.
You'll be able to keep your week straight with these sticky note calendars. Hilarious vintage art with sarcastic captions bring a little humor Monday through Sunday.
File folders keep important documents neat and protected from spills, rips, and tears. Hold over 1,000 legal sized documents in this accordion file organizer.
Undated means planning can begin anytime. Fill in dates, write reminders, and use the stickers to make schedules stand out. It's going to be full, well-planned year!
Organization is easy with perfect places to put everything. These sturdy metal mesh storage pieces are stylish and ready to get your workspace more workable.
Made of sturdy biodegradable cardboard, recycled ABS plastic, and wheat stalk, these pens write smoothly and comfortably but in a smarter, eco-friendly design.
Keep your business, school, or home flowing smoothly, stocked with smooth writing retractable ballpoint pens. These have rubber grips for added comfort.
The upright view is ideal for info at a reception area, promotional materials at a conference, or sales at a retail counter.
A colorful solution to all your storage needs! Solid plastic bins measure 10x10x7-in. and have surfaces designed for dry erase marker use. Perfect for storing craft and school supplies, sewing supplies, hardware, bath essentials, and so much more! The dry-erase surface makes them perfect for labeling the bins with their contents.
A cute way to stay organized. Small plastic 2-tier stacked drawers are perfect for organizing your office supplies at your desk, coupons on your counter, sewing supplies in your craft room, and so much more. Each organizer measures 5x3.5x4-in. and has color coordinated frames and handles with translucent drawers. The colors are assorted among green, blue, and pink.
These unique Jot® multicolored ink gel pens offer an unparalleled writing experience. Available in 4-ct. packs with assorted pastel ink colors stacked on top of each other in each gel ink pen, the colors change as you write. Ideal for school, personal journals, notes, and great for resale at school supply stores, pharmacies, convenience stores, and grocery stores.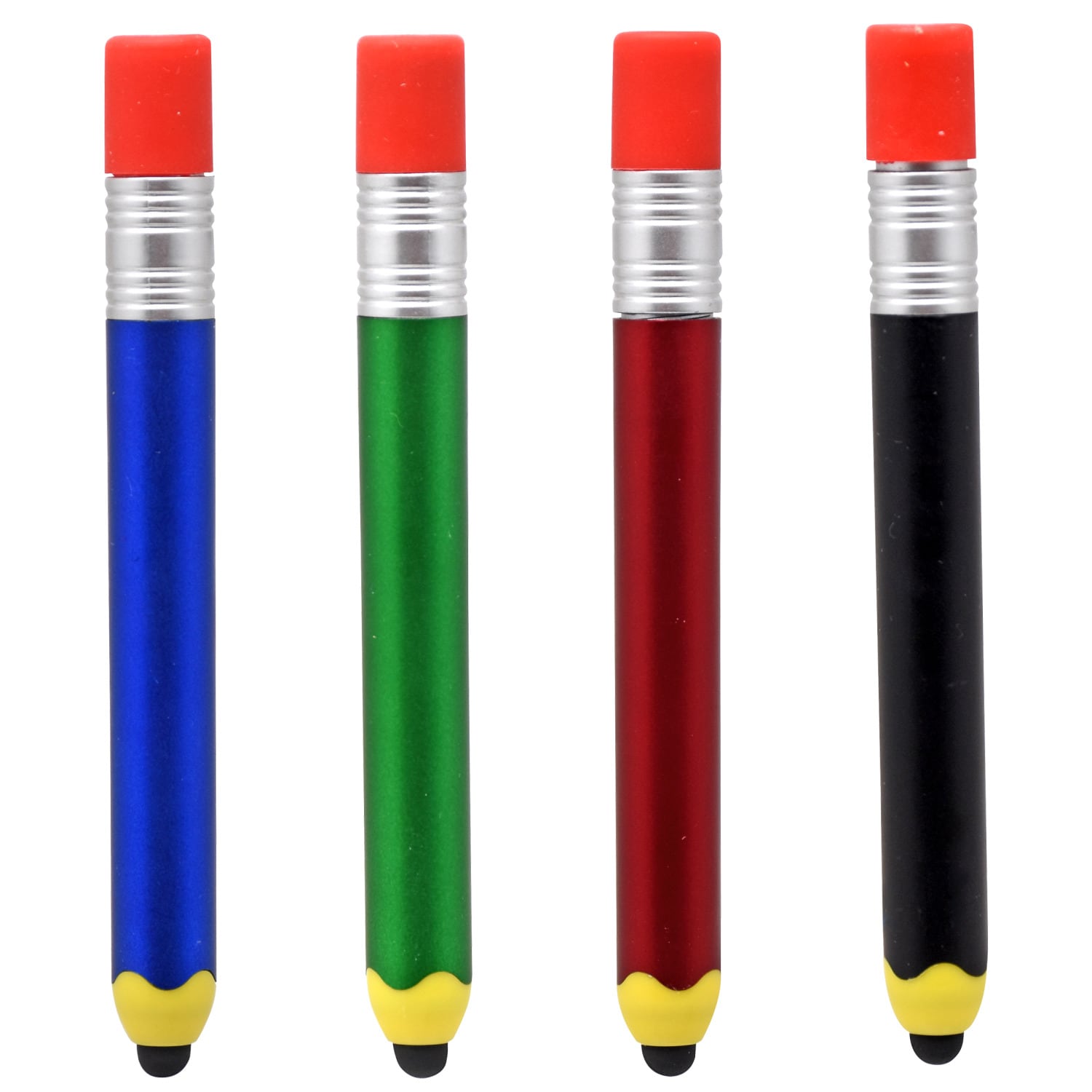 Get the best of both worlds! Not only do these 2-in-1 stylus pens have a creative design, but they also unscrew into a real pen! They come assorted among blue, green, red, and black pens with black ink and measure 8.625x3.125-in. each. Ideal for busy parents, students, professors or teachers, business people, and more.
Soft grips keeps your hand from tiring after long hours of taking notes and of writing those long papers or reports. Textured comfort grips have either a rubber or foam feel that's designed to keep the pens or pencils from slipping from your hand. Perfect for school, office, or home use. Each pack contains blue, red, orange, purple, and green grips.
Go glitter crazy! These adorable pencil pouches come assorted among 4 great glitter colors and measure 7.5x9.5-in. each! Sturdy PVC and plastic pouches are large enough to fit pencils, pens, glue sticks, erasers, paintbrushes, and more. Great for the home, office, school, and resale.
Add a little fun to your desk accessories. Adorable pen and pencil holders are shaped like trash bins and recycling bins complete with wheels and hinged lids, and assorted among red, blue, and green. Perfect for teachers, office professionals, students, and homeowners.
Be prepared for any kind of formal study. Wooden #2 pencils are the best choice for just about any writing task such as
standardized test-taking
, note taking, writing, drawing or sketching and more! Great for school use, home use, office use, including in care packages, and donating to shelters and care centers.
Writing can be beautiful if you use the right tools! These mechanical pencils are decorated with unique prints that you can easily distinguish from all your classmates or coworkers writing utensils. Wonderful to have when jotting down notes or reminders, or for pouring out your heart in a journal. A smudge-proof eraser easily makes these pencils the "write" choice for schools, offices, homes, and taking with you on the go. They come in 8-ct. packs, which are assorted between the 2 designs shown.
For a limited time only, ABCMouse, ReadingIQ & Adventure Academy are offering free home learning access to students!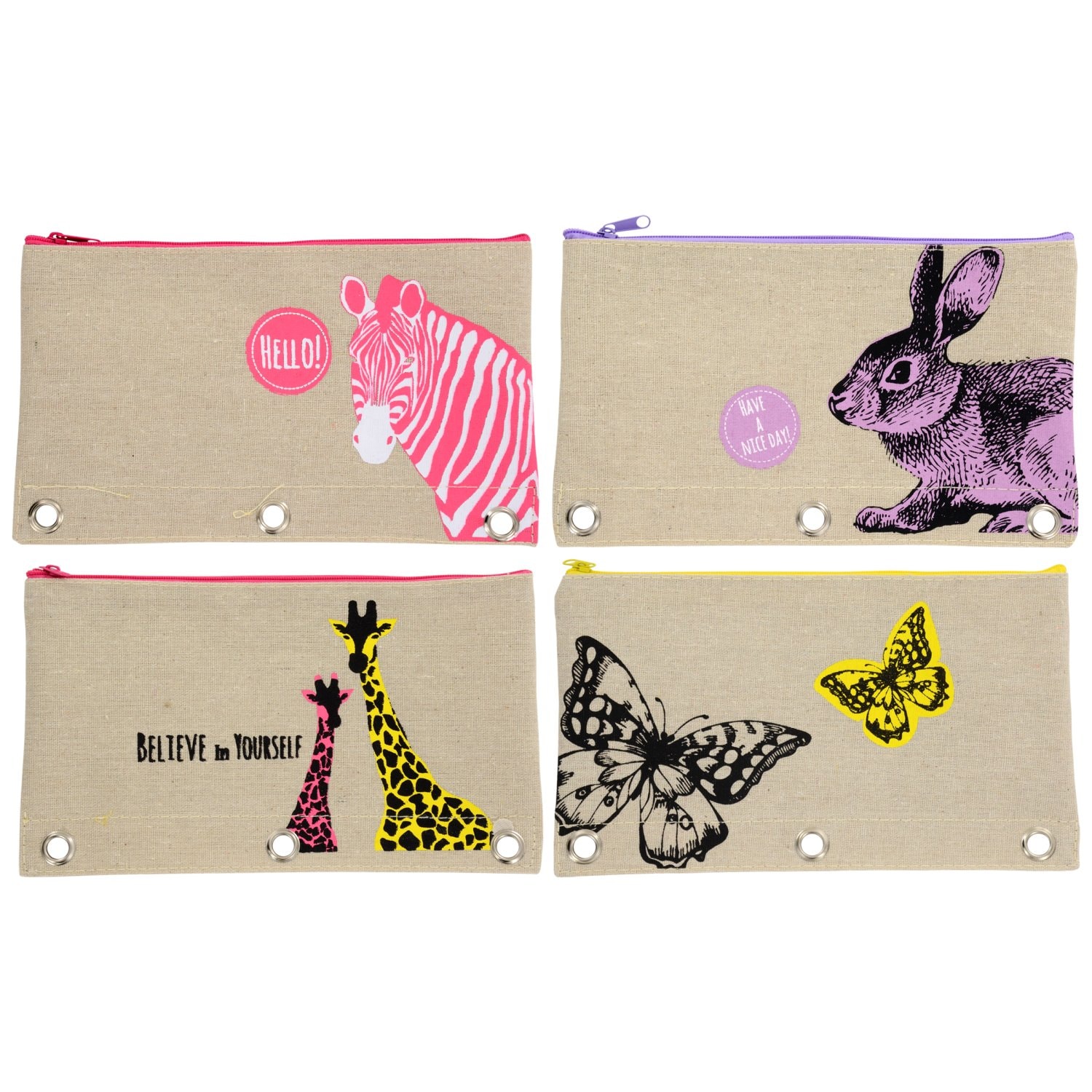 Get wild! These canvas pencil pouches by Jot™ are the perfect way to hold your pens, pencils, and other writing utensils organized and ready for use. They come 3-holed, making them perfect for school binders, and are also assorted among 4 exotic designs including zebras, rabbits, giraffes, and butterflies. Ideal for resale at office supply stores, gift shops, and school supplies stores.
Pencils with fun designs and bright colors are a perfect addition to prize boxes, goodie bags, and back-to-school supplies! They're also great for building care packages or resale in school stores and gift shops. Plus, they are filled with #2 lead, the best choice for most writing tasks, and test-taking. Assortment may vary.
Keep your pencils sharpened and ready for notes, writing, test taking, and more! Colorful little hand-held pencil sharpeners are assorted among fun shapes like red hearts, yellow stars, blue circles, and green rectangles and help you keep your pencils ready to write. They're a must-have for every back-to-school supply list, plus they're great for building care packages and for resale.
Brightly colored 2.25-in. neon erasers are an ample size for all your little mistakes! They erase clean without smears, and add a colorful and fun addition to your school supply lineup. Each pack contains one each of red, pink, orange, yellow, green, and blue erasers.
Click to write, no sharpening required. The lead advances easily by pushing the top of the pencil that also features an eraser, plus they have a comfort grip to reduce hand fatigue. They're the "write" choice for school, office, or resale. Each pack includes one each of the following bright, fun colors: blue, red, green, yellow, orange, and purple.
Extend the life of all your pencils with these bright neon-colored pencil top erasers! No mistake is too big for these little guys to tackle, plus they erase clean without smearing. They come in 40-ct. packs are assorted between primary and pastel color packs. Ideal for student and teacher school supplies, home use, office use, and classroom prize boxes, and more.
A must-have addition to school supplies! Fine-tip markers in a rainbow of fun colors are great for drawing, outlining, and tracing. Plus, they're non-toxic and washable so clean up is always a snap. Perfect for crafts, schools and day care centers, care packages, churches, travel, and summer camps.
Get all the highlighting you need done the right way. This 2-ct. packs of dual-sided highlighters will help you study, get creative, and figure out what's important in your daily work. Whether you are a student, an employee, a teacher, or an entrepreneur these highlighters can help make your life easier. They come assorted among the 3 pack designs shown and are great for office use, home use, art studios, and plenty more.
Perfect for art projects, school supplies, daycare facilities, waiting rooms in doctor or dentist offices, giveaways, and many more. These boxes include 8 vibrantly bright neon colors that will completely stand out from ordinary crayons. Ideal as well for resale in grocery stores, home and office supply stores, crafting stores, and more.
Get creative with all of the colors of the rainbow! This 16-ct. packs of Crayola® crayons are perfect for making masterpieces at home, school, day care, and much more. Plus, they're great for resale at art supplies stores, office supplies stores, and craft stores.
A useful art tool that the whole family can use together. Bond with your kids as you all allow your creativity to flow from the crayon to the page. These special crayons have a pearl like sheen that makes each color appear shinier and more beautiful. Perfect for making masterpieces at home, school, day care, and more.
Go back to school prepared and confident! Fill up your binders and notebooks with 3-hole drilled wide-ruled paper. They also come in 200-ct. packs. Great for homes, office buildings, doctor offices, hotel lobbies, schools, learning centers, student centers, and more.
Never run out of paper again! Fill up your binders and notebooks with 3-hole drilled college-ruled paper that is 8x10.5-in. Ideal for home, offices, schools, learning centers, and more... plus it's ideal for resale in campus stores, office supply stores, and convenience stores.
Let the little ones express their creative side! Large 9x12-in. doodle pads have 60-sheets of durable paper that's great for drawing and sketching with pencils, charcoal, ink, pastels, and crayons! Perfect for home, summer camps, preschools, and art classes.
You, your kids, your family, or significant other can enjoy using this 3-ct. sheets of colored construction paper. With a plethora of rainbow colors at your fingertips, the creative possibilities are endless. Ideal for schools, hospitals, arts and craft stores, and your home.
Journaling, creative writing, note taking, sketching, you name it! A must-have for any student, also a great sketchbook for teachers and artists. Each 9x6-in. composition book has 50 pages of creativity waiting for you to fill. Perfect for resale in art supply stores, and home good stores.
Fun assortment is great for creating your own educational games. Sturdy cardboard clocks with positionable arms help kids learn to read time, while spinners let them spin the arrow to land on a random number. Combine the two to invent your own educational game or allow your students to get creative and create their own! Perfect for preschools, day care centers, elementary schools, and home learning.
Make learning fun while saving paper! Reusable plastic pockets are perfect for use with worksheets, tests, and more. Students can use dry-erase markers to write their answers or work out their math problems, and once they're done, simply wipe off the marker and fill with another worksheet. Dry-erase pockets are also great for meetings, brainstorming, and page editing at the office.
Reproducible worksheets will keep students busy learning basic skills while having fun and are designed to help them master any skill!
You and your kids will love having these educational workbooks! They're fun, interactive, and takes the responsibility off of you to teach your children the skills they'll need not just for school, but also life. They come assorted among 6 subjects: addition and subtraction, numbers, alphabet, letters and sounds, sight words, and basic concepts like colors and shapes. Perfect for resale in toy, department, grocery, home goods, and school supply stores. Ages 3+.
The easiest way to teach young students proper letter formation and sizing! Each tablet has 60 sheets lined for proper letter sizing, plus a printed manuscript writing guide on the inside cover. Perfect for kids in preschool through 2nd grade.
Repetitive quizzing helps kids master the skills of arithmetic — math flash cards are a great learning tool! They come in 52-ct. packs and the subjects are assorted among addition, subtraction, multiplication, and division. Perfect for kids in grades 1 and 2.
Add up the savings! These Jot™ 10-digit scientific calculators easily solve advanced engineering, physics, trigonometry, and statistics problems with these scientific calculators. Each has a cover to place over the screen and keys when in a backpack or briefcase. They come assorted among 4 colors, with each assortment containing 1 blue, 1 orange, and 2 gray calculators. Perfect for students as well as professionals.
Large 17x22-in. posters are the perfect educational tool for every classroom and help build basic skills to kids between the ages of pre-k to 6th grade! Each pack includes 2 posters that have unique designs and learning skills on each side. These poster packs come assorted among 9 designs. Assortment may vary by case and by season.
Keep them motivated and reward their accomplishments! Each student will love keeping track of all their classroom achievements with these fun reward charts and matching sheets of reward stickers! Each pack of charts has a space for students name and 25 blocks to mark their achievements.
Inflatable globes are the most fun way to study for your geography test! Plus, they are a blast poolside, lakeside, or on the beach — they're easy, safe, and portable. They're also an exciting addition to sporting events, concerts, games, camps, and outdoor gatherings... plus, they're ideal for resale. Ages 3+.
Looking for a convenient place to create some additional storage? These brightly colored chair back covers contains various storage pockets in the back and that make it easy to store supplies and other small items that you need to keep easily accessible from your seat. Ideal for kid's art tables, playrooms, classrooms, and more.
Hurry up, time is running out! These colorful sand timers by Teaching Tree are ideal for kids playing time-sensitive games in the classroom or at home. Once you flip the tube-shaped timer, you have 2 minutes to achieve your goal! They come assorted among blue, pink, and green.
Keep your books and magazines organized! These book bins are great for keeping your favorite reading materials neat and in order in waiting rooms, schools, libraries, and at home. They come assorted among green, peach, blue, and purple and are also great for office storage, bookstores, filing rooms, and more.
Rule in school with fun colored tools! Translucent 12x1-in. plastic rulers make measuring in inches or centimeters a breeze. Convenient holes in the center allow for simple storage in a 3-ring binder. Great for schools, offices, and resale and perforated-edged packaging makes it easy for individual gift giving or inclusion in school-supply care packages.
3-hole paper hole punches are a great tool for keeping papers neat and tidy in a binder. They're assorted among purple, pink, light blue, and black. Plus, they come with a built in ruler! An excellent idea for students, home offices, crafters, and busy office buildings.
Keep it together! Rubber bands are perfect for offices, garages, kitchens, classrooms, and much more.
A necessity for geometry, drafting, and more! Great for schools, resale, and more! Each set includes a 180 degree, 6-in. protractor/ruler and a 5.5-in. compass with pencil. Idea for resale in school supply stores, office supply stores, and pharmacies.
Laminate cards and photos without the need for any machinery! Self-laminating kits make it easy to laminate any paper or card stock smaller than 4x6-in. Perfect for protecting tickers, IDs, business cards, photos, recipe cards, and more.
Easy-to-use brush application lets you cover up all your little mistakes! Multipurpose fluid has a ton of uses, from business and crafts, to school projects and beyond.
Great for offices, office supply stores, crafting stores, the post office, and more, these black vertical letter trays are multipurpose. Stack papers and letters neatly and stop worrying about messes.
Borderless chalkboards are perfect for leaving notes! A fun and easy way to learn in the classroom — great for math lessons. Also great for dorm rooms and lockers. Each slate has a smooth, black writing surface. Chalk not included.
Fix those mistakes with ease. Correction pens have a fine tip and can cover up any writing mistake. Plus, they are as easy to handle as a writing pen. Keep one on hand in your desk at work, at home, the kid's backpacks, and your briefcase.
Chalk up some fun! These colorful packs of assorted Crayola® chalk will provide kids with hours of entertainment as they draw masterpieces on sidewalks, driveways, and wherever else they want to add some fun, bold color. They're 100% non-toxic and perfect for schools, day care centers, at home, and for resale at art supply stores, hobby shops, and convenience stores.
Colorful plastic craft caddies are the perfect solution for your organizational needs! Caddies are divided into 3 sections and have a large handle to easily tote your craft supplies. Plus, these storage caddies stack easily inside each other when not in use. Great for school supplies, arts and crafts supplies, sewing supplies, bath essentials, and so much more.
Make keeping track of all of your paperwork a cinch with these hole punches. Metal hole punch lines up holes on your paperwork to place into a 3-ring binder. An excellent idea for students, home offices, crafters, and busy office buildings.
Fulfill your office needs in neon style! These assorted stationary items by Jot™ will cover all of your office stationary needs in bright and vibrant neon colors. They're assorted among assorted among 250-ct. packs of 28-mm. paper clips, 50-ct. packs of rubber bands, 80-ct. packs of 50-mm. paper clips, 12-ct. packs of binder clips, and 120-ct. packs of push pins. Perfect for schools, offices, at home, and for resale at office supply stores, art supplies stores, school bookstores, and more.
*Prices are subject to change. Pricing is valid at the time of the original posting of when the product was added.
Would you like to add your product to our 2020 Back to School List? Send us a message to discuss how!