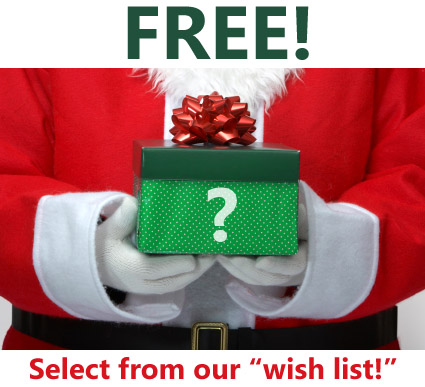 I love the grab bags from these companies!! AND... since the same company, with 2 brand names is doing this, you get to double dip! This is great because there is a 2 per person limit on each site and there are 5 options to choose from! So take advantage!!
HO HO HO! Meerrrrryyyyy Christmas We would like to say thank you for all your support throughout the year! We hope you and yours have a wonderful and blessed day!
Now, on to the "Free - Random Item with Christmas Wish List!"! What does this mean exactly? Well, you will get something free but you also get to choose from "the wish list". Simply put, during checkout you will get to use what you love and we will try and give you something that suits your wishes. We can NOT promise anything, but we will do our best!
NOTE: This item is absolutely free, but please note that Closet of Free Samples does not ship out freebies and free samples! Also, Closetsamples.com does not offer free stuff or free samples for sale. Follow the instructions provided above to request the listed freebies. If you need to contact a specific merchant, please follow the link to that merchant's own website.
Visit Closet of Free Samples website every day for more new freebies and deals.