Do you like reading fun facts?! Well, you're in luck because here we have decided to start posting them daily!
A wise man once said, "Learn something new every day." We might not know a lot about the world yet compared to how much is out there, but we always discover new things about it. What's useless info to some is, to others, cool, amazing fun facts that make the world a stimulating and awe-inspiring place. Are you one of those people who love collecting unexpected pieces of knowledge? If so, prepare to have your mind blown with these interesting fun facts that will amaze adults and kids alike.
Definition of fact:
noun
. something that actually exists; reality; truth:
Your fears have no basis in fact. something known to exist or to have happened: Space travel is now a fact. a truth known by actual experience or observation; something known to be true: Scientists gather facts about plant growth. Enjoy reading interesting facts?
You can see previously posted daily fun facts here
.
Follow me to save more money!
Don't forget to
follow me on Twitter
for daily deals and freebies. I am very limited on my posting on Facebook due to all their "violations" and such. I don't even like to post kitchen knives on there anymore! Whereas everything has been getting shared on Twitter. Of course, you are always welcome to still follow me on Facebook as well! So don't miss out on all the money-saving offers!
Plus, I share extremely limited-time offers on
my Telegrams channel
, so be sure to follow me there as it is free!
TODAY'S DID YOU KNOW...?
Young gorillas can successfully dismantle poachers' traps. Adult gorillas are usually strong enough to get themselves out, but youngsters aren't so they work together to protect each other by destroying snares near their homes.
Speaking of gorillas, check out these products:
Gorilla trekking in Uganda is a marvelous adventure, it comes in cheap on permits and also a great experience through the Bwindi Forest. The money collected helps to improve local communities surrounding the park and more conservation efforts towards the sustainability of the gorillas.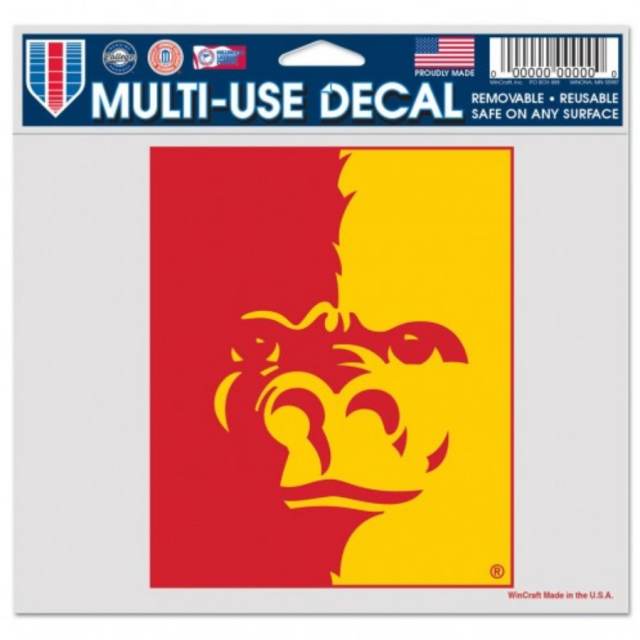 Pittsburg State University Gorillas - 5x6 Ultra Decal is an officially licensed ultra decal, size of the decal is 5x6 and the size of the logo varies. This decal is very versatile therefore can be removed and reused and are suitable for any hard surface including windows, walls, glass, metal surfaces and more. This decal can be used both indoors and outdoors and will not leave behind any residue when removed.
Be cool and original with this cool Gorilla Men T-Shirt, of the best Cotton, which you can buy from $ 22.99 in your favorite color and with 100s of great Gorilla designs and have it in your hands very fast, thanks to our instant dispatch. Besides, you can personalize your Men T-Shirt according to your own mind and preferences. Furthermore, you can find the Beware of the Gorilla on other products like t-shirts, crew neck sweatshirts, hoodies, tote bags, stickers, mugs, tank tops & more; perfect to create new original and amazing items for you or gifts for anyone. Idakoos is a USA based company created 25 years ago, whose goal is designing and sell online the most original and high quality personalized products, to satisfied our customers. Therefore we are your best option to buy custom T-Shirts online. All our products are in stock all time. We guarantee save shipping in the whole World. Buy the perfect product for you now!
TODAY'S AMAZING FACT:
Before he became the best-selling author of The Da Vinci Code, which was published on March 18, 2003, Dan Brown was better known as a musician. In 1994 he released an album called Angels & Demons - a title he reused for the 2000 book that first introduced audiences to professor Robert Langdon, the protagonist in five of Brown's books (including The Da Vinci Code).
Speaking of The Da Vinci Code and Angels & Demons, check out these products:
The Da Vinci Code Tour of London will take you on a 2 ½ hour walk around central London to unravel the mystery of Dan Brown's bestseller. Learn fascinating facts about the novel and its subsequent release as a movie. Using stills from the film and excerpts from the book, you'll visit both the actual film locations as well as the locations featured in the London leg of Dan Brown's novel. As you get to the bottom of the Da Vinci Code, you'll also see many famous landmarks along the way including Whitehall, Trafalgar Square, The Strand and many other places of interest. Explore the ancient Knights Templar church featured in both the book and the movie that contains the effigies of the Knights. Walk down the street where Robert Langdon and Sophie Neveu escape from Rémy and visit the National Gallery and see one of Da Vinci's famous works of art The Da Vinci Code Tour of London will finish at Westminster Abbey where you can choose to go inside the abbey at your own leisure.