Do you like reading fun facts?! Well, you're in luck because here we have decided to start posting them daily!
A wise man once said, "Learn something new every day." We might not know a lot about the world yet compared to how much is out there, but we always discover new things about it. What's useless info to some is, to others, cool, amazing fun facts that make the world a stimulating and awe-inspiring place. Are you one of those people who love collecting unexpected pieces of knowledge? If so, prepare to have your mind blown with these interesting fun facts that will amaze adults and kids alike.
Definition of fact:
noun
. something that actually exists; reality; truth:
Your fears have no basis in fact. something known to exist or to have happened: Space travel is now a fact. a truth known by actual experience or observation; something known to be true: Scientists gather facts about plant growth. Enjoy reading interesting facts?
You can see previously posted daily fun facts here
.
Follow me to save more money!
Don't forget to
follow me on Twitter
for daily deals and freebies. I am very limited on my posting on Facebook due to all their "violations" and such. I don't even like to post kitchen knives on there anymore! Whereas everything has been getting shared on Twitter. Of course, you are always welcome to still follow me on Facebook as well! So don't miss out on all the money-saving offers!
Plus, I share extremely limited-time offers on
my Telegrams channel
, so be sure to follow me there as it is free!
TODAY'S DID YOU KNOW...?
"Twinkle, Twinkle, Little Star," the "Alphabet Song," and "Baa, Baa, Black Sheep" all have the same melody, which evolved from a naughty French rhyme about a girl who tells her mother she was seduced. The rhyme was later added to this melody that's still being used for many songs in different cultures.
Speaking of rhyming, check out these products:
This costume turns you into everyone's favorite mischief-maker, instantly. It's a black jumpsuit with a furry white chest patch, attached black tail, and large red bow tie, just like the Cat's! The adjustable striped hat makes the look complete, and it even has a hidden pocket for cash or an ID, so you can easily carry your valuables without ruining the illusion.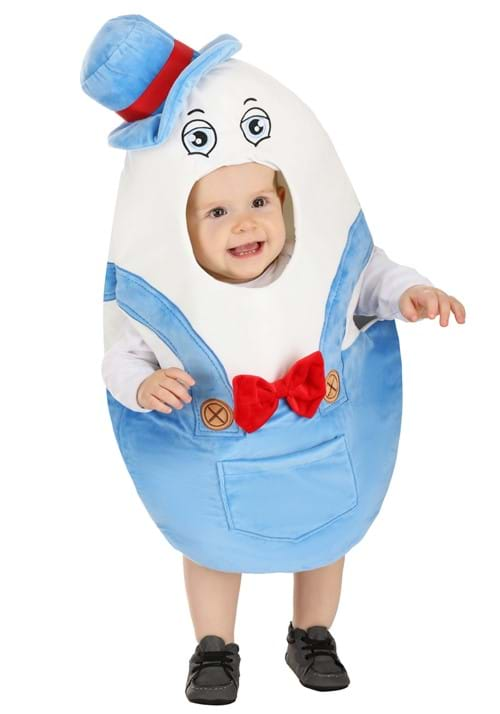 We still don't recommend trying to fall in it, but this exclusive Humpty Dumpty Costume for Infants is probably a lot less breakable than the original egg! Made of polyester velour and jersey knit, the sleeveless pulloer tunic is shaped like a huge egg and has a layer of foam between the inner and outer shell to help it keep its rounded shape. Blue appliqued overalls with fabric buttons decorate the lower two-thirds. A small red bowtie is sewn to the front. The hood is decorated with facial details and a fiberfill-stuffed top hat.
Help children build confidence and achieve success with fun, two-piece puzzles that hone their skills at their own pace. Match words to full-color photos for real-life learning. Only matching pieces fit together. Puzzles present short and long vowel rhyming words with photo sound cues. Durable, 3" x 3" pieces come in sturdy storage box. Rhyming Fun-to-Know Puzzles are ideal for teaching ages 3 and up.
TODAY'S AMAZING FACT:
In 2015, three of the Dallas Mavericks' basketball team's point guards shared the same birthday - right down to the year. Deron Williams, Jose Juan Barea, and Raymond Felton were all born on June 26, 1984.
Speaking of birthdays check out these products:
100% Cotton (except Charcoal Black and Blue, which are 95% cotton & 5% polyester). This girls birthday tee shirt is great quality and fit. The design is adjusted according to the shirt size. This birthday girl shirt is designed for age appropriate fit, so no need to buy big. The birthday girl outfit is 100% Cotton (except Charcoal Black and Blue, which are 95% cotton & 5% polyester). All of our products are machine washable. Perfect gift for 1st birthday girl outfit, 2nd birthday outfits for toddler girls, birthday girl shirt 3t, 4th birthday girl outfit, 5th birthday girl, 6th birthday girl, 7th birthday shirt girl.
Each letter board of our Golden Girls jointed Happy Birthday banner measures 5.75" by 7.75". Banner measures about 75 inches wide after assembled. Comes with two 6-foot strands of white ribbon. Printed using real gold foil and feature Dorothy, Blanche, Rose, and Sophia. Perfect for any girls birthday party, bridal shower party decorations, milestone birthday, 40th, 50th, 60th, 70th, or bachelorette party supplies.
The Personalized Birthday Life Saver Candies bring any party to life! These personalized Life Savers come in peppermint or assorted fruit flavors. Simply pick your favorite design and enter the special someone's name and event date or a special message for guests, then watch as your guests enjoy these delightfully refreshing treats! They make great gift bag fillers can be used as part of a candy buffet.