Life hacking allows people to take more ownership of their lives. Before attempting to hack life, people shouldn't just set an end goal but should also ask themselves how they want to feel on a daily basis. If people aren't happy with what they are doing daily they won't succeed. Maybe all this life hackery is just another way the internet tries to hold your attention. Some life hacks might really be game-changers. Either way, it doesn't hurt to try, right?!
Definition of life hack
informal. : a usually simple and clever tip or technique for accomplishing some familiar task more easily and efficiently. "Life hacks," as they are known, are all about eliminating life's manifold frustrations in simple and deliciously clever ways.
Why are life hacks so popular?
Life Hacks are the best things that can happen to a person. Why wouldn't you like to do the same thing in a short and simple way? Like Bill Gates always said He would like to hire a lazy person rather than hard-working person because he will find an easy way to do the same. Life Hacks merely make the work easy with the same results. They are popular because they can improve the rest of your life.
Follow me to save more money!
Don't forget to
follow me on Twitter for daily deals
and freebies. I am very limited on my posting on Facebook due to all their
"violations"
and such. I don't even like to post kitchen knives on there anymore! Whereas
everything
has been getting shared on Twitter. Of course, you are always welcome to still
follow me on Facebook
as well! So don't miss out on all the money-saving offers!
TODAY'S LIFE HACK
If you're looking to get the highest score possible at darts, the best place to aim is at the left hand side of the dart board. Most professionals have a standard deviation of around 0.2 inches (or 5 millimeters) when they throw. This is why they aim at the 20 at the top of the board. But amateurs have a standard deviation of around 3.35 inches (or 85 millimeters), so by throwing at the 14, your misses will most likely hit the 11 and the 9, as compared to the 1 and the 5 that surround the 20.
Speaking of dart boards, check these out:
Want to relax yourself but tired of high-intensity workout at gym? This dart board can be right solution for you. It can take a lot of focus and concentration to play darts, which takes your mind off those troublesome issues in life and helps you to relax as a positive diversion. It comes with a standard size dart board on one side and a black and white board on the other side. Double-faced board allows you to enjoy traditional dart games and target bulls eye dart games.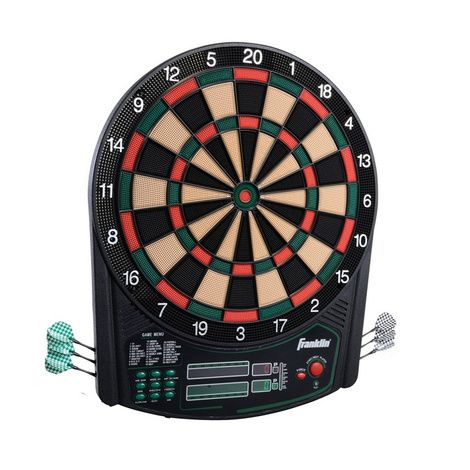 Franklin Sports FS 6000 Electronic Dart Board is a 15.5" tournament sized playing area, Official cricket electronic scoreboard. It has easy hanging system mounts in seconds. It has a specially designed built-in dart holder that comes ready to play with 6 soft tip darts.
TODAY'S GREEN HACK
Get creative with your gift wrapping and actually make the wrapping paper part of the gift! For example, wrap the gift in a scarf, dish towel, dishcloth, reusable coffee cup, or tote bag.
Speaking of gift wrap, check these out:
Meli Wraps are Planet-Friendly Reusable Food Wraps made with organic cotton, beeswax, tree resin, plant oils, and lots of Love! For Everything you used to wrap with plastic. Say goodbye to all the mismatched Tupperware containers and hidden lids, free up that much needed pantry space and say Hello to Meli Wraps!
These patterns play so well together...why choose?! Bundle 'n save on Jana Lam's latest collection for Wrappily.
The small-sized wrapping is a 14" x 14" fabric square with ribbon attached. This size is suitable for wrapping things such as a standard-sized novel. The medium-sized wrapping is a 26" x 26" fabric square with ribbon attached. This size is suitable for wrapping things such as a typical textbook.