Life hacking allows people to take more ownership of their lives. Before attempting to hack life, people shouldn't just set an end goal but should also ask themselves how they want to feel on a daily basis. If people aren't happy with what they are doing daily they won't succeed. Maybe all this life hackery is just another way the internet tries to hold your attention. Some life hacks might really be game-changers. Either way, it doesn't hurt to try, right?!
Definition of life hack
informal. : a usually simple and clever tip or technique for accomplishing some familiar task more easily and efficiently. "Life hacks," as they are known, are all about eliminating life's manifold frustrations in simple and deliciously clever ways.
Why are life hacks so popular?
Life Hacks are the best things that can happen to a person. Why wouldn't you like to do the same thing in a short and simple way? Like Bill Gates always said He would like to hire a lazy person rather than hard-working person because he will find an easy way to do the same. Life Hacks merely make the work easy with the same results. They are popular because they can improve the rest of your life.
Follow me to save more money!
Don't forget to
follow me on Twitter for daily deals
and freebies. I am very limited on my posting on Facebook due to all their
"violations"
and such. I don't even like to post kitchen knives on there anymore! Whereas
everything
has been getting shared on Twitter. Of course, you are always welcome to still
follow me on Facebook
as well! So don't miss out on all the money-saving offers!
TODAY'S LIFE HACK
Figuring out X percentage of Y is the same as figuring out Y percentage of X. So, if you figure out what 7 percent of 50 is, you know what 50 percent of 7 is. Both are 3.5.
Speaking of calculating percentages, check out these calculators: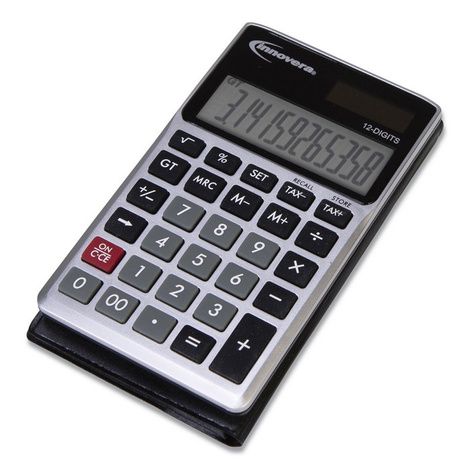 Innovera 12-Digit Pocket Calculator with Tax Functions find the correct answer with this convenient pocket calculator that is ideal for everyday math. Dual solar/battery power provides reliable functionality in any lighting conditions. The 12-digit LCD display handles large calculations. Recall saved numbers with the three memory buttons. Tax Calculation, Square Root, Switch, and Percent keys help to find the answer to more equations. Protective wallet case adheres easily to the calculator and flips out of the way when in use.
The TI-83 Plus is an easy-to-use graphing calculator for math and science. Ideal for algebra through pre-calculus, plus powerful statistics and finance features. Offers flash technology to upgrade. Financial functions include TVM, cash flows, amortization, and complex numbers. Enhanced data analysis includes logistic and sine regressions. Graphs 10 rectangular functions, six parametric expressions, six polar expressions, and three recursively-defined sequences. I/O port with unit-to-unit link cable (included). Offers large 64 x 96 pixel, 8 x 16 display; 24KB of RAM; and 160KB Flash ROM memory for data archive and storage of Apps. Applications can be computer stored for later use or linked unit-to-unit. Calculator is powered by included four AAA batteries with a lithium battery backup to protect RAM memory during main battery change.
12-digit desktop calculator with sleek white design and silver accents is perfect for the modern office. Large tilt LCD provides easy viewing. Check and Correct function lets you scroll through and modify your entries. Other functions include selectable decimal and rounding switches, percent key, automatic constants, backspace key, three-key independent memory and automatic power down. Hybrid power runs on solar power with battery backup.
TODAY'S GREEN HACK
Used Brita water filters, pitchers, and parts can now be recycled! Simply join the Brita recycling program on TerraCycle.com and you can send them back to the company to be used in future products. They'll even pay you to recycle them!
Speaking of water filters, check these out:
Designed to remove up to 99.99% of all tap water contaminants, the Epic Pure Water Filter Pitcher is the most sensible choice in water purification today. All filters are replaceable and tested to the highest industry standards. Our American-made pitcher/jug filters are tested and exceed NSF/ANSI Standards 42, 53, 401, & P473 for contaminant reduction (see Pure Filter Test Results for more). With each filter capable of purifying 150 gallons (568 litres) of water, the Epic Pure Pitcher is also a great economical choice saving your pocket book and the earth from single use plastic water bottles. The Pure Pitcher includes one (1) Pure Filter that has an average life of around three to four months. Filter life varies based on your average daily use and the quality of your municipal tap water. If your tap water is relatively heavily contaminated, your filter works harder to keep your water clean, which will decrease the life of the filter. The Pure Pitcher also comes with a LED timer, which counts down from 90 days, integrated into the lid that reminds you when it is time to change the filter. Never again will you have to guess about your filter. The bottom reservoir of the pitcher holds about half a gallon of unfiltered water, and since the filter is good for 150 gallons, you can determine how long it will last depending on how often you fill up!
Tested and certified by NSF International against NSF/ANSI standard 42 for the reduction of 94.2% chlorine, taste and odor, and NSF/ANSI 372 for lead-free material. You are ensured of a safe and reliable drinking experience at all times.
Each faucet filter provides 320 gallons of cleaner water, or 3 months of typical use - that's 2x longer than most faucet filters.
The innovative ACF material features great and fast filtration. Upgraded filtration technology to reduce lead chlorine and other contaminants.
#3 Sagan Life UltraFlo™ Under the Sink Water Filtration Kit
Take your home water purification to the next level with the UltraFlo™ Under the Sink Water Filtration Kit. Removes bacteria, virus, protozoan, as well as many water borne toxins, such as lead, fluoride, arsenic, chromium, mercury, zinc, perchlorate, cadmium, and barium from your tap water. Fits most under-sink sump whole house filtration systems. Ideal under sink filter for RV's, Vans and Motorhomes. The UltraFlo™ Kit has been tested and certified using the "End of Life" method. Simply put, all Sagan Life® water purification products have been independently tested until they cease to work. Which is why we know the UltraFlo™ purifies up to 2000 gallons of water, and exactly what it removes. Many under the sink filtration options are not effective at removing contaminants, and are often designed only to improve the taste of drinking water, leaving tens of millions of U.S. households with contaminants in their water.