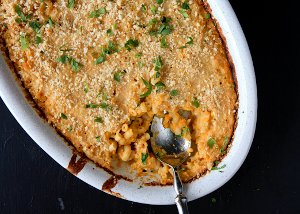 Sign up for a
Free eCookbook: 11 Baked Macaroni and Cheese Recipes
, featuring more than 10 easy macaroni and cheese recipes + AllFreeCasseroleRecipes The Casserole Connection newsletter for FREE! Did you ever think of mixing buffalo chicken with mac and cheese? Thankfully someone did, because otherwise we wouldn`t have this delectable Buffalo Chicken Mac and Cheese Casserole recipe (p. 7). Other fine creations use pepperoni, ham, and bacon. Macaroni and cheese recipes for your man include ingredients, such as beer, chili, and chipotle chiles. And that`s not all! You`ll find a whole section that uses secret ingredients. This free eCookbook,
11 Baked Macaroni and Cheese Recipes
, will surprise you with mac and cheese creations you have never thought of (but wish you had!).