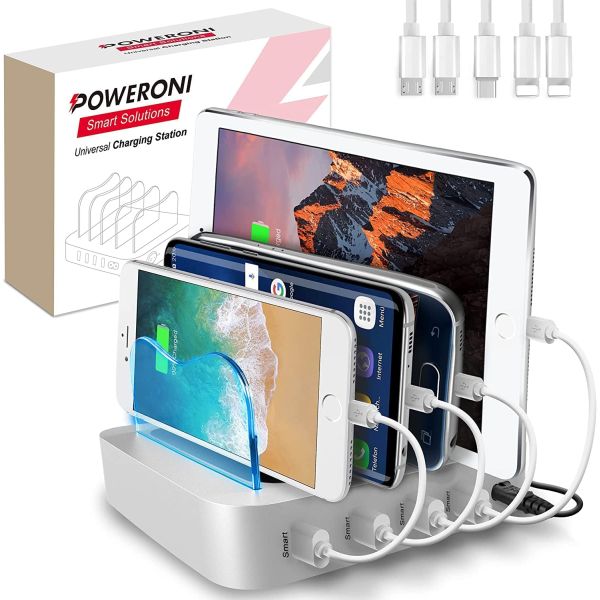 Keep all your devices charged!
TIDY AND ORGANIZED - This multi-device charging station can charge everything in one place, without multiple chargers plugged into your power outlet or devices spread all over your desk. No more cluttered cables - this charging dock comes with 5 short cables - 2 AP USB, 2 Micro USB and 1 Type-C for Android and other devices.
FAST AND SMART CHARGING - With 4 Smart USB ports, that can each charge at up to 2.4A, charging your devices faster than standard 1A chargers! An adaptive smart chip detects and delivers the optimal charging current for connected devices.
EASY TO USE - This phone charging station has built-in Status LED Indicators that automatically stops charging when the device is fully charged.
UNIVERSAL COMPATIBILITY - This multiple USB charger supports all types of USB charging cables – compatible with AP USB, Micro USB, Mini USB, and USB-C. The Poweroni charging station is compatible with Apple iPhone, iPad, Android, Kindle Fire, Samsung, and more.
SAFE AND SECURE - The multi-device charging station protects your device from overcharging, overcurrent and short circuiting. The anti-slip surface ensures that your devices are stored securely in place. Moveable dividers allow adjustment to fit larger products
Product Dimensions 6.1 x 4.9 x 1.1 inches
? If you like Amazon deals & coupon codes join my Telegram Channel (It's FREE!)! ? Sign up here!
═════════════════════════════════
PROMOTE YOUR BRAND WITH US!
═════════════════════════════════
Want to showcase your product to the Closet of Free Samples audience? Then check out my available advertising options and email me at This email address is being protected from spambots. You need JavaScript enabled to view it. to discuss!
═════════════════════════════════
FOLLOW CFS ON SOCIAL MEDIA
═════════════════════════════════