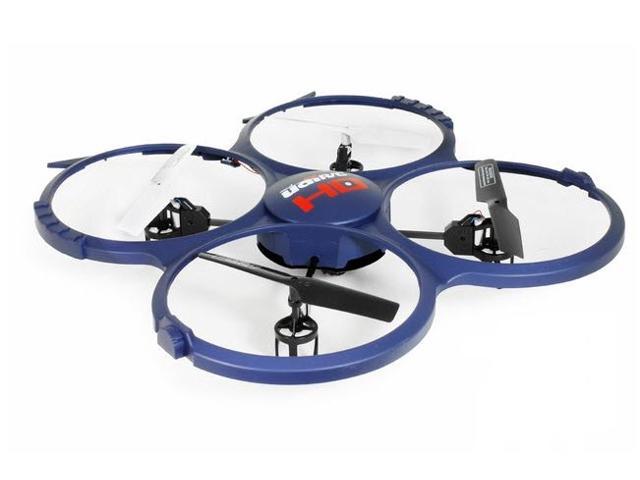 Now thru 11/19
you can get this 
UDI Axis Gyro RC Quadcopter w/ HD Video Camera
for ONLY $34.99 , down from $82.31, with FREE shipping right to your door! Experience the future of flight today with the UDI U818A-1 quadcopter. A great toy for older kids or adults of all skill levels, this drone features a six-axis gyroscope for amazing flight stability. Shoot stable HD 720p @30fps video and sharp stills with the built-in camera. Choose from three speed levels (low, medium and high), and perform amazing stunts like flips and rolls with the included remote control. Thanks to the 2.4G wireless technology, it enables a responsive, accurate control experience. The bright LED lights guide you through night sky and adds more flight fun. Plus, this unit is constructed of high impact material with blade protection frame, contributing to the drone housing which is lightweight enough for efficient flying, and durable enough to survive minor falls or crashes.
???? Get

Cash back

on this purchase by using TopCashBack! Sign up here for FREE!
*Tip: Open the TopCashBack link a new window, search for the store, select it and it will open in a new window. Once this happens, you can close that window and continue shopping from where you were. Doing this will log that you are shopping through TopCashBack without losing your place!
???? Also,

Save even

 

MORE

 money with Honey - a FREE Add-on that automatically searches and applies coupons to your purchases!
*Tip: Honey is a browser extension that automatically finds and applies coupon codes at checkout on thousands of sites. But that`s not all–– Honey also instantly finds better prices on Amazon and offers cash bonuses on many stores.  It works in various browsers and take just a minute to sign up -- plus it`s FREE! When you`re on a checkout page with a promo code field, Honey will pop up and ask if you want to check for savings. Simply click the "Find Savings" button and Honey will automatically try all known coupon codes for that store (including Honey exclusives). If they find a code that works, they'll apply the one that saves you the most money to your cart. It`s that simple!