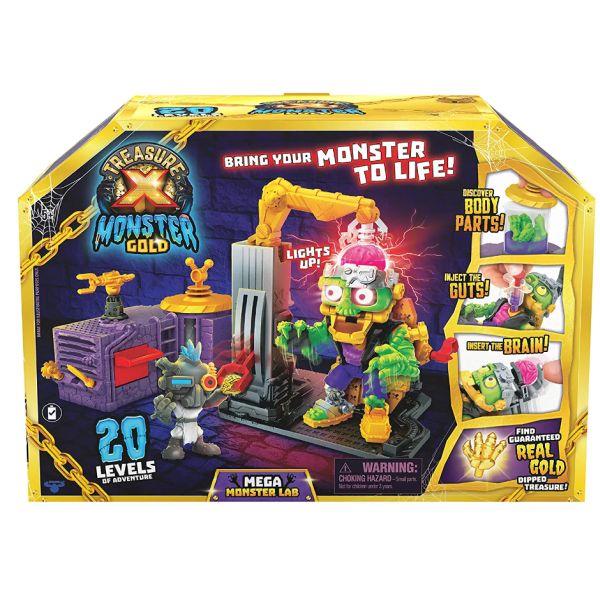 This is a fun find for kids!
Bring your Monster to life and find guaranteed REAL Gold Dipped Treasure inside the Mega Monster Lab! With 20 Levels of Adventure, the Mega Monster Lab Playset has so much monstrous unboxing fun in the one gruesome place! Full of mysterious places, hidden chambers and secret hatches to discover. Help your exclusive Mad Scientist build his huge Monster and bring him to life! Find the Monster's body part swimming in the Glow-in-the-Dark Ooze. Inject the Ooze into the Monster's guts and reattach his limbs. Search through the Spider Webs to find the eyes and heart, then place the brain inside his head! Now it's time to bring your Monster to life. Connect the Power Generator and flick the switch... 3.. 2...1 "It's Alive"! AS your Monster's brain and eyes light up, his mouth opens to reveal real GOLD Dipped Treasure! It's just what the scientist has been waiting for! Upgrade your Monster using the Power Tools in the Lab! Collect all the other toy Action Figures in the Treasure X Monster Gold Series !
Hunt for Monsters and Real Gold Dipped Treasure with Treasure X Monster Gold.
Take on more than 20 Levels of Adventure! with Treasure X Monster Gold.
Discover secrets and surprises in the Mega Monster Lab and search through different ghoulish compounds!
Exclusive Mad Scientist Figure​ and Deluxe Monster Size Figure with "Light Up Alive" feature​!
Mix and Match the Monster's Body parts using pieces from the Lab!
Find guaranteed REAL Gold Dipped Treasure inside the Mega Monster Lab!
Did you find this post helpful? If so, it would be great if you could show some support by following

Closet of Free Samples on TikTok

(as well as my other social media accounts @closetsamples) and by checking out

my Etsy shop

! As a small creator, all your support makes a difference! Even a simple share of this post to your friends helps! Thanks so much!