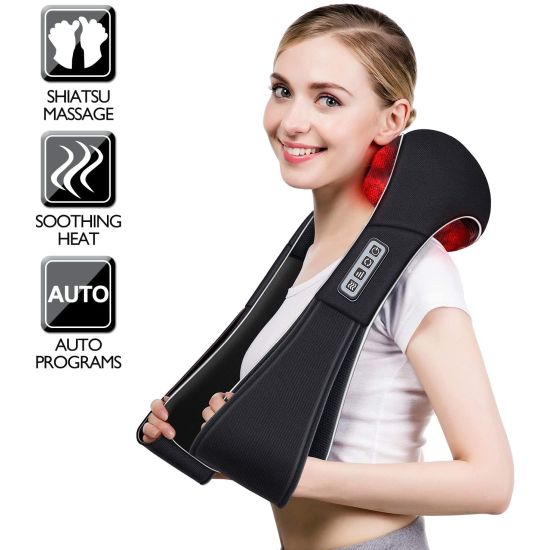 Shiatsu Neck and Back Massager with Heat - Folks, this is NOT some cheap vibrating massager. This is a VERY nice shiatsu (rolling, kneading massage) unit that WORKS to the tension out of your neck and shoulders. Oh, these also work WONDERS for the lower back! The handles allow you to position the pressure points exactly where it's most needed. These are $75 and up in stores, so don't miss out on this for yourself or as a gift! - SHIPS FREE!
Release some tension in your neck with this massager!
VIKTOR JURGEN Neck & Shoulder Massager With Heat delivers a deep kneading shiatsu massage to soothe tired, loosen tight muscles, massages hard-to-reach muscles in the neck, back, and between shoulder blades.
Selectable soothing heat boosts circulation, and further relaxes neck, shoulders, calf, legs, and foot muscles, help achy muscles (and the rest of you) relax more deeply.
Get ready to feel more relaxed and refreshed for the whole day - VJ neck and back massager can provide on-the-go relief. Comes with (110-240C) AC Adapter and (12V) Car Adapter, Enjoy a deep tissue massage in your own home, car and office. Perfect for end-of-the-day relief or post-workout recovery, relief from muscle soreness and workday stress.
Unique Gifts for Him and Her - Massage can help accelerate muscle recovery, Alleviate muscle pain, Reduce heart rate, Increase flexibility, Improve circulation, Promote better sleep. Shiatsu massager as gift is perfect for any occasion. birthday gifts, mothers day gifts or any special festival gifts for women /men /yourself
Ergonomic Massager lets Your Life Better - 3 speeds High, medium or low speeds give you control of massage intensity, comfort handles let you further control the intensity of the shiatsu massage, while 3 automatic programs (Auto-Reversing, Single Direction, and Timed Interval 15-minute automatic shutoff) change the massage direction and allow for a customizable massage experience.
8 deep-kneading Shiatsu massage nodes soothe tired, aching muscles
Can be raised or lowered to reach just the right spots
Selectable heat further relaxes neck and shoulder muscles
Perfect for end-of-the-day relief or post-workout recovery
(110-240C) AC Adapter and (12V) DC Adapter