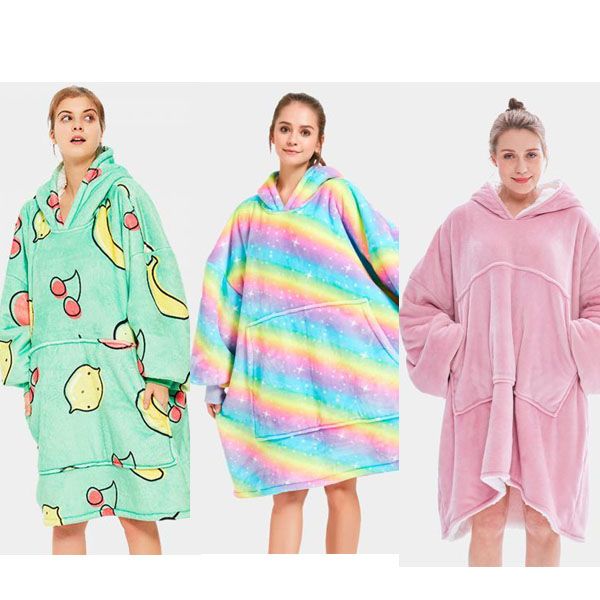 Grab these before the fall and winter season! These would also make great holiday and birthday gifts!
These Hooded blanket Rainbow are perfect for those cozy moments at home. It's a combination of a blanket and a hoodie, an incredible and cosy invention that will revolutionise the quiet Sundays spent at home. With its soft and fluffy inner lining, you'll feel like you're wrapped in a real blanket. The hood is also lined for even more comfort and softness. The blanket hoodie is one size fits all and is very loose fitting for both men and women.
This giant hooded blanket is ultra-practical, with extra-long sleeves and a large front pocket where you can warm your hands or keep your tissues, phone or gadgets. It's like being in a blanket, but with real freedom of movement!
Whether it's stripes, dots, fruity and colourful patterns or animal prints, you're bound to find a checkered hooded blanket for adults you'll love. Sushi, lemons, strawberries, watermelons, teddy bears, ice cream, cats, a zebra pattern or a panther print: there is something for everyone! Original and fun, you won't want to leave your new blanket with sleeves behind this winter, whether you're working or relaxing. It's also the perfect gift to give at the end of the year!
Finally, the Hooded blanket is easy to care for, you can machine wash it in cold water without losing its softness and comfort.
More details:
Extra-large size
One size fits all
Suitable for men and women
Easily machine washable in cold water
Soft Sherpa inner lining
Comfortable, loose, soft and warm
Original and colourful patterns
Hood, long sleeves and front pocket
Did you find this post helpful? If so, it would be great if you could show some support by following

Closet of Free Samples on TikTok

(as well as my other social media accounts @closetsamples) and by checking out

my Etsy shop

! As a small creator, all your support makes a difference! Even a simple share of this post to your friends helps! Thanks so much!