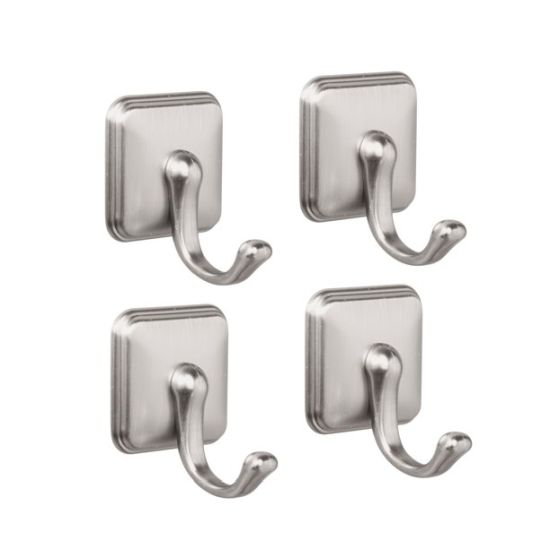 Set of 4 Self-Adhesive Storage Hooks - Simple, instant and non-bulky extra storage areas to store / hang items! - No hardware needed and have them up in moments! Great for kitchen, bath, closets, next to doors and more! - Small 49 cent shipping, but order 3 or more sets and SHIPPING IS FREE!
These are great to get your home organized!
Organize your home with the Self-Adhesive Storage Hooks. This set of four organizer hooks create storage space for a variety of household items. Each hook features a self-adhesive strip to provide a strong hold on most clean, smooth surfaces. Simply peel off the adhesive strip backing on each hook and place it on the wall - no drilling or hardware required! The classic design with brushed nickel finish matches a variety of decor styles, while the durable BPA-free plastic construction stands up to every day use. Each hook measures 1.5" x 1.5" x 1.25".
Set of four hooks create storage space for a variety of household items
Versatile design can be used in the bathroom, kitchen, pantry, bedroom, closet, laundry room, or in any room around the home that you need additional organization
Simply peel off the adhesive strip backing on each hook and place it on the wall for easy installation and set up - no drilling or hardware required!
Durable BPA-free plastic construction with brushed nickel finish stands up to every day use and is easy to clean with mild soap and water
Measure 1.5" x 1.5" x 1.25" each and are ideal for adding storage in compact spaces around the home