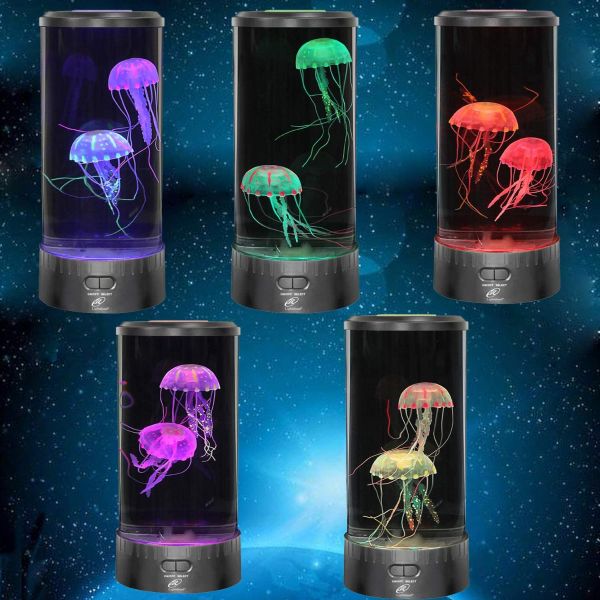 These are so cool! I need to get one!
IMMERSE YOURSELF IN THE PEACE & CALM OF THE OCEAN: Watch jellyfish models swim quietly, creating a beautiful ambiance. Lifelike jellyfish movements are so realistic you will question if they are real. The overall effect with changing lights is simply mesmerizing fascinating relaxing & hypnotic. Ideal for your home, office, children's room.
The quiet movement of realistic life like Jellyfish in the tank with fascinating color changing lights create a beautiful Tranquil, peaceful & soothing deep-sea ambiance which could help reduce stress & anxiety. Great for children and adults. Helps improve mood & well-being.
Fascinating Color changing effects. With quiet motor. The Lamp comes with 2 pcs life like synthetic Jellyfish and has 5 fascinating color light changing effects.
CREATE BEDTIME STORIES FOR CHILDREN: Can also be used as a night light for kids. The gentle rhythmic movement of Jellyfish in this hypnotic colorful bubbling color changing jellyfish lamp could help create a great setting for calming your children to fall asleep. Powered by USB.
A CONVERSATION PIECE AND A GREAT GIFT IDEA: Ideal for any room in the house to add character. Great gift for anyone who loves aquariums. A great Conversation Piece. Ideal gift for any occasion.
BONUS:
Check out these other
jellyfish and fish deals
that are currently available while you are here and save some money!
TONS of Limited-Time EXCLUSIVE deals have been posted to my Telegram channel! These deals include limited-time offers, coupon codes, and Amazon deals! It's FREE to join so you don't miss out! ? Sign up here!
═════════════════════════════════
PROMOTE YOUR BRAND WITH US!
═════════════════════════════════
Want to showcase your product to the Closet of Free Samples audience? Then check out my available advertising options and email me at This email address is being protected from spambots. You need JavaScript enabled to view it. to discuss!
═════════════════════════════════
FOLLOW CFS ON SOCIAL MEDIA
═════════════════════════════════