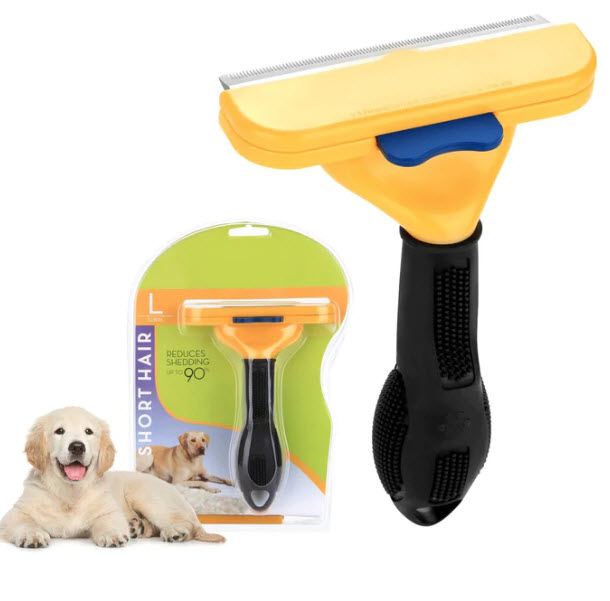 (Compare to the Furminator at a fraction of the price!) Pet Deshedding Grooming Tool - Note: The packaging says short hair, BUT i used this on my Husky along with my short haired dog (no idea what she is) and it works perfect on both. I think they are just trying to sell people 2 different items in case they have a long hair dog and short hair dog :) - SHIPS FREE!
If you have a pet, you need one of these!
This is designed with patented technologies guaranteed to reduce shedding better than any brush, rake, or comb. Perfect for your pet.
Features:
For large dogs with hair shorter than 2 inches between 51-90 lbs.
Reduces shedding up to 90%.
4" Stainless steel deshedding edge reaches deep beneath your dog's.
Ergonomic handle for comfort and ease of use.
Button releases hair with ease, making deshedding easier than ever.
Guaranteed to reduce shedding better than any brush or comb.
Product dimensions: 10 x 6 x 2 inches
🌟 If you like Amazon deals & coupon codes join my Telegram Channel (It's FREE!)! 👉 Sign up here!
═════════════════════════════════
PROMOTE YOUR BRAND WITH US!
═════════════════════════════════
Want to showcase your product to the Closet of Free Samples audience? Then check out my available advertising options and email me at

This email address is being protected from spambots. You need JavaScript enabled to view it.

to discuss!
═════════════════════════════════
FOLLOW CFS ON SOCIAL MEDIA
═════════════════════════════════