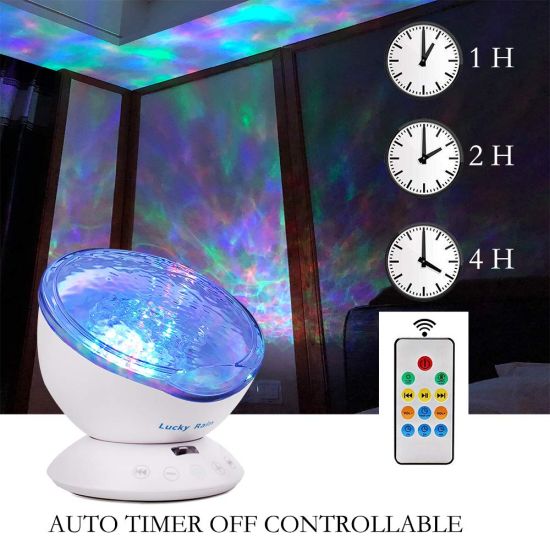 Ocean Wave Night Light Projector With Remote - Silent projection or play one of the 3 built-in soundscapes, OR play music through your phone! Sure, it's great for kids, but most definitely not JUST for kids, as this thing is awesome! - SHIPS IMMEDIATELY!
This fun find would make a great gift idea!
OCEAN WAVE NIGHT LIGHTS PROJECTOR.
It's built-in 12 large chip LED lights, provide you brighter and broader projection effects. It can be used for bathrooms, living room, bedroom.
MULTIPLE PROJECTION LIGHTS MODES.
Three color-changing (red, blue, green), the colored lights staggered rotation and modify to simulate the sparkling sea, and creating a soothing sleep environment visually. Especially suit for someone who is insomnia.
MUSIC PLAYBACK FUNCTION.
Built-in 3 different nature music such as nightscape, ocean, and river. There is also an audio connection so that you can play the music via your phone / computer.
AUTO OFF CAN BE TIMED.
There are 3 options of the auto turn off timer - 1 hour / 2 hours / 4 hours, the wave projection lights will automatically turn itself off in the preset time you choose. Yet of course you can also canceled the auto turn off timer function if you prefer it stay
projection
all night long.
REMOTE CONTROLABLE.
It can be controlled via a remote, so you don't need to walk to it when you need to turn it on/off, change the music or projection mode, etc. In addition, you can control its auto turn off time, so that it can work longer for you as long as you want.
Psst...

I frequently post exclusive deals and coupons on my

Twitter Page

.

Be sure to follow so you don't miss out!