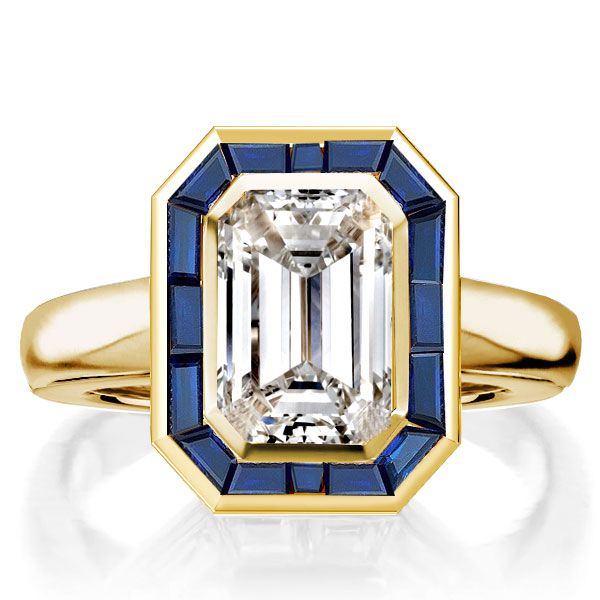 Are you ready to embark on a journey of love and commitment? The Italo Jewelry website presents a breathtaking piece that will make your heart skip a beat – the Emerald Cut Halo Solitaire Engagement Ring, now available at the incredible price of $108.77, regularly $165.95 - a 34% discount. Crafted from 18K Gold Plated Sterling Silver, this ring is a true testament to the beauty of fine jewelry.
Let's delve into the remarkable features of this exquisite ring. With a total weight of 9.45g, it feels substantial and luxurious on your finger. The center stone takes center stage, boasting a dazzling 2.75 CT. white Sapphire gemstone. Its Emerald cut shape exudes sophistication and timeless elegance. Nestled securely in a Bezel setting, the center stone is held in place with utmost care and precision.
But the allure doesn't stop there. The side stones of this magnificent ring are brilliant blue Baguette cut Sapphire stones. These vibrant gems beautifully complement the white Sapphire center stone, adding a touch of mesmerizing color to the overall design. Like the center stone, the side stones are also securely set in Bezel settings, ensuring their durability and enhancing their visual appeal.
Crafted with attention to detail and exceptional craftsmanship, the Italo Jewelry Emerald Cut Halo Solitaire Engagement Ring showcases the finest materials and design. The 18K Gold Plated Sterling Silver exudes a warm and luxurious glow, while the Rhodium coating gives it a brilliant platinum-like appearance. Rest assured, this ring is Nickel Free, making it suitable for those with sensitive skin.
It's important to note that the Italo Jewelry team is dedicated to providing accurate information about their products. While all stone weights (CT.) are approximate and listed as diamond equivalent weight in carats, the ring's total weight, band width, and thickness may have a slight deviation of no more than 5%. This commitment to transparency ensures that you receive a piece of jewelry that lives up to your expectations.
The Italo Jewelry Emerald Cut Halo Solitaire Engagement Ring is not just a ring; it's a symbol of your love and commitment. Its timeless design and impeccable quality make it a treasured piece that will be cherished for a lifetime. Whether you're searching for an engagement ring or a special gift for a loved one, this ring is a perfect choice.
BONUS:
Check out these other
rings on sale
while you are here and save some money!
? If you like Amazon deals & coupon codes join my Telegram Channel (It's FREE!)! ? Sign up here!
═════════════════════════════════
PROMOTE YOUR BRAND WITH US!
═════════════════════════════════
Want to showcase your product to the Closet of Free Samples audience? Then check out my available advertising options and email me at This email address is being protected from spambots. You need JavaScript enabled to view it. to discuss!
═════════════════════════════════
FOLLOW CFS ON SOCIAL MEDIA
═════════════════════════════════