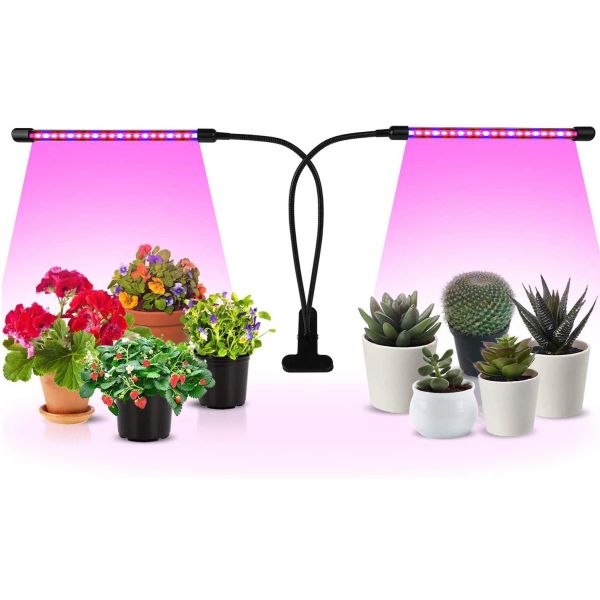 Start your own indoor garden with this light!
The grow light suitable for a number of potted landscape and indoor garden plants that include:
1. flowering plants: roses, chrysanthemum, peony, tulip and many others.
2. greens: like tomatoes, chili, choy, herbs etc.
3. succulents: ball cactus, burros tail, ball cactus, and others.
Suggestion:
1. It is advisable to maintain a distance of 1.7 to 3.4 feet between the light and the plant.
2. This grow light should be exposed to the plant twice a day with each session lasting for 6 hours for effective growth.
Timing Function:
Built-in two way timer, it can turn on/off every day. The smart timer can help your light to turn off after 3H, 9H, 12H (according to your setting), and turn on again for the next 24 hours cycle.
When the timer is set to 3 hours, the button lights up in blue;
When the timer is set to 9 hours, the button lights up in green;
When the timer is set to 12 hours, the button lights up in red.
NOTE: Once the USB power cord is unplug, you need to setting the timer again.
Efficient Red/Blue LED Combination:
The main part of the whole spectrum light is blue(460nm-470nm) and red (620nm-660nm), which supplies the most efficient wavelength to enhance photosynthesis performance.
Adjustable Brightness:
Short press the "±" button to select 11 different brightness. Long press the "±" button, can achieve stepless dimming.
3 Lighting Modes: Simple press switch button to control of 3 lighting modes (RED Light, BLUE Light or RED & BLUE Light).
Specification:
Power: 10W
Input voltage: 5V
Lumen output: 200lm
LED Chips: Red : Blue = 26 : 14
Life time: 50000 hours
Work Ambient Temperature: -4℉~104℉(-20℃~40℃)
Package Included:
Did you find this post helpful? If so, it would be great if you could show some support by following

Closet of Free Samples on TikTok

(as well as my other social media accounts @closetsamples) and by checking out

my Etsy shop

! As a small creator, all your support makes a difference! Even a simple share of this post to your friends helps! Thanks so much!