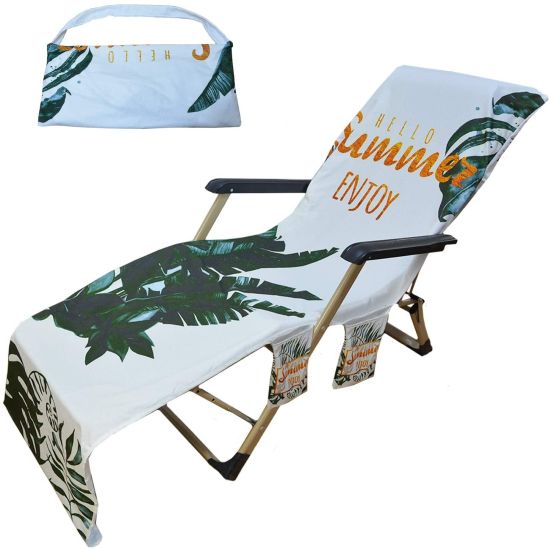 HUGE Beach / Pool Chair Towel With Pockets - This more-than-big-enough chair towel covers the ENTIRE chair / lounger while hooking to the back so that it doesn't slide down. It also has little loops for the bottom so the wind doesn't blow it off. Pockets on both sides so you have a place for all your stuff off the sand! Of course you can also use these without the chair :) - Great deal because you will receive a random design - Order 2 or more and SHIPPING IS FREE!
This is perfect for lounging at the beach!
The green leaves beach chair cover towel with fitted top pocket, side pockets, no sliding, fast drying, is perfect for pool, sun lounger, hotel, vacation, holidays.
Specification:
Material: 100% microfiber fabric.Soft and absorbent.
Size: 84.6"H×29.5"W / 215cm×75cm. Fit Most Lounge Chairs.
Pattern: Green palm leaves.Color suitable for all men and women.
Package: 1× Green Leaves Beach Chair Cover Towel.
Features:
Multiple pockets on each side for your valuables, suntan lotion, phones, magazines, snacks, drinks etc.
Elastic fixed belt, ensure no more sliding towels. Fully enjoy the sunshine.
The beach towel covers can be folded into its own tote bag for easy carry.
It can be used on the beach lounger, pool loungers, patio, garden, the blanket covers also can be spread directly on the beach, bath in the sun freely.
TIP:
Check out these other
beach deals
while you are here and save some money!