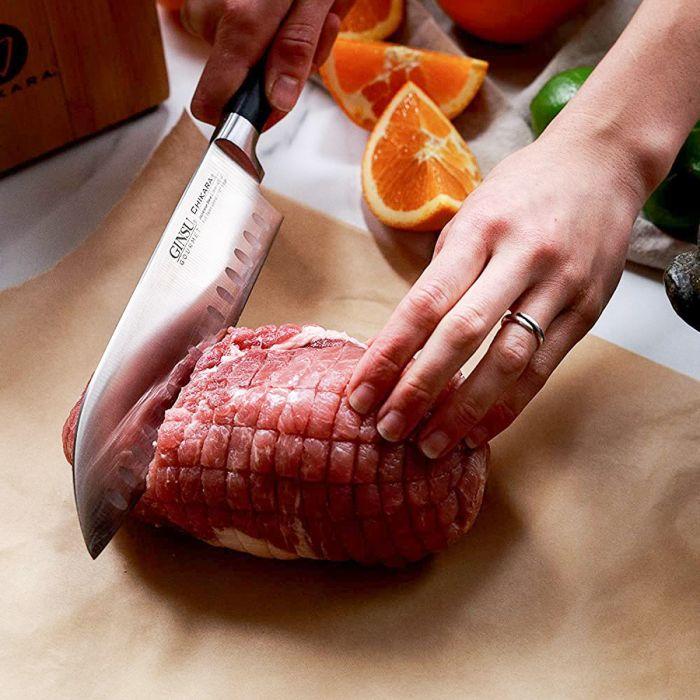 Ginsu Chikara Series 7" Santoku Knife – Forged from high carbon Japanese steel. Go-to knife in any kitchen, home, or restaurant! $27 on Amazon with 5-star reviews! $2.89 shipping, but order 3 or more and SHIPPING IS FREE!
Grab this high quality knife while it is on sale!
Ginsu brand, Chikara series, gourmet Santoku knife Japanese 420J2 stainless steel. Part of the Ginsu Gourmet line, this knife is forged from high carbon Japanese steel for superb quality. Japanese steel is known for its stain and rust resistance, strength, and its ability to hold an incredibly sharp edge. This Santoku knife features a traditional Japanese handle made from resin that's resistant to heat and water. To increase the life of your Chikara cutlery, please hand wash and dry promptly.
Stays sharp longer than others, low maintenance
Full taper kullens grind– less friction & sticking
2.5mm, 15-degree facet blade
Smooth resin handle is heat & water-resistant
Expertly balanced for control & precision
Japanese version of the chef's knife, yet stronger
For cutting, chopping, mincing, slicing & dicing
The go-to knife in any kitchen, home, or restaurant