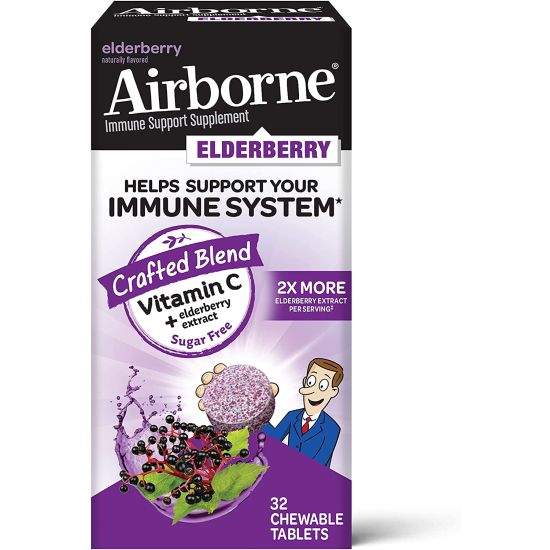 FOUR BOXES of Immune Support Airborne Elderberry Extract + Vitamin C 200mg (per serving) - Chewable Tablets 32 count - Take daily or during times in which you know you may be more susceptible to catching something. Soooooo, like all the time right now. Currently $15 per box at Walgreens (see additional image), but you're getting FOUR boxes for $14.99 ($3.75 per box)! You're getting a GREAT deal because the best by dating on these range from late October to late February 2022, but we all know how arbitrary those dates are. - Order 4 or more 4-packs and SHIPPING IS FREE, SO LOAD UP FOR THE ENTIRE FAMILY TO HELP STAY HEALTHY!
STOCK UP ALERT!!
Airborne Elderberry Chewable Tablets provide immune support in a great-tasting and an easy-to-take form; no water needed. Each serving (2 tablets) delivers a blast of 200mg of Vitamin C + 100mg of Elderberry Extract. Developed by a former school teacher, Airborne products are specially designed to help support your immune system.* Airborne is the #1 Immune Support Gummy, Effervescent and Chewable Brand‡ *These statements have not been evaluated by the Food and Drug Administration. This product is not intended to diagnose, treat, cure or prevent any disease.
WHAT IS IT: This is a unique Vitamin C & Elderberry Extract supplement that helps support your immune system.* This NON-GMO & SUGAR FREE product has a delicous blast of naturally flavored Elderberry and has no colors added!
WHY TO TAKE AIRBORNE: Airborne is the #1 Immune Support Gummy, Effervescent & Chewable Brand.¹ These tablets are easy & convenient for you or your family to take at home or on the go. Vitamin C is among the most important antioxidants in immune health.*
DEVELOPED BY A SCHOOL TEACHER: The original Airborne recipe was cooked up by an ingenious teacher about 20 years ago. Why? Because throughout the school year, she wanted to provide her immune system with proper support.
HOW MUCH SHOULD I TAKE: Adults (18 years of age and older): chew 2 tablets daily. One serving of (2) chewable tablets provides 200mg of VITAMIN C!