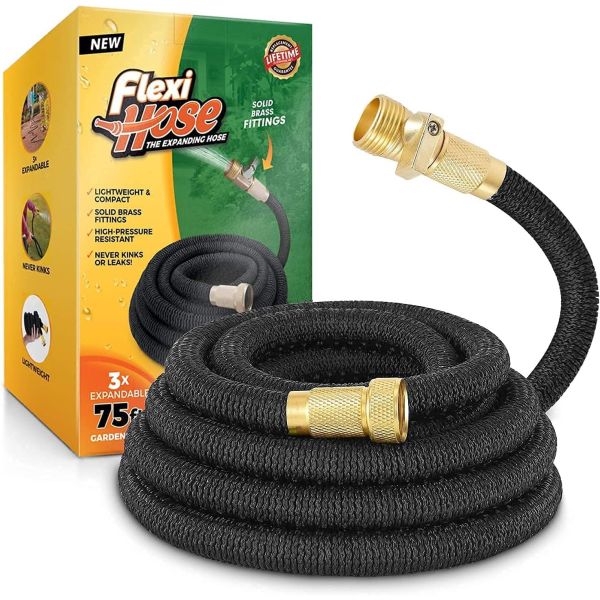 Great deal if you need a new hose!
The Flexi Hose expandable garden hose automatically expands to the stated product length - roughly 3 times extension - with standard pressure when water is turned on and shortens to a compact length when the water is turned off. Storing the Flexi Hose is a breeze!
Strong fittings for reliability! Solid 3/4 inch brass connectors ensure the expanding garden water pipe fits the typical outdoor garden taps in the US.
Expandable, lightweight construction without sacrificing quality! The 3750D elastic outer fabric with 4 layers of latex protects the inner tube effectively from thorns, punctures, and sharp corners.
Lightweight, yet durable for heavy duty use! Every Flexi Hose is endurance-tested to 2000 uses and can withstand water pressures up to 12 bar and temperatures between 41 and 113 degrees Fahrenheit.
Our expandable water hose isn't just for gardening - it can be used for washing your car, dog, pet, home, or just for having fun!
Choose from 50 Feet, 75 Feet and 100 Feet
TONS of Limited-Time EXCLUSIVE deals have been posted to my Telegram channel! These deals include limited-time offers, coupon codes, and Amazon deals! It's FREE to join so you don't miss out! 👉 Sign up here!
═════════════════════════════════
PROMOTE YOUR BRAND WITH US!
═════════════════════════════════
Want to showcase your product to the Closet of Free Samples audience? Then check out my available advertising options and email me at

This email address is being protected from spambots. You need JavaScript enabled to view it.

to discuss!
═════════════════════════════════
FOLLOW CFS ON SOCIAL MEDIA
═════════════════════════════════