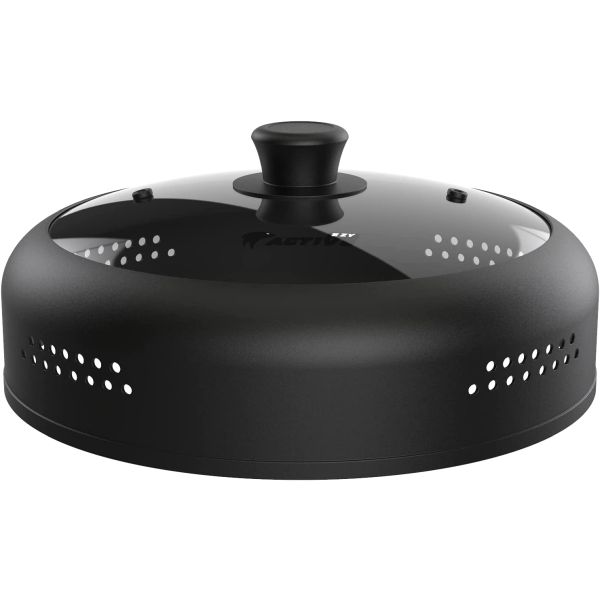 If you're tired of constantly cleaning your microwave, grab one of these to help eliminate messes!
Mess-Free Meal Prep: Our microwave food cover is a simple and effective solution to warm up your food without creating any mess! This microwave plate cover captures all the food splatters within, helping you maintain a clean microwave while keeping your food dry and delicious.
Superior Quality Microwave Lid: -This microwave plate cover is made with premium quality materials, heat-resistant, and BPA-free. The microwave food cover splatter is comprised of a tempered glass top and food-grade silicone body, which are completely safe and ensure long-lasting use.
Plate Cover: This premium microwave splatter guard has a special design compare with other microwave covers ,it is equipped with 2 air vents on the top and other 60 extra steam vents to promote excellent ventilation and prevent condensation, warming up the food uniformly and keeping it dry and fresh
With the EZY ACTIVE food cover for microwave oven, prepping your meal has never been this easy and fun! Our silicone microwave cover/ glass microwave cover has a strong, easy grip handle and a sturdy construction that will not slip or fall during microwaving.
Prevents food splattering! Provide see-through and can take the heat without melting!
No more wet food! With 98 Hole Ventilation
Made of Plexi-Glass Carefully crafted from TEMPERED GLASS & silicone.
10"
Keeps food fresh! Does not add taste to food like other microwave plate covers for the food.
Easy to clean! BPA guaranteed, dishwasher safe!
TONS of Limited-Time EXCLUSIVE deals have been posted to my Telegram channel! These deals include limited-time offers, coupon codes, and Amazon deals! It's FREE to join so you don't miss out! 👉 Sign up here!
═════════════════════════════════
PROMOTE YOUR BRAND WITH US!
═════════════════════════════════
Want to showcase your product to the Closet of Free Samples audience? Then check out my available advertising options and email me at

This email address is being protected from spambots. You need JavaScript enabled to view it.

to discuss!
═════════════════════════════════
FOLLOW CFS ON SOCIAL MEDIA
═════════════════════════════════