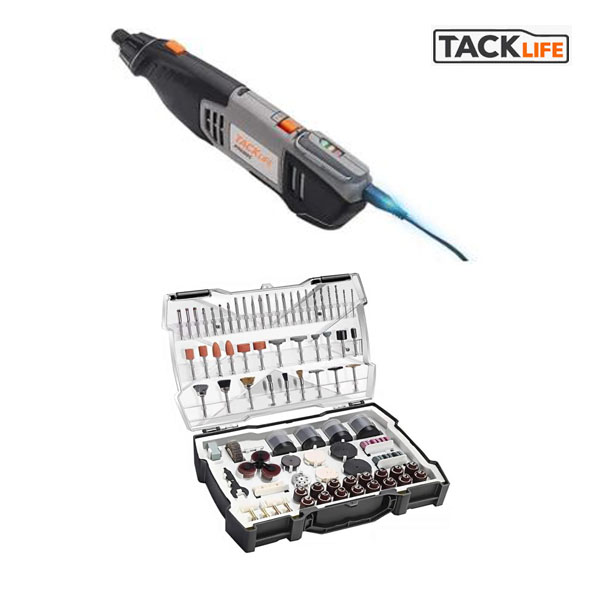 Grab one of these for your tool collection. Great for work around the house!
Small but Powerful: The cordless rotary tool has 4V power but keeps the portable size, which can meet most of requirements of your DIY projects and home improvement jobs without any hassle and inconvenience.
High Speed and Long Battery Endurance: Dual speed switch and up to 22,000 RPM can beat most of mini sized cordless rotary tool and give you more power to finish your work. 2.0 Ah Li-ion battery means you can have more using time with high performance.
361Pcs Multipurpose Accessory set is the complete start-up kit you need to complete a wide range of projects. Ideal for cutting, sanding, polishing, grinding, and carving It's a perfect present for those who like hand crafts.Ideal for Father's Day gifts.
special chuck collet 1/16", 3/32" and 1/8"(1.6mm, 2.3mm and 3.2mm). Includes rich rotary tool accessories of cutting, grinding, sanding, drilling and cleaning, such as drill bits, felt wheel, diamond wheel, HSS cutters, mandrel, and more. Meet your various application requirements.
We thoughtfully put in cloth wheel that dedicated to the polishing of jewelry, glass, jade; Flap wheel for polishing and removing on heavy-duty material; Diamond cutting disc for cutting jade, thin iron plate. Meet all your around-the-house task, crafting models and DIY creations.
1/8 "diameter shanks, compatible with most rotary tools in the market; Ideal for home improvement, hobby, craft, and whenever you need to polish, grind, drill, cut, engrave, and more.It is the perfect present for Christmas, Birthday, Thanksgiving Day, Fathers' Day, etc.
PS plastic case is more sturdy, falling resistant and moisture-proof, easy for carrying and hanging; All parts were in order and the set was complete, well organized to prevent scattered and mess.
BONUS:
Check out these other
tools on sale
while you are here and save some money!
Did you find this post helpful? If so, it would be great if you could show some support by following

Closet of Free Samples on TikTok

(as well as my other social media accounts @closetsamples) and by checking out

my Etsy shop

! As a small creator, all your support makes a difference! Even a simple share of this post to your friends helps! Thanks so much!