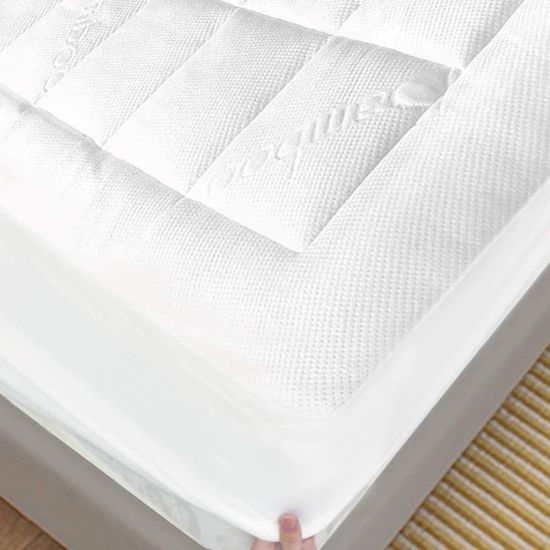 Great deal! These never last long!
Grab this
COOLING Mattress Pad
for just $24.99 on sale. That's a
60% discount
off the regular price of $62.99!
Our mattress pad sheets are made of bamboo fiber and do not contain harmful substances such as phosphorus and formaldehyde. It has good air permeability, ranking first among the five major fibers, and is hailed as "breathable fiber".
SOFT & COMFORTABLE - 400 GSM Down Alternative Fill. The thickness has been increased to the most comfortable level with an unparalleled experience. Padded cotton protects you from noise and allows you to sleep well all night.
BREATHABLE - The surface is rayon made of bamboo. The breathability is 3.5 times that of cotton, which can quickly absorb all moisture or sweat, which is suitable for people who are prone to sweating and allergies.
HYPOALLERGENIC - Bamboo fiber is hypoallergenic, free of formaldehyde and phosphor. Bamboo is rich in tyrosine, vitamin E, and other elements, which can bring health effects to people. If you want a healthy sleep, this will be your first choice.
SIZE & DEEP POCKET - King mattress pad measures 78*80 inches, and can be placed into an 18-inch deep mattress with an elastic knitted skirt. With a deep pocket design, the mattress will stay neat no matter how you move.
CARE INSTRUCTIONS - Using durable, high-quality materials. This mattress cover is made of fine underlay material, so no matter how many times you wash it, no matter how you turn it over, it won't tear. Tip: Do not bleach, dry at low temperature.