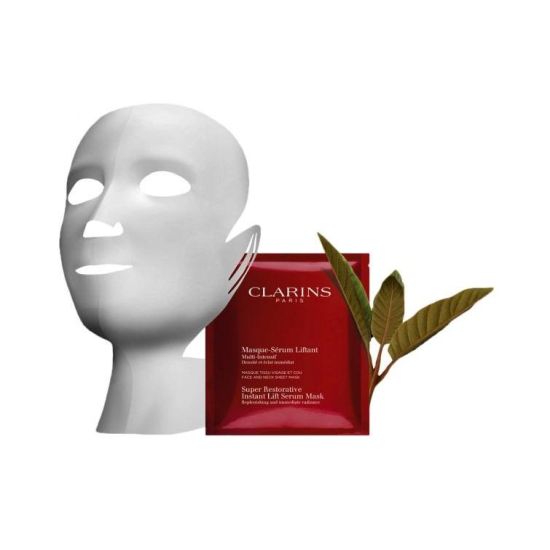 I have heard some good things about this sheet mask.
Concentrated 1.0 oz. gel-serum texture in a mask delivers a skin-tightening effect in 15 minutes. Deep replenishing harungana extract visibly lifts and plumps to smooth the appearance of lines and wrinkles. Escin from horse chestnut revives radiance. Shea oil hydrates, nourishes, and instantly comforts. Oat sugars provide an instant "lift" action. Made with biodegradable stretch tissue for best support to optimize the lifting action.
Clarins' first age-defying sheet mask for face and neck that visibly lifts and plumps the skin. The synergy between the powerful anti-aging serum-enriched with replenishing harungana-and the stretchy, face-hugging sheet, promotes optimal ingredient delivery for younger-looking skin in just 15 minutes.
Ideal for skin weakened by age-related hormonal changes. Skin is primed for immediate make-up application.
Key Ingredients & Benefits:
Harungana extract plumps skin to smooth the appearance of lines and wrinkles
Oat sugars visibly lifts
Escin from horse chestnut revives radiance
Shea oil hydrates, nourishes, softens, and comforts