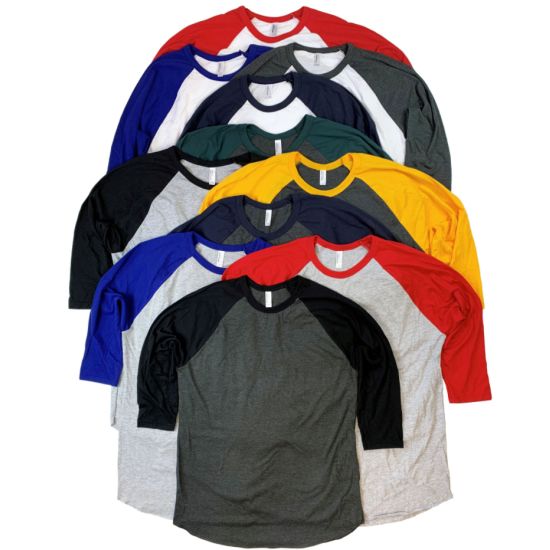 American Apparel Ultra Soft Combed Cotton Raglan Style T-shirt - This is a CRAZY deal simply because you will receive a random color from the assortment shown. Folks, these are VERY nice shirts! Unisex, but sizes listed in men's. Limit 4 per customer please, and note you may receive the same color for all shirts. Seriously though, don't miss out on this! - SHIPS FREE! - BONUS: GRAB YOUR PHONE AND TXT THE WORD SECRET TO 88108 FOR ACCESS TO OUR SECRET DEALS!
This is a great price if you need some shirts for the fall! These will not last long!
The American Apparel 50/50 Raglan 3/4 Sleeve T-Shirt is a modern version of the traditional baseball raglan. Soft and lightweight in a Poly-Cotton blend and durable rib neckband. Raglan 3/4 sleeves. Superior screen printing results. Made with combed cotton, giving it an ultra soft, worn in feel and superior drape. For Men or Women, available from sizes L - 2XL in seven different combined colors.
One shirt per order.
Raglan sleeve design
Durable ribbed neckline
Overlocked bottom hem
Fabric - 50% Polyester, 50% Combed-cotton
Weight - 125g
Size - S 34/36", M 38/40", L 42/44", XL 46/48"