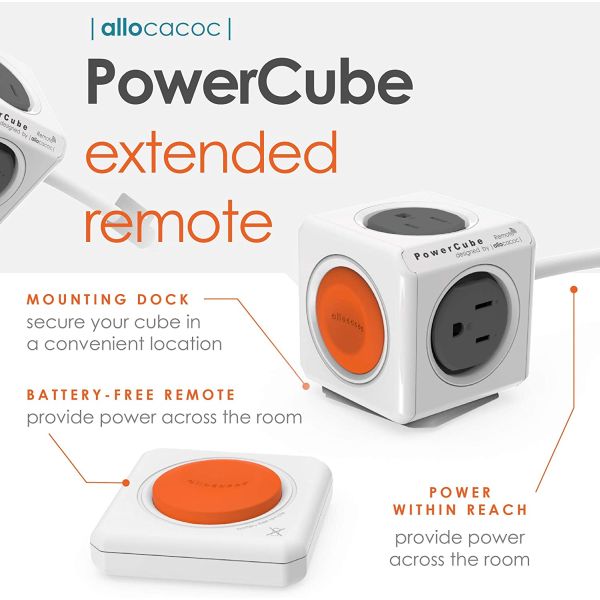 This could be rather useful around the house!
PROVIDES 4 ADDITIONAL OUTLETS: This innovative PC-1542-USEXRM wall plug is suitable for powering a wide variety of chargers, appliances, and electronic devices. This compact model includes 4 outlets, an extension cord, an on/off button, and a battery-free remote to allow you to control the adapter from a distance.
FAST & PORTABLE POWER STRIP: Mix and match a range of PowerCubes, including styles that incorporate dual USB ports, 5-foot extension cords, remote buttons, and international adapters. PowerCubes are also stackable for your convenience. Customize your own innovative charging station with these amazing products!
MUST-HAVE OFFICE SUPPLIES: PowerCubes are an excellent tool for schools or the workplace. They're also a nice option for RVs and small apartments with limited space. Choose a mountable PowerCube to keep it safely secured on a desk, counter, or table. Wherever you use your PowerCube, you'll be impressed with its versatility!
WON'T BLOCK PLUGS: This mini power adapter is designed to accommodate a large range of plug sizes so you can easily power your laptop, TV, and mobile phone cable all at once! You won't have to worry about blocking outlets with oversized plugs. The creative design of this tool makes it easy to efficiently power up to 4 devices at once!
═════════════════════════════════
PROMOTE YOUR BRAND WITH US!
═════════════════════════════════
Want to showcase your product to the Closet of Free Samples audience? Then check out my available advertising options and email me at This email address is being protected from spambots. You need JavaScript enabled to view it. to discuss!
═════════════════════════════════
FOLLOW CFS ON SOCIAL MEDIA
═════════════════════════════════