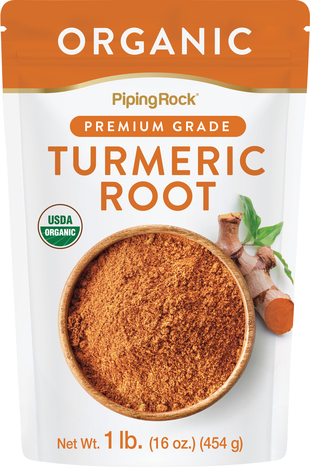 A 5-star rating and on sale!
A Tropical perennial native to South and Southeastern Asia,
Turmeric
(Curcuma longa) can reach a height of 6 feet. It is a member of the ginger family, and bears long, dark green leaves that sprout from a brightly colored yellow-orange system of roots, or rhizomes.
Turmeric's rhizomes have seen a wide range of use, from culinary applications as a spice (most notable giving curry its signature color) to Hindu religious ceremonies and folk wellness practices.
Piping Rock's Promise:
We proudly offer you a bountiful selection of real foods from reliable sources at the best value in the industry! Discover our wide variety of nutritious snacks to satisfy your strongest craving. We carry everything from Natural Sweeteners, Nuts & Seeds, Spices, Veggies Chips, Dried Fruit, Chia Seeds, Peas and Edamame in all different forms to meet your preference. Whatever you're craving, find it at Piping Rock for an affordable price and complete satisfaction.
About Piping Rock's Quality:
You've found your One-Stop-Shop for Snacks & Seeds at Piping Rock. All products are packaged in Kosher Certified, GMP Facilities to ensure pristine quality and freshness. We verify our Snacks & Seeds with third-party, FDA-registered agencies to meet rigid safety standards. Our products are made fresh, then packed, sealed and delivered to your door. You can be assured that quality and cleanliness is our top priority! We guarantee purity, potency safety and innovation in everything we do.