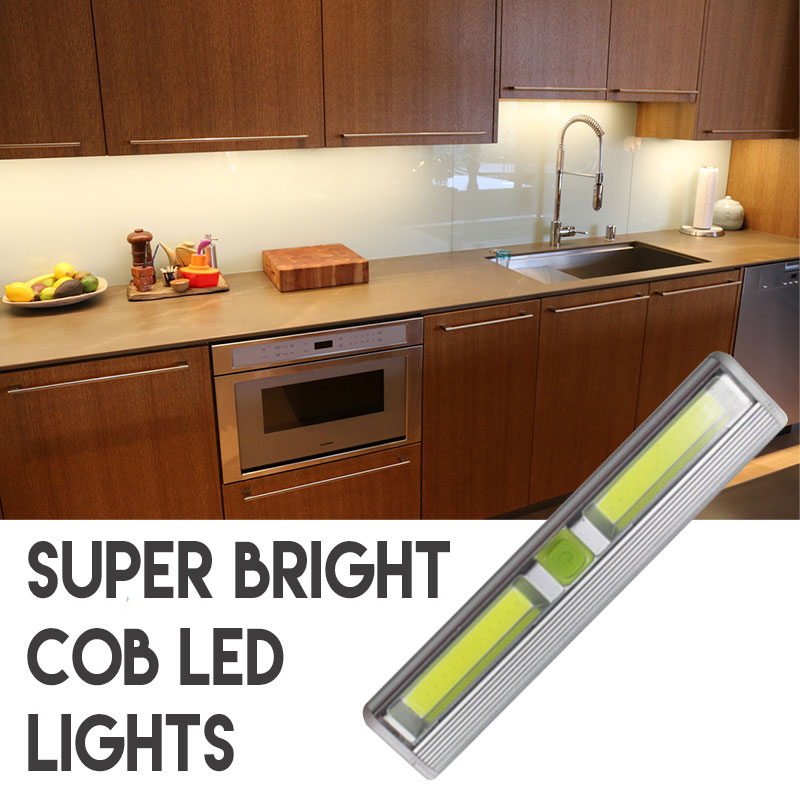 Aren't you tired of opening up your closet when you get up in the morning and using a flashlight to decide what to wear? Are you sick of stumbling around in your pantry, tool shed or garage, falling over various objects while trying to find just ONE thing? You'd LOVE to do something about it, but there's a problem: there's no wiring running through these areas, therefore NOWHERE to install a bulb or lamp! You're not alone...and we've got the PERFECT SOLUTION! BRIGHT COB LED Lights. No Outlets. No Wiring. NO ASSEMBLY!
Imagine being able to walk into that dark closet, hallway, pantry, garage or anywhere else you lack light...and being able to turn on super bright LED lights with the tap of your hand! That's what this does!
And it's unbelievably easy to use, too. There's no assembly required, no electricity, either. This runs on batteries that last FOREVER (due to the efficiency of LED bulbs). In fact, you don't even have to use tools to hang it.
Tool and Hardware Free Hanging - Pick it & Stick it!
Yep - the old pick and stick. That's the first thing you'll notice about this light. There's no need to drill it in. No need for tools and messes. Just stick the adhesive backing anywhere you need light, and it's hung!
If there's ANY room in your home that doesn't have wiring and you need BRIGHT light, this is EXACTLY WHAT YOU NEED!
Works perfectly in your car, too! That's right, it's self adhesive, so you can stick it on the inside roof of your car for a FAR better light than that weak yellow overhead bulb. We spend a lot of time in the car, and this awesome feature shouldn't be overlooked!
It's an elegant looking light, as you can see. So if you'd like extra light in a common room like a kitchen or living room, you don't have to worry about an eye-sore!
Runs on 3 AAA batteries, INCLUDED.
Each light is just over 5 inches long.
Use the included "peel and stick" option or mount with hardware.