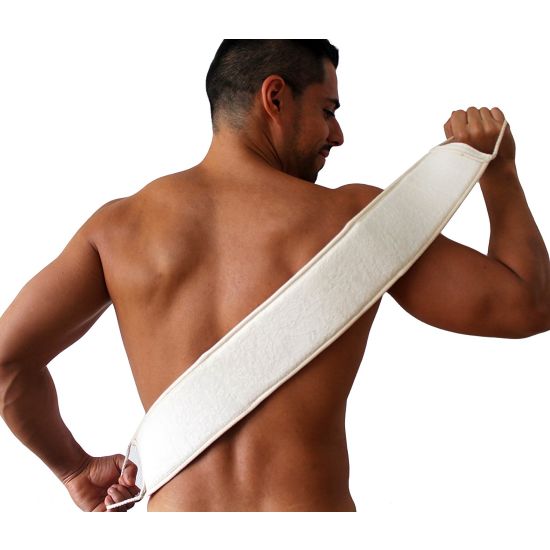 Currently $13.25 on Amazon with 4/5 Stars Review!
The Secret to Having the Smoothest, Most Beautiful Skin is
Voda Reve
. When you receive your Voda Reve Exfoliating Back Scrubber, immediately rip open the package, hop in the shower, lather the loofah with soap, and start experiencing the luxury of using this one-of-a-kind scrubber. This back scrubber is what dreams are made of! Trust us, your back will thank you later!
Cleaning Your Back Has Never Been So Easy. This 4x30 inch scrubber is the perfect size for men and women. You no longer have to bend and reach awkwardly to clean your back. The scrubber won't roll, fold, or twist during use as can happen with narrower back straps.The loofah side is neither too rough nor too soft, and your back, neck, and legs will be perfectly exfoliated. Flip the scrubber over to softly polish your body for a silky-smooth finish.
The
Best Quality Back Scrubber
- Hands Down! If you want a back scrubber that is modern, upscale, spa quality, and made to last, then this is the scrubber for you! Because this scrubber is made with real loofah, you never have to worry about bristles falling out as can happen with hand-held brushes. The loofah is natural and bio-degradable; it doesn't have the offensive smell that comes with sisal and hemp scrubbers. The scrubber is soft and cushiony; it won't get holes, shrink, or fray. The rope handles are also firmly attached.
Product Features
High-end, 4x32 in. exfoliating back scrubber; perfect for cleaning the back, neck, shoulders, feet, and hard to reach areas
Loofah can easily be cleaned
Loofah portion of the scrubber great for dry, rough skin, eczema, back acne, and more
The front side offers a luxurious 4x13-in. loofah sponge for exfoliating; the back side polishes and smooths skin with plush, ultra-soft cotton
Voda Reve is a brand of Bixore, LLP and is exclusively distributed by Bixore.