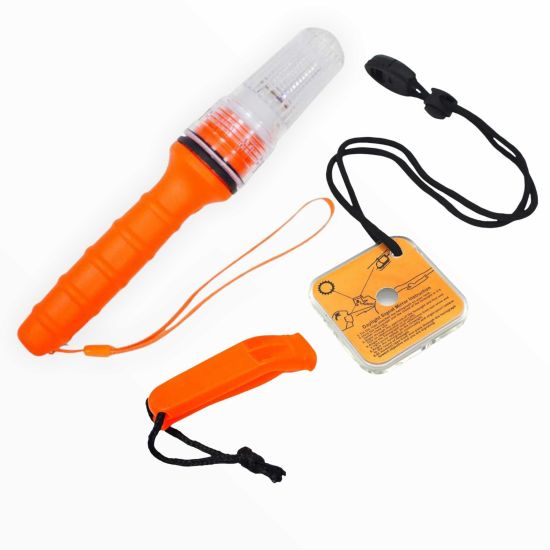 This is a great kit to keep with your emergency gear!
3 Piece SOS Kit: Includes Emergency Strobe Light, Signal Mirror, and Emergency Whistle - Great for Camping, Hiking, Boating or any Outdoor Adventure.
Emergency Strobe Light
DIMENSIONS: Safety Strobe - 8" L x 1.0" W
Requires 2 AA batteries (not included)
Strobe Light Waterproof IPX7
BE PREPARED: With an easy twist ON/OFF cap this light is visible up to 2.7 miles on a dark, clear night – exceeding the United States Coast Guard requirement of 1 nautical mile
Lanyard cord to ensure secure carry
On the trail or on the water, a strobe light/ signal mirror ensures you can be quickly located in an emergency.
Emergency Signal Mirror
EASE OF USE: The ultralight signal mirror with built-in precision aiming system makes it ideal for any survival kit
DURABLE: Virtually unbreakable mirror works in overcast conditions or night using moonlight
CONVENIENT: Includes a lanyard for a secure grip while in use or to ensure a solid grip on a backpack or other outdoor gear