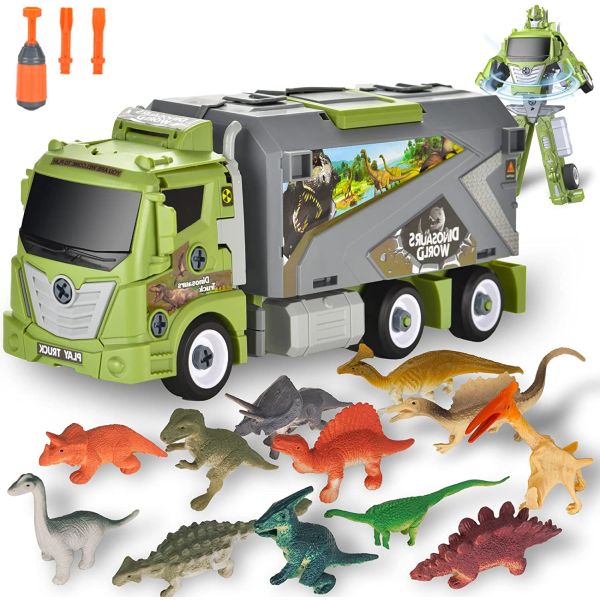 This would make for a fun gift for a dinosaur fan!
3 in 1 Dinosaur Transport Truck -Toddler Car toys, robot toys and dinosaur toys are the most popular toys for children. M2W this toy combines three elements. A large truck can be Transform Robot and equipped with 12 different types of dinosaur figures (with activity dinosaur play mat, trees) with a perfect design of exclusive animation joint name, transformer Toys for 1 2 3 4 5+ Year Old Boy Girl
DIY interactive learning toys - The dinosaur car toy part can be DIY assembled by children, and the trucks and robots can be freely transformed by themselves. This can improve children's hands-on ability, stimulate children's imagination, STEM skills and exploration skills. Parents can accompany their children to learn and grow in the game. It is the best gift for dinosaur lovers kids toys.It's the best parent-child interactive educational toy.
Safety materials - Children's dinosaur toys are made of environmentally friendly and harmless materials. High-quality materials make the toy stronger. Exquisite detailed design and hand-painted make it more durable and realistic. All accessories have passed the safety certification, you can rest assured to play suitable for school/dinosaur science projects or reports, birthday gifts, school prizes, Christmas gifts for children, etc. (Adult supervision is recommended)
44PCS Jurassic World Toys - A large Transport truck variable robot, 12 different kinds of dinosaur figures, sticker x1, tool handle X1 (tool head x3), tree x4, light gray rock x1, dark gray rock x1, dinosaur fossil x1, dinosaur egg nest x1, fence x15, trunk x1, carpet x1, volcanic scene x1, After the game, all accessories can be stored in the compartment storage box. Robot mode size: 13.8*10.5*7.3in; park mode size: 13.8*9.9*8.3in.
═════════════════════════════════
PROMOTE YOUR BRAND WITH US!
═════════════════════════════════
Want to showcase your product to the Closet of Free Samples audience? Then check out my available advertising options and email me at This email address is being protected from spambots. You need JavaScript enabled to view it. to discuss!
═════════════════════════════════
FOLLOW CFS ON SOCIAL MEDIA
═════════════════════════════════