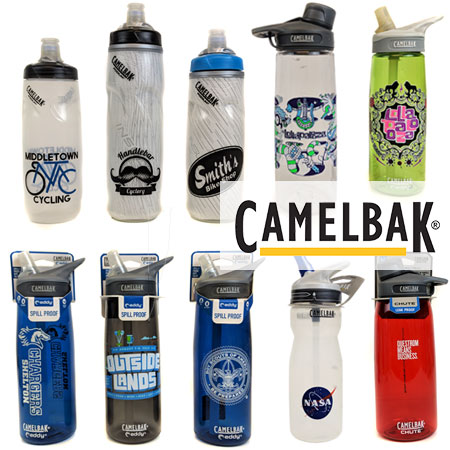 6 Pack of Camelbak Water Bottles in Assorted Styles and Patterns - This is VERY UNIQUE DEAL! These are $15-$25 each in stores and online, but your price is only $4.91 per bottle (6 for $29.46)! WHY? Because they have assorted prints on them like colleges, NASA, music festivals and more! SEE THE VIDEO! Load up at this crazy price! SHIPS FREE AND IMMEDIATELY!
This is completely random. You MAY receive all the same style bottle, or 6 different.
All bottles have promotional prints on the sides with everything from the Boy Scouts of America to Bike Shops To Music Festivals and even NASA! This is why you are getting these at such an amazing price!
All
bottles
are brand new and are at least 21 ounces - some are more than 21 ounces. There are 3 main types of bottles you will receive in your assortment
The Eddy - Features a spill proof flip-out bite valve spout
The Podium - Incorporates Jet Valve, a revolutionary self-sealing valve into a taste-free bottle with a high flow rate
The Chute and Chute Mag - features an Angled screw off cap spout and provides an ergonomic drink interface that delivers a high flow of water without sloshing or spilling - The Chute Mag features a magnetic lid that locks cap out of the way while drinking.
All bottles are super high quality and perfect for sipping on the go, these bottles don't retain odors or tastes, so you're always guaranteed a clean, fresh sip of hydration.
Product Features
6 Pack assortment of Camelbak Water Bottles
All bottles have promotional prints on the sides
All bottles are at least 21 ounces or more
Several different styles of Camelbak bottles - see above
Color and prints vary and are chosen at random