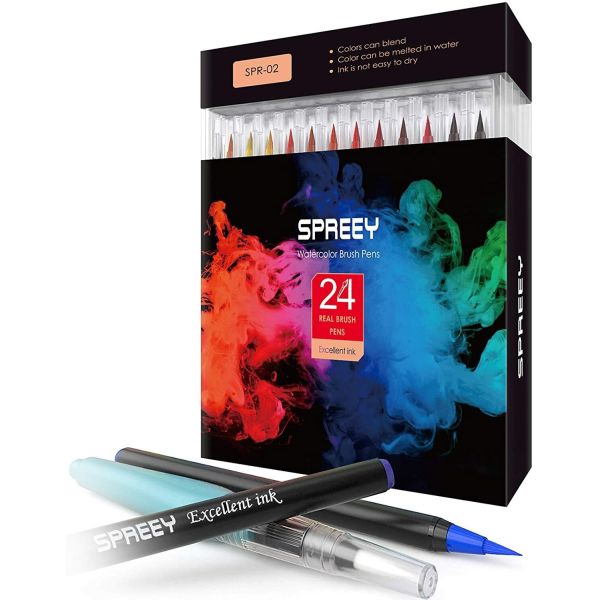 Are you an artist, illustrator, or simply someone who loves to explore their creative side? Look no further than the 24-Piece Set of Watercolor Brush Pens, a versatile and vibrant tool that will take your artwork to the next level. With its exceptional ink quality, blendable colors, and easy-to-use design, this set is a must-have for any art enthusiast.
The set includes 24 real brush pens, each offering a unique color that can bring your creations to life. Whether you're working on detailed illustrations or adding a splash of color to your journal, these brush pens provide precise control and smooth application. The flexible brush tips allow you to achieve various line thicknesses and create stunning watercolor effects effortlessly.
One of the standout features of these brush pens is their excellent ink quality. The ink flows smoothly and evenly, resulting in vibrant and consistent color on any paper surface. With a single stroke, you can achieve bold, rich hues that captivate the eye. Whether you're a beginner or an experienced artist, these brush pens are sure to inspire your creativity.
What sets these watercolor brush pens apart is their blendability. The colors can seamlessly blend together, allowing you to create beautiful gradients and transitions. Whether you're aiming for soft pastel shades or bold, contrasting tones, these pens give you the freedom to experiment and achieve the desired effect. Simply apply different colors to your paper and use a wet brush to blend them together for stunning watercolor-like results.
Another advantage of these brush pens is their ability to be melted in water. With a few drops of water, you can create stunning watercolor washes, giving your artwork a unique and artistic touch. The ink reacts beautifully to water, allowing you to achieve various textures and effects that will make your artwork stand out.
Additionally, these brush pens feature an ink formula that is not easy to dry out, ensuring long-lasting performance and usability. The package dimensions of 8.75 x 7.25 x 1.5 inches make it easy to store and transport, so you can take your creativity on the go.
Whether you're a professional artist or someone who enjoys doodling in their free time, the
24-Piece Set of Watercolor Brush Pens
are a game-changer. The blendable colors, exceptional ink quality, and versatile brush tips allow you to unleash your creativity and bring your imagination to life. Don't miss out on this incredible deal – grab your set today and embark on a colorful journey of artistic expression.
? If you like Amazon deals & coupon codes join my Telegram Channel (It's FREE!)! ? Sign up here!
═════════════════════════════════
PROMOTE YOUR BRAND WITH US!
═════════════════════════════════
Want to showcase your product to the Closet of Free Samples audience? Then check out my available advertising options and email me at This email address is being protected from spambots. You need JavaScript enabled to view it. to discuss!
═════════════════════════════════
FOLLOW CFS ON SOCIAL MEDIA
═════════════════════════════════