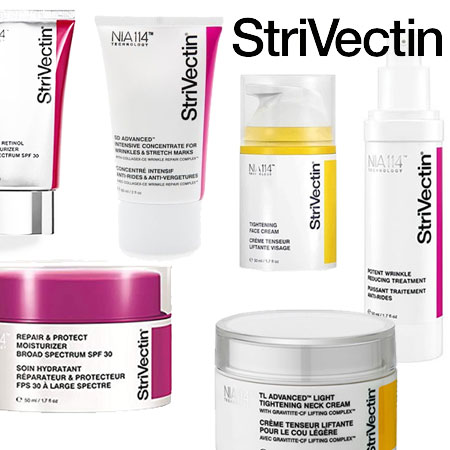 CLEARANCE SALE - StriVectin Skin Care - Array of Styles Available That Sell at Ulta From $70 to $100 and Up and all with 4.5 - 5 star reviews! These are expensive because they work! These are all GENUINE FULL SIZED UNITS, not trial size! ORDER 3 OR MORE (You can mix styles) AND THE PRICE DROPS $3 PER UNIT ORDERED! SHIPS FREE!
Improve the look of your skin with this StriVectin neck cream. This cream includes Gravitite-cf lifting complex, which helps to provide visible lift and improve skin elasticity. Patented nia-114 technology helps strengthen skin's moisture barrier.
Introducing StriVectin tightening face cream, featuring the breakthrough NIA-114 molecule that powers our #1 selling neck cream. This rich nourishing anti-ageing cream features StriVectin's exclusive three-tiered technology that works from within, first tightening skin's surface, then fortifying the skin matrix. Finally, NIA-114 strengthens skin's ability to hold natural collagen. So facial contours look lifted, firmer-more youthful.
This lightweight, daily wrinkle-fighting moisturizer with broad spectrum SPF 30 sunscreen reduces visible signs of aging, neutralizes free radicals, and helps prevent UVA/UVB damage.
This Retinol-powered daytime moisturizer with SPF 30 promotes visible skin renewal and targets major signs of aging, while defending skin against new damage. Retinol helps improve cell turnover, visibly enhance firmness and elasticity and diminish the look of lines and wrinkles, while patented NIA-114™ technology helps limit the sensitivity common to Retinol. Skin looks smoothed and firmer with a visibly refined, more youthful texture.
Potent Wrinkle Reducing Treatment by StriVectin is a silky, lightweight formula proven to dramatically reduce the appearance of wrinkle length, width, and number. Super-charged with StriVectin's patented NIA-114 molecule, plus biotechnologically derived peptides and purifying plant botanicals, it improves skin tone and texture. Skin appears more radiant and luminous. The result - skin that looks and feels more youthful.
Formulated with Collagex-CE Wrinkle Repair Complex, this hydrating moisturizer harnesses the latest advances in skincare science to target Collagen III, also known as youth collagen, for even more powerful anti-aging results. A series of scientifically-designed studies proves the following effects: Significantly reduces the appearance of fine lines and wrinkles; Targets youth collagen and elastin for healthy, younger looking skin; Hydrates and visibly enhances skin texture; Strengthens the skin barrier to maximize skin performance SD Advanced goes beyond wrinkles to help transform the look of stretch marks, too.
Product Features
StriVectin Skin Care
Choose at checkout