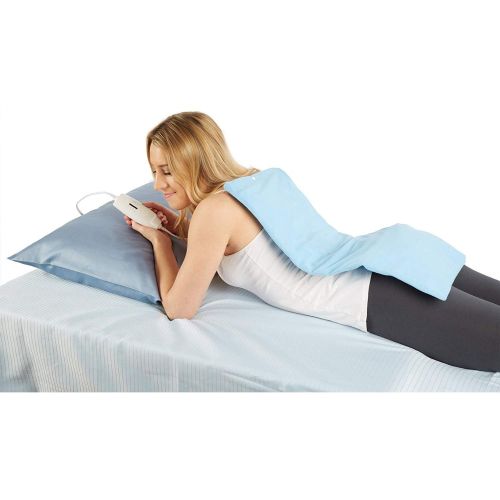 Thera-Med Professional dual moist heat and dry electric heating pad
offers dual mode (moist/dry) heat options to comfort sore and aching muscles in your back, shoulders, abdomen, legs, arms and more. A back heating pad that has four heat settings that allow you to control your own therapy. Moist heat option provides deep penetrating Relief from sore, stiff muscles, while the dry heat option provides a comforting warm treatment. Unique pad design delivers a consistent therapeutic heat in the recommended range to maintain an even comfortable level and prevent hot spots. Auto shut-off turns the pad off after 40 minutes of use. Ultra-soft cover is removable and machine washable. Product features -easy-to-use hand control: 4 temperature settings with easy-to-read LED indicators. -Medium pad 12" x 24": provides excellent coverage of smaller areas like lower back, knee, wrist, elbow and foot -moist heat option: by moistening the included sponge insert, you can achieve a more effective therapy session with deeper penetration of heat. -Extra long 8-foot cord: for easy positioning during use. Heated pads product specifications -size: 12" x 24" -power supply: 120V, 60 Hz, 50W -material: 100 percent polyester cover, machine washable - auto shut-off: 40 minutes 4 heat settings -warm (green): 95° - 113°f -low (yellow): 113° - 131°f -medium (orange): 131° - 149°f -high (red): 149° - 167°f. Trust in Thera-Med, a leader in hot packs for pain.
Product Features
A heating pad that can be used dry or with moist heat by adding water to the included sponge insert. Moisture helps the intense heat penetrate deeper. A great heating pad for neck and shoulders, back pain, or as a heating pad for cramps.
Flexible heated pad with extra-soft machine washable cover bends to meet the contour of any aching muscle group for a comfortable treatment. An extra large heating pad with auto shut off that ensures safety and appropriate therapy times.
An extra large heating pad(12" x 24") with 4(four) electric heat pad settings to easily accommodate your therapy needs and comfort level (warm,low,medium and high). Pad is also a moist heat heating pad by adding water to the sponge inserts.
A heating pad for back pain that can also be used as a neck heating pad or a shoulder heating pad or a full body heating pad. 40 minute auto shut off ensures proper therapy times for your heating treatment.
Heat pad is a great solution for treating sore muscles and is large enough to be a full body treatment hot pad. Trust Thera-Med, a trusted leader in the the physical therapy industry and leader of heating pads for back pain.