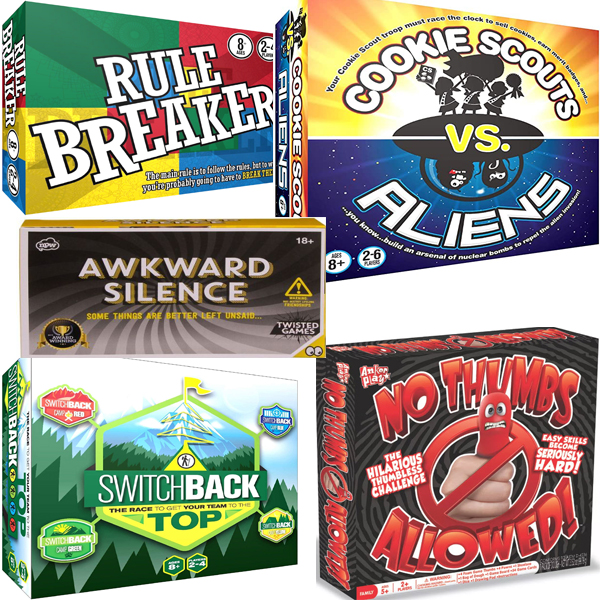 GAME SALE! - Choose from Scouts vs. Aliens Board Game (Unique and fun!), No Thumbs Allowed Challenge Game (Where You Have to Do Things Without Thumbs), Awkward Silence (18+ Party Game), Rulebreaker Card Game ( Where the rules change as you play!) or Switchback Board Game (Switch, bump and race your team to the top!) - Order 4 or more games and SHIPPING IS FREE!
Cooperate to sell cookies and save the earth.
Aliens attack on a regular basis as you attempt to build defenses.
It protects the territory sales and protects the land.
2 - 6 players from 8 years old.
No Thumbs Allowed is a fun new game where you have to complete challenges without using your thumbs! Just cover up your thumb with the big red plastic thumb, roll the die, pick a card, and accept your challenge! Includes 4x foam game thumbs, 4x pawns, 1x shoelace, 1x bag of dough, 1x game board, 54x game cards, 1x dice, 1x drawing pad, and instructions. For 2+ players ages 6 and up. This game is the perfect activity for a sleepover, play date, or a rainy day stuck inside and can be gifted for birthdays, holidays and more!
GAME ON: Complete challenges without using your thumbs!
FUN FOR THE WHOLE FAMILY! For 2+ players ages 6 and up.
INCLUDES: 4x foam game thumbs, 4x pawns, 1x shoelace, 1x bag of dough, 1x game board, 54x game cards, 1x dice, 1x drawing pad, and instructions.
Call out your friends and try to keep quiet whilst they accuse you of the unthinkable in this game from the weird and wonderful minds at NPW.
Containing two decks of cards, the player with the best bum goes first (all players must decide together). They pick up the pointer and a card which they read aloud, pointing to the player which the card relates to most. If the accused player manages to stay silent until the next accusers turn, they win the card – see it as a badge of honor. There are also 'Free Pass' cards which can be used at any point in the game to get you out of an awkward situation. The player with the most cards at the end wins!
Perfect for dinner parties, games nights or silly afternoons with friends, can you restrain yourself and keep the awkward silence?
Contains 52 awkward cards, 52 VERY awkward cards, a pointer, and full instructions.
In Rulebreaker, the main rule is to follow the rules, but to win you're probably going to have to break them! Players are dealt 7 cards and the goal is to be the first to discard all of them by either matching the number of the card on the discard pile or building a numerical sequence off of it. Each card has a number, a color and a shape, however, and this is where things get challenging. At any given time, two rules are in play and all the players must follow them. Chance upon a Rulebreaker card, and shake things up with a new rule! Are you winning? Are you losing? It's always too soon to tell.Rulebreaker
Guide your team up the mountain to the summit! The first to do so wins the game! Start a hiker at each of your four base camps and wind them up the trails to the top. Make wise decisions and you'll have the opportunity to BUMP another hiker away from the summit or, better yet, SWITCH places with an opponent—moving you towards the summit and him down the mountain! Lead changes come fast and furious in this climb as hikers advance, BUMP and SWITCH their way to the top!
Guide the mountain team to victory.
2 - 4 Players Ages 8+.