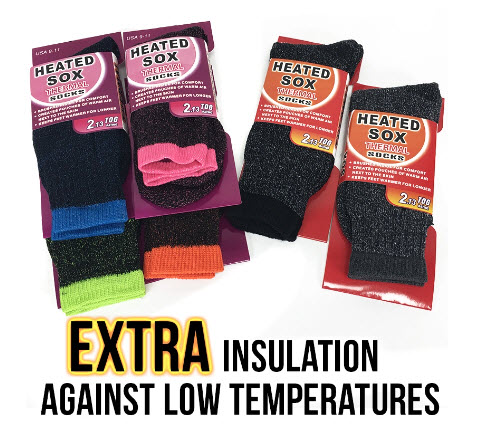 CLEARANCE - 12 PAIRS of "Heated" Insulated Thermal Socks - Traps Heat to Stay Warmer Longer - Men's and Women's available - - This clearance price works out to be just $1.66 per pair (12 for $19.92) - Order 2 or more 12-packs and SHIPPING IS FREE!
Stock up on these before next winter at this low price!
Keep your feet warm with these Thermal Socks. These are not your average Thermal Socks; Oh no! They're made with a high bulk acrylic yarn stitched in large loops that create pouches of warm air next to the skin. The deep thick pile results in extra insulation and a Tog thermal resistance rating of 2.13 (compared to a .3-.5 rating for cotton socks). They're super soft and cozy!
With a brushed inside and moisture control, the Heated Sox are super comfortable and warm. They've got an antibacterial treatment to keep feet fresh and odor-free. Plus they've got a reinforced toe and heel for extra durability.
Product Features:
12 pairs per order
Choose Men's (shoe size 8-12.5) or Women's (fits shoe size 6-11, but packaging states 9-11 due to factory error)
Colors will be chosen at random
Deep thick pile with large loop stitches
Soft and cozy high bulk acrylic yarn
Reinforced toe & heel
Moisture control
Antibacterial treatment
91% Acrylic, 5% Nylon, 3% Polyester, 1% Elastaine
2.13 Tog thermal resistance rating
12 Pack
? If you like Amazon deals & coupon codes join my Telegram Channel (It's FREE!)! ? Sign up here!
═════════════════════════════════
PROMOTE YOUR BRAND WITH US!
═════════════════════════════════
Want to showcase your product to the Closet of Free Samples audience? Then check out my available advertising options and email me at This email address is being protected from spambots. You need JavaScript enabled to view it. to discuss!
═════════════════════════════════
FOLLOW CFS ON SOCIAL MEDIA
═════════════════════════════════