This post first appeared on Piping Rock. All content is theirs.
Is it just us or is there something about small antiques that are just whimsical and awe-inspiring? We're not talking about creepy porcelain dolls or those jack-in-the-boxes you'd find in your parent's attic. We mean floral teacups, delicately embroidered wall art, and small trinkets. The kind of stuff that makes you think it has a story and needs to be bought for no good reason. Being in the sentimental mood, we figured that we would dedicate this post to making your own vintage-inspired candles. Not only are they fun to make, but you'll also be rewarded with unique, one-of-a-kind candle(s) that make a great as well as inexpensive décor piece in your home. You also will be able to dabble in the greener side of life, both in terms of saving money and in helping the earth by repurposing old items. So, go you! Let's get to it, since the process is on the lengthier side. Fear not! The output is definitely worth it.
---
Step 1:
Gather all of your supplies. For this you will need the following:
+
Vintage Trinkets
. We used jewelry holders, but it`s your call! ($5 -- Unique Thrift)
Total Cost: $32.50 -- Makes approximately 8 Candles. So ~ $4/candle!
---
Step 2:
Set your trinkets up to be ready for when you pour your wax in. Stabilize the base of the wick with a sticker. Wrap the excess wick around a pencil/marker/pen and place it flat long the mouth of your container. This will keep the wick from falling into the wax and save you from water works later on!
---
Step 3:
Over a stove, heat your double boiler with water.
---
Step 4:
Once your water is boiling, add in your wax. It's time to melt it! Make sure that you keep an eye on the thermometer, you want it to reach 180 degrees F, no higher.
---
Step 5:
Now it's time to add in the essential oils of your choosing! Mix them around and let your wax cool to 125 degrees F.
---
Step 6:
Pour the wax into your container and let it sit to form!
---
Step 7:
Cut your wick and flaunt your new candle!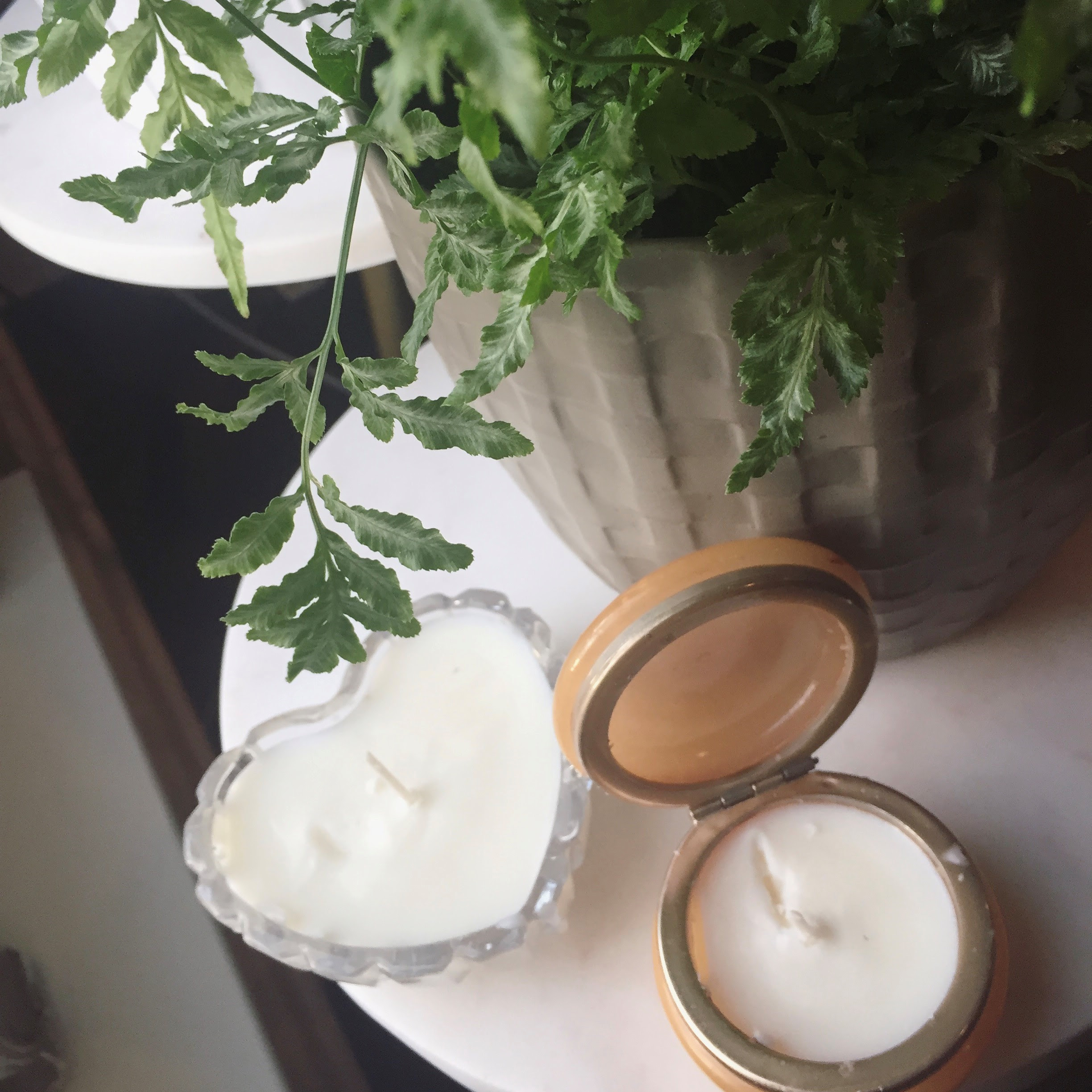 ---
Liked the post? Excited to make your candle? Tell us below! Also, if you want to stay in-the-loop sign up for our emails!